ASRock's Latest Mini PC Flexes Ryzen And Radeon Firepower Enough For Four 8K Displays
If you're putting together a PC that has to fit in a space less than five inches long in any dimension, that means you have to settle for
mediocre parts
with just a couple of CPU cores and
weak graphics
, right? Well, not necessarily. Check out ASRock Industrial's new 4X4 BOX 7000/D5 series.
These micro-PCs are, as the name implies, about 4 inches to a side, and less than two inches tall. That gets you a tiny little system with your choice of a Ryzen 5 7535U or Ryzen 7 7735U CPU. Those are six and eight-core chips, respectively, with boost clocks as high as 4.75 GHz. Despite the
Ryzen 7000 nomenclature
, these are mobile CPUs, so they use the company's new mobile CPU
naming scheme
.
we found to be capable
of playing current games on high settings in 1080p.
You can outfit one of these 4x4 BOX 7000/D5 systems with a pair of 260-pin DDR5 SO-DIMMs running at 4800 MT/s with up to 32GB of capacity per module. The systems have an HDMI 2.0 port and a DisplayPort 1.4a port as well as a pair of USB Type-C ports that support DisplayPort Alternate Mode, meaning you can actually hook up four 8K displays to one of these little boxes if you're willing to sacrifice refresh rate.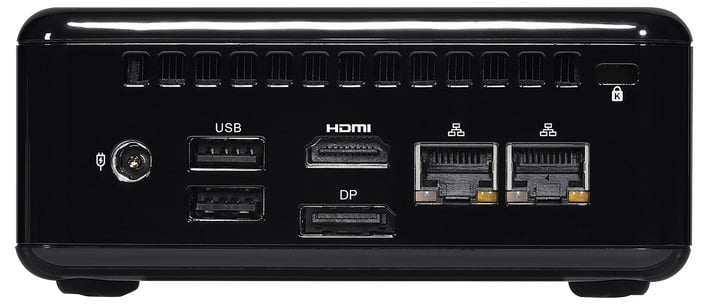 For other connectivity, you get three USB Type-A ports (two 2.0 and one 3.2 Gen 2), as well as the two USB4-capable Type-C ports. There's a 3.5mm combo audio jack on the front, too. In what is arguably one of the most interesting features of these machines, there's a pair of RJ-45 jacks—one for a Gigabit Ethernet connection with DASH support, while the other is for a 2.5 Gbps Ethernet connection. Both are Realtek-based, which means they should "just work" out of the box on any modern OS.
As far as internal storage goes, you get a single M.2-2280 slot that supports PCIe 4.0 x4, an M.2-2230 slot that comes pre-filled with a Wi-Fi 6E adapter, as well as, apparently, a single SATA-III port. We're not exactly sure how you'd use the SATA port because as far as we can tell there is no space for a drive, but the pictures clearly show it's there.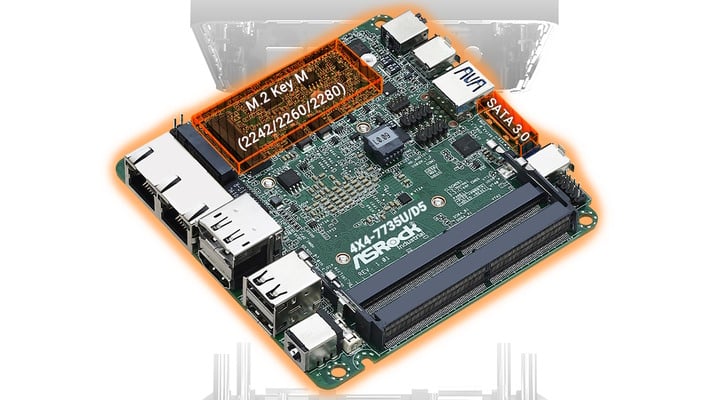 Note that the M.2-2280 slot rests above the M.2-2230 slot for the Wi-Fi card.

ASRock omitted some key details from
its press release
; namely, when and for how much you can buy one of these things. Newegg carries some older models of the 4x4 BOX series, and it
looks like
they start out around $470. You can expect these to go for more than that when they eventually arrive at retail.