Zotac's Latest ZBOX With AirJet Is The First-Ever Mini PC To Sport Solid-State Active Cooling
Zotac announced a new mini-PC today at Computex that is the world's first small form factor PC to sport solid-state active cooling. The new PC is called the ZBOX PI430AJ, and as the name suggests, features an active cooling solution with no moving parts, making it smaller, quieter, faster and more reliable compared to traditional active and passive cooling solutions.

Zotac has withheld most of the system specifications for now, but what we do know is that the ZBOX PI430AJ features a mobile Core i3 CPU, 8GB of LPDDR5 memory, and support for M.2 storage housed in a form factor similar to
Intel NUC
PCs. But needless to say, the star of the show is the ZBOX's cooling system that utilizes solid-state active cooling rather than traditional coolers with moving fans.
The AirJet Mini is a solid-state cooling device with
no moving parts
, measuring 27.5mm x 41.5mm x 2.8mm in height, width, and depth. Just one of these devices is capable of removing 5.25 watts of heat while consuming just 1 watt of power, at a whisper quiet 21 dBA. According to Frore Systems, the AirJet Mini is capable of producing 1750 Pascals of back pressure which is 10x greater than a single fan. To cool the CPU, the AirJet Mini uses ultrasonic frequencies generated by tiny membranes inside the cooling chip to push air from the intake ports to the exhaust port at the back of the device.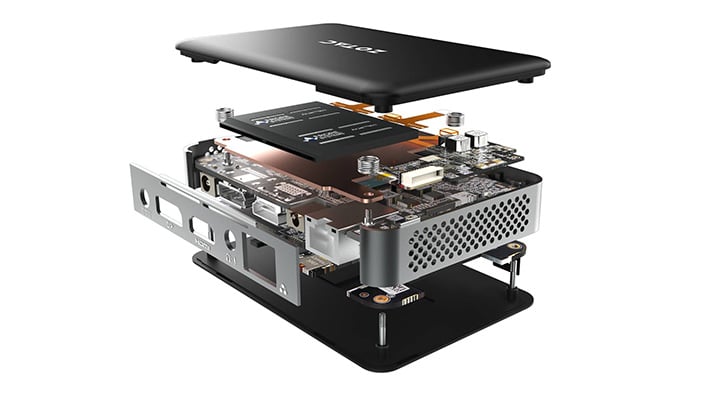 According to a theoretical example shared by Frore Systems, a 13-inch fanless notebook featuring a standard 10W passive cooling solution, would be able to double its cooling power with the use of four AirJet Mini's used together to cool the CPU – all without modifying the notebook chassis or introducing unwanted noise. In the case of the new ZOTAC ZBOX, Founder and CEO of Frore Systems Dr. Seshu Madhavapeddy says its AirJet device is a massive step forward in sustaining CPU performance, with 2X more headroom compared to competing solutions, and consumers will finally get high Mini-PC performance that they want in an incredibly small
fanless device
.