Intel 14th Gen Meteor Lake Mobile Laptop CPU Breaks Cover With 4+8 Core Config
It was in April of last year, almost fully a year ago, that Intel told us it had Meteor Lake silicon up and running
well enough to boot Windows
. That's why it's sort-of surprising that we're just now seeing our first benchmark leak for what appears to be a mobile Meteor Lake processor in a Dell Inspiron test platform.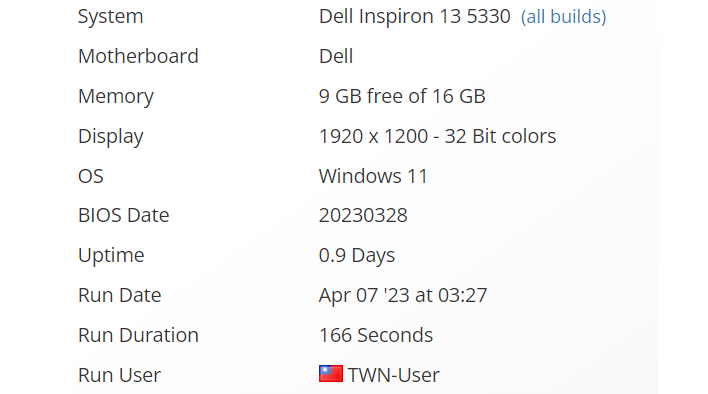 The extremely recent BIOS date is fascinating.

If you're out of the loop, Meteor Lake is the code name for Intel's 14th-generation processors—at least,
the laptop ones, anyway
. Rumors have been rather divided on what form
Meteor Lake will take
, but it's generally agreed-upon that it will be Intel's first "
disaggregated
" design. That means "chiplets," which are called "tiles" in Intel parlance.
Meteor Lake is expected to include a CPU tile that tops out at 6p+8e cores, an I/O chiplet with PCIe 5.0 and Thunderbolt 4, and an SoC chiplet, all
fabbed by Intel
. It's also supposed to have a GPU chiplet based on Arc Alchemist, fabbed by TSMC. If earlier rumors are accurate, it could have as many as 128 Execution Units. That likely explains the Intel Arc Graphics listing for the "graphics card" in this leaked benchmark.

The core configuration of the tested system appears to be four P-cores and eight E-cores. We can figure that from UserBenchmark's description of the CPU as having 12 CPU cores with 16 threads; the P-cores are hyper-threaded, and so we get to the 4+8 number. UserBenchmark rates the system extremely poorly, largely due to the fact that the CPU apparently ran at about 550 MHz for most of the test.
According to previous leaks, Meteor Lake is
supposed to implement
Redwood Cove as its P-cores, and Crestmont as its E-cores, marking a shift for both types of CPU core from Intel's extant Raptor Lake chips. It's too bad that this benchmark leak is on what seems to be a seriously early sample, given the terrible clock rate. We're eager to see what Intel's first tiled CPU can do.