Intel To Talk 3D Foveros For Meteor Lake And Arrow Lake CPUs At Hot Chips 34
"Hot Chips" sounds like a nice side dish, but is in fact a technological symposium held yearly in Silicon Valley. It's a place for processor vendors to talk about their latest innovations, and while branded-and-shipping products generally don't get announced there like they do at
Computex
or
CES
, companies like AMD and Intel do often talk about their upcoming chip designs.
This year, there's tons of good stuff scheduled. NVIDIA, AMD, and Intel are all going to reveal some of the secret sauce inside their giant
high-performance computing
accelerators, while Samsung is going to talk about
Compute Express Link
(CXL). Arm will be talking about security, and even Tesla will send along a couple folks to talk about its
supercomputer
. We're also interested to hear more details about NVIDIA's
Grace CPU
.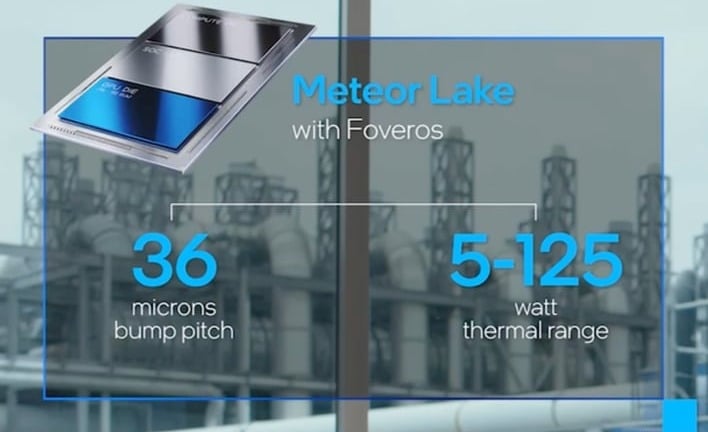 Certainly the most relevant discussion for us hardware enthusiasts, though, will be Intel's talk on the second day of the conference titled "Meteorlake and Arrowlake : Intel Next Gen 3D Client Architecture Platform with Foveros." As regular
HotHardware
readers already know,
Meteor Lake
is the code name for Intel's 14th-generation Core processors, and
Arrow Lake
will be the 15th-gen follow-up.
Foveros, meanwhile, is Intel's name for its face-to-face 3D
chip stacking technology
. Foveros differs from traditional 3D stacking in that it enables logic-on-logic stacking, meaning that you can have disparate types of processors stacked on one another. We've known for a while now that Meteor Lake and Arrow Lake will be "disaggregated" (or "chiplet-based") processors, and it seems like Intel is using its Foveros tech to make that happen.
Meteor Lake is expected to launch next year, with Arrow Lake coming the year after. The two designs, which will be fabricated on a mix of Intel 4 and Intel 20A as well as TSMC's N3 process, are expected to share a platform much as Alder Lake and the forthcoming
Raptor Lake
will do. Along with the move to disaggregated assembly, Meteor Lake is
bringing along
massive improvements to integrated GPU performance, which could make laptops equipped with the chips very attractive, if they can skip the power-thirsty discrete GPU.
Though the release date is definitely in 2023, Meteor Lake could come pretty soon after Raptor Lake, at least for laptops. We've heard that Meteor Lake is a mobile-first part, and Intel already has working samples of 14th-gen laptop parts
booting Windows
. We're quite interested to see what Intel reveals at Hot Chips, so stay tuned for any details during the conference
in August
.