GPD's Next-Gen Gaming Handheld Gets Tipped With Zen 4 And External GPU Support
Handheld gaming PC pioneer GPD is looking to add another compact portable device to its portfolio, bolstered by
AMD's latest Phoenix APUs
. The upcoming GPD Win Mini attempts to break from the Nintendo Switch-like form, which is becoming dominant thanks to the
Steam Deck
and
ASUS ROG Ally
. Instead, GPD's upcoming AMD Phoenix powered device will arrive as a clamshell. However, it has another trick up its sleeve, with users being able to swap out the back cover between flat mini-laptop and controller grip ergonomic styles.
Before we go on, it is worth a recap of the delights offered by AMD's new Ryzen 7040 Series 'Phoenix' APUs. These processors are aimed at "elite ultrathin," devices, according to AMD's marketers. What makes them suitable for such form factors – and a growing number of fun gaming portables – are their winning combination of
Zen 4
CPU cores and
RDNA 3
GPU cores.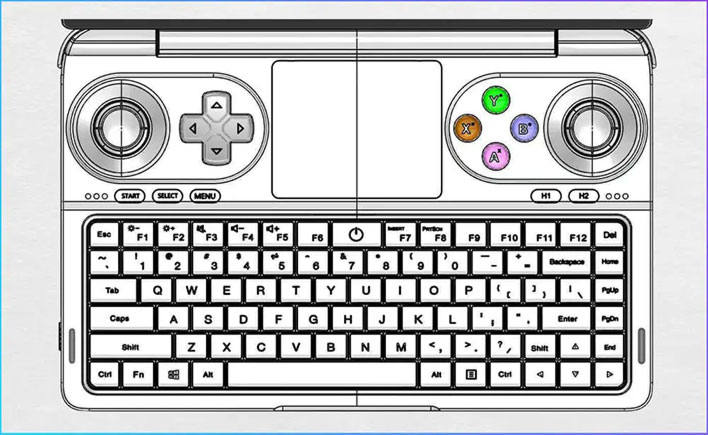 A few hours ago, YouTuber
The Phawx
exclusively shared the "full spec" of the new GPD Win Mini, which he characterized as a hot competitor for the ASUS ROG Ally. The key specs mentioned in the video were as follows:
7-inch 1080p screen at 120Hz
AMD Ryzen 7840U (8C/16T with 12 RDNA 3 CUs), or Ryzen 7640U (6C/12T with 6 RDNA 3 CUs)
With 16GB and 32GB of RAM, respectively
And options of 512GB and 1TB/2TB of storage, respectively
Open standard Oculink connector for eGPU support
USB-C Thunderbolt 4 connectivity
Gyro controls and rumble motors will augment the buttons and sticks
The keyboard has backlighting
Pondering over the APU choices for a moment, the Ryzen 7840U is obviously a much better choice for PC games where 3D acceleration is required, as it has double the number of graphics compute units compared to the Ryzen 7640U. Even the iGPU with 12 CUs will probably end up limiting the 3D gaming performance on the Ryzen 7840U processor, so gamers may be wise to swerve the weaker option.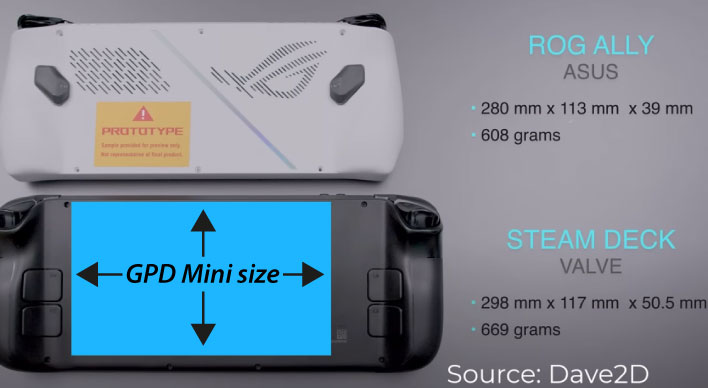 One of the particularly eye-catching things about the GPD Win Mini is that it manages to have the same 7-inch diagonal screen as the
Steam Deck
, but is much more compact. The image above is a screenshot from the Phawx video, where he claims the blue rectangle represents the new GPD machine overlaid on a Steam Deck.
As mentioned in the intro, the GPD Win Mini doesn't just diverge from the crowd with its clamshell form and keyboard. The removable bottom cover can swap between flat laptop style, to hand-caressing controller style.

Again, according to the YouTuber source, an IndieGogo crowdfunding price will start at "around $700." Interestingly, the YouTuber wasn't specific about which APU version this pricing data is based upon, so there may be cheaper entry-options if the weaker APU works for you. Expect the crowdfunding campaign to launch in June, by which time we should have more verified info about the GPD Win Mini and the
ASUS ROG Ally
might have hit the market.