Scary Fast Apple Announces New M3 Chips With Updated MacBook Pro and iMac In Tow
All Hallows' Eve might be when the kids go out trick-or-treating, but the night before — this night — is when we all bob for Apples. In a
spooky themed
, online-only event, Apple CEO Tim Cook led a cavalcade of corporate VPs announcing a new family of processors named M3 and a series of Macs sporting the latest in Apple Silicon. Let's dispense with the Halloween jokes and dive right in.
The M3 Architecture
In years past, Apple played it safe and announced the smallest and lowest-performing processor in a family first. The M1 debuted alongside the
Mac mini
and 13" MacBook Pro / Air in late 2020, only to follow up with the
M1 Pro and M1 Max
a full year later. As the perfect gut punch to all those $2,000 Mac buyers, the M2 was announced just 8 months later with higher single threaded performance. And it took until early this year to get the enhanced versions, M2 Pro and M2 Max (along with the two M2 Maxes duct-taped together to make the M2 Ultra).
That wait for more powerful versions is true no more; the M3 comes out swinging right next to its two big siblings, named M3 Pro and M3 Max. But before we talk about the chips, let's dig into what's new.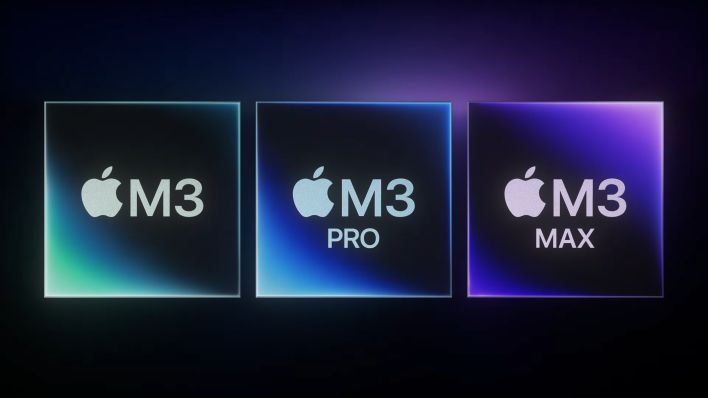 Apple unsurprisingly didn't talk a whole lot about its next-generation CPU architecture. What's different about the M3 compared to its predecessor? It's built on a 3nm process, and because of that, its performance cores are purportedly 15% faster than M2 and 30% faster than M1. Meanwhile, Apple claims the efficiency cores are 30% faster than M2 and 50% faster than M1. But how did they get that way? Don't know. Because of the advanced lithography, it could be a pure clock speed bump, but there might be more to it. We'll have to wait for another day to find that out.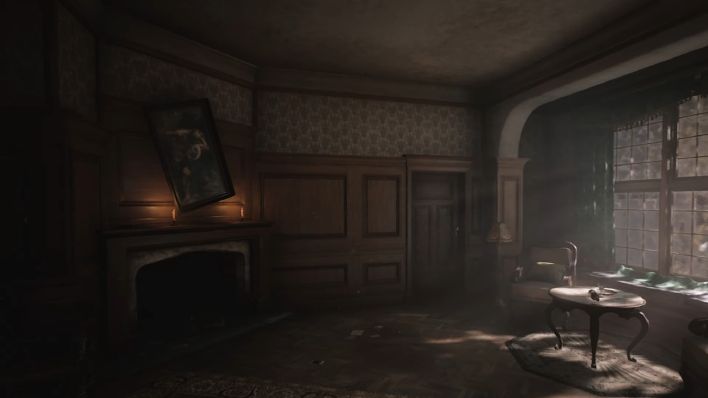 What we do know about M3 is that it's got a brand new graphics pipeline with three key technologies. First is what Apple calls Dynamic Caching. In a traditional shared memory setup, at least on macOS, the software (presumably the compiler, in this case) determines how much memory is dedicated to upcoming tasks at compile time, not runtime. The GPU will reserve memory it doesn't need until the most demanding task requires it, leaving it unavailable to the system. The M3 family does it differently with Dynamic Caching, wherein the SoC allocates memory in real time. That should leave more memory available to the CPU until it's absolutely necessary for the GPU.
The other features supported by the M3 GPU are hardware accelerated ray tracing (which recently came to the
iPhone 15 Pro
family) and hardware support for mesh shaders. At this point, ray tracing needs no introduction. Mesh shading has only recently made its way into PC games, with
Alan Wake 2
being the first to really utilize the technology that was introduced in DirectX 12.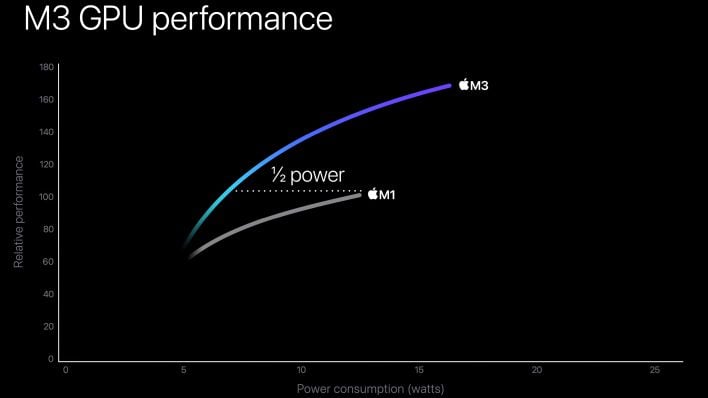 Mesh shaders combine vertex and primitive shading into a single program, which should boost efficiency. At least, that's how it works in both DX12 and Vulkan, neither of which are native on macOS, where Metal is the order of the day. That means it could work a little differently, but that seems unlikely. We'll just have to see if macOS gets any games. Well, any games that support Mesh Shaders anyway.
All told, Apple claims that M3's GPU is as fast as M1 at 50% of the power. The company also claims M3's GPU hits the same performance as the integrated GPU found in a 12-core Intel CPU (the Core i7-1360P, from the fine print on the charts) with 1/5 of the power draw.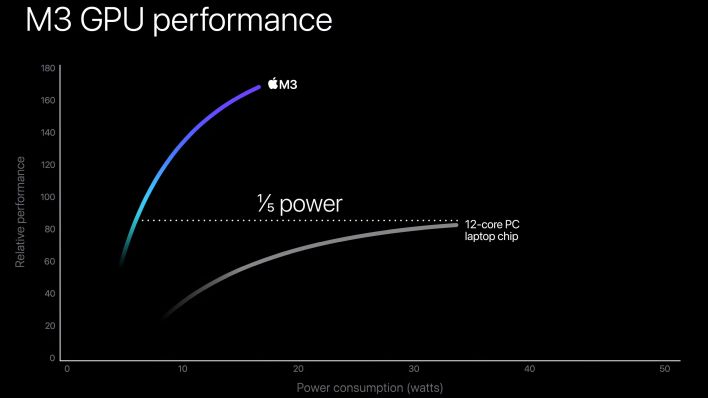 The memory configuration of the M3 is the same as the M2 before it; 8 GB is standard with 16 GB and 24 GB as options. The M3 Pro and M3 Max have a very wacky base configuration of 18 GB of memory. It's printed on Apple's website over and over, so it must be true. We think that means a non-binary memory loadout (remember,
24 GB DIMMs
are in the PC space now) with a 192-bit or 384-bit memory bus. That's 25% narrower than M2 Pro and M2 Max, matching the 25% reduced bandwidth on the M3 family. On the other hand, we suppose it's possible this system has something like a 72-bit or 144-bit path to memory, too, but that's less probable. We'll have to wait until they get into consumers' hands to find out.
None of that applies to the top-end M3 Max, though. That CPU gets a full 400 GB/sec bandwidth just like M1 Max and M2 Max. If you're confused, dear reader, we can't blame you. There's so much at play here, even under the same branding that it's hard to keep track.
M3 Family of SoCs
There are three SoCs in the M3 family right out of the gate. The base model, so to speak, is simple named M3. This chip is the least-powerful of the Apple bunch, built with just four performance cores and four efficiency cores for general processing tasks. That's no different than the uncut version of the M1 and M2, so the M3 performance gains Apple promised will be based entirely on its architecture. This SoC can drive a single external 4K display in addition to the built-in display of the laptop.
After that is the M3 Pro. Tradition holds that there has been a cut-down version of M3 Pro available in just the 14-inch MacBook Pro, and a full version with two extra performance cores enabled, and that the Pro and Max CPUs have the same core configuration. There's still a cut down version of the M3 Pro with 11 cores, and the model Apple hyped up that has the full dozen.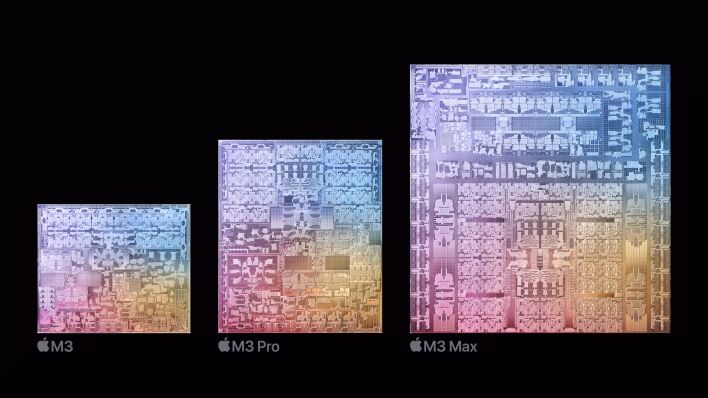 Either way there are now six efficiency cores, with the balance applied to performance cores. In an unusual twist, the M2 Pro makes do with less system bandwidth than its predecessor, with only 150 GB per second as opposed to the
M2 Pro's 200 GB/sec
. The 11-core version has a 14-core GPU, while the the 12-core model has an 19-core GPU. Those GPU resource counts are the same as the M2 Pro of today, but are based on the new GPU architecture. If you're good at basic arithmetic, you've no doubt noticed that the number of performance cores is actually
lower than
the number on M2 Pro. M3 Pro comes with either five or six performance cores now, instead of six on the low-end M2 Pro or eight on the high end model. Yet Apple claims these CPUs are faster, and we've no choice but to wait and find out.
Last up is the M3 Max. Unlike previous generations the M3 Max represents a step up in CPU cores compared to the Pro. We're back to four efficiency cores instead of six on the M3 Pro, so there is much more CPU performance on tap going up to the Max. With either 14 or 16 total cores, meaning 10 or 12 performance cores, every version of the M3 Max has more CPU power than the fastest M3 Pro.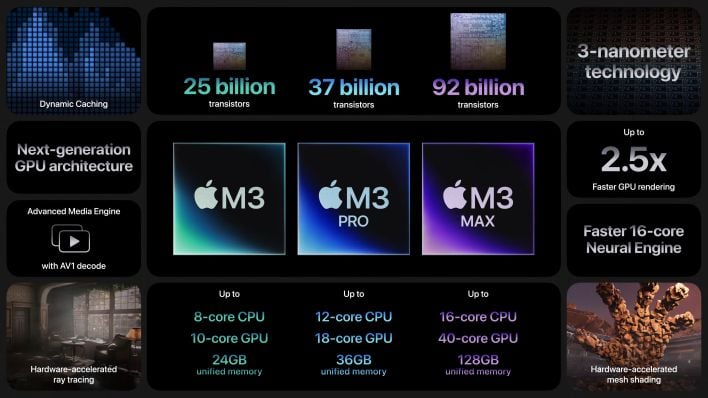 Just like the relationship between the M2 Pro and M2 Max, however, the M3 Max has twice the GPU resources, twice the memory bandwidth at 300 GB/sec, and a second Media Engine for hardware accelerated video encoding and playback. That's again a bandwidth dip from M1 Max and M2 Max, if you're curious. It does, however, still support up to 128 GB of system RAM.
Upcoming M3 Macs
The big announcement of the night is that the MacBook Pro family has been consolidated. Gone is the 13" MacBook Pro, which still had no MagSafe and was saddled with a 60 Hz display without HDR capabilities, so we should probably have seen that coming. There are only 14-inch and 16-inch.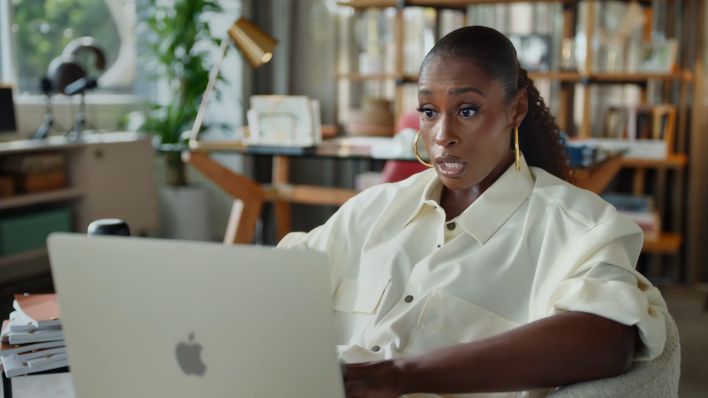 The 14-inch MacBook Pro starts now at $1,599 with an M3 with 8 GB of memory and a 512 GB SSD. Considering how we raved about the Liquid Retina XDR display in both MacBook Pro 14 reviews and again in the recent
MacBook Pro 16 review
, that may not be a terrible price. And this new model has a display that Apple says is 20% brighter overall. The mini-LED backlit display is rated for 1,000 nits of sustained brightness and 1,600 nits peak. The company further says that SDR content displays at up to 600 nits, the same as the Apple Studio Display.
Not all is rosy in the new MacBook Pro news, however. In our opinion, however, these things should have 16 GB out of the box. C'mon Apple. Still, these laptops have a claimed 22 hours of battery life, that gorgeous 14-inch display, and a 70 Wh battery. That 22 hours may or may not be true, but we know for darn sure that it will run for a long time. They're available in either Silver or Space Gray.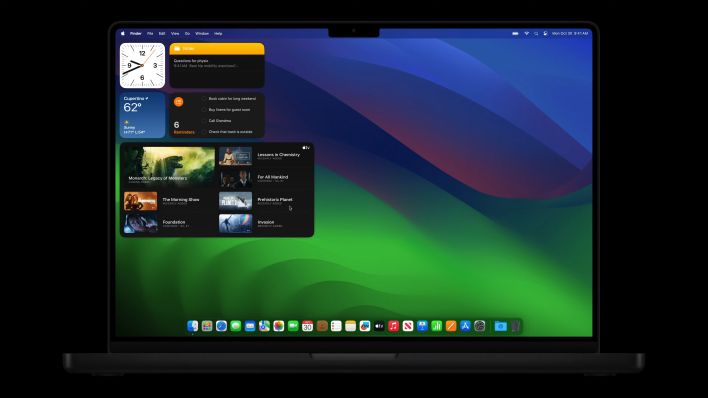 Step up to the M3 Pro for the same $1,999 as previous M2 Pro models, and you'll get an 11-core CPU, 14-core GPU, 18 GB of memory, and 512 GB SSD. Double the SSD and get those missing cores back for $2,399. The display and all the other specs are the same as previous models, but M3 Pro and M3 Max buyers have the option of Silver or Space Black, which has replaced Space Gray in those models. There's also a 14-core version of M3 Max with a 30-core GPU available in the 14-inch model, but that will set you back $3,199.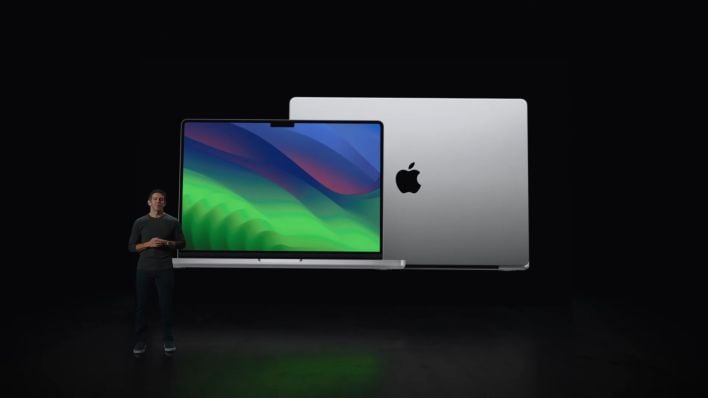 And finally, the 16-inch MacBook Pro is available with a 12-core M3 Pro, 14-core M3 Max, or 16-core M3 Max starting at $2,499. The storage configurations are the same; 512 GB on the base M3 Pro models and 1 TB on the M3 Max. There are of course RAM and storage upgrades available, and since both of those things are soldered, we imagine a lot of power users will want to go that route.
And lastly, the sad, neglected iMac is finally getting an upgrade. The desktop family that saved the Mac in the late 90s went un-upgraded to the M2 for the entirety of its Apple Silicon run, and has just tonight been bumped all the way up to M3. At least the only M3 desktop announced to date has a relatively attractive $1,299 starting price. But again, you'll probably want to bump up the RAM from the stock 8 GB to something more roomy, and the 512 GB of storage also seems needlessly stingy.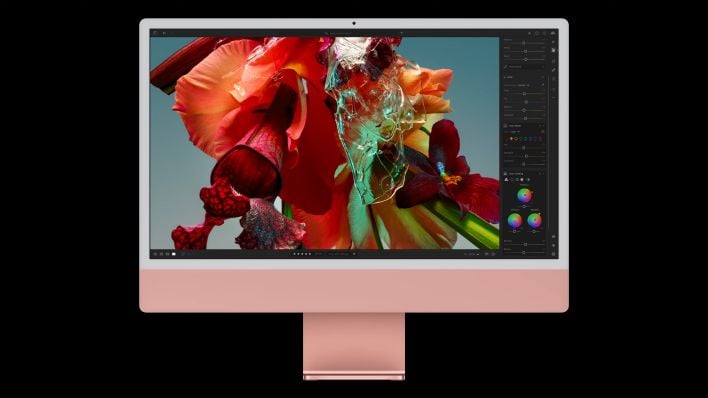 We're not sure if Apple was kidding or not, but the company claims that the 24" M3 iMac is the "perfect" upgrade for both the 21" and 27" Intel models, the latter of which had a very nice 5K display. Stepping down in display size is never fun, and the iMac's 24" 4.5K display is also a step backwards in resolution for the most powerful Intel iMac. I guess that dashes our hope for a 32" model with M3 Pro or M3 Max, if only for now, but we hope the company isn't serious about this being the only iMac size.
All of the Macs are available to order starting today, with M3 and M3 Pro models available next week. M3 Max buyers will have to wait a little longer, with those models becoming available sometime later in November. They're all available direct from
Apple's website
.