AMD Is Working On A Firmware Fix To Support 24GB And 48GB DDR5 On AM5 Motherboards
Until
very recently
, DDR5 DIMMs came in 8GB, 16GB, and 32GB capacities—at least as long as we're talking about the kind of unbuffered memory you'll find in most non-server PCs. You may have heard that larger 24GB and 48GB capacities are now available, but what you may not have realized is that those unusually-sized modules won't immediately work in
every motherboard
's DIMM slots.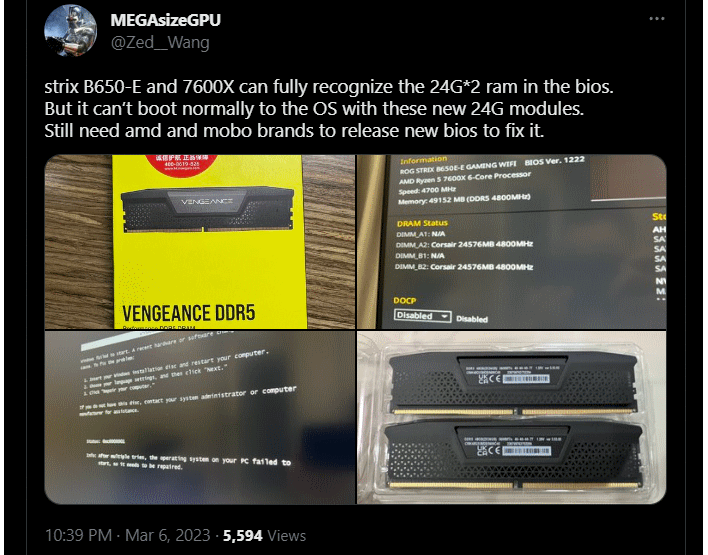 In fact, while they
typically work
in 12th- and 13th-generation Intel machines, they don't work at all in AMD Socket AM5 systems. Hardware enthusiast and frequent leaker MEGAsizeGPU (@Zed__Wang on Twitter) tested such a configuration and found that while the motherboard fully recognized the DIMMs and was able to boot into the UEFI setup, it wasn't able to boot into any operating systems.

As it turns out, AMD is apparently well aware of this problem, and it seems to be a limitation in the company's AGESA firmware. So saying, there might be fix on the way. This news comes to us by way of another regular hardware leaker, chi11eddog (@g01d3nm4ng0 on Twitter), who tweets that AGESA 1.0.0.7 is expected to support the so-called "non-binary" DDR5 modules. This isn't full confirmation from AMD, but it's certainly believable enough.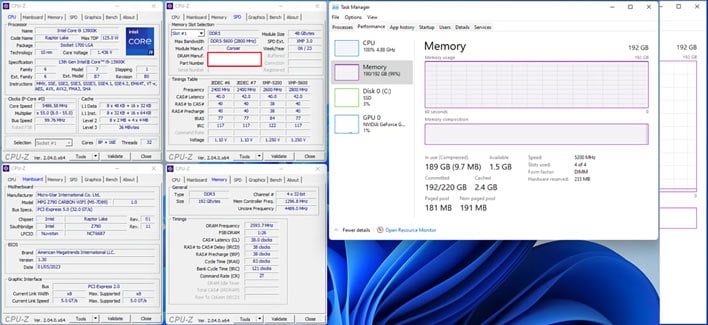 The new modules are a boon for users who need more memory in their standard desktop platform but may not need to make the full jump to the next binary interval. While gamers should generally be satisfied with 32GB of memory, the ability to expand all the way to 192GB could be helpful for "
prosumer
" users that don't need the core counts or high-speed I/O of a
full workstation platform
, yet still need large amounts of RAM for their workloads.
So far, both Crucial (Micron) and Corsair
have announced
high-capacity memory modules with non-power-of-two capacities, and we can expect the list of vendors to grow if they gain in popularity. However, as you'd expect, the bigger modules are a bit limited in speed compared to
the fastest
16- and 32-GB modules. That may change as well, as the market matures, but we'll have to wait and see how things go.