AMD's Integrated Radeon 780M RDNA 3 GPU Beats The GTX 1650 Max-Q In Benchmark Leak
Some AMD Radeon 780M benchmarks have surfaced in the Geekbench benchmarks browser. According to the listing, the iGPU is part of an
AMD Ryzen 7 7840HS
APU. This is a Ryzen mobile chip from the Ryzen 7040 Series, perhaps more memorable due to its codename, 'Phoenix'. In the benchmark's OpenCL tests, AMD's Radeon 780M propels the score to 36757, casting shade on the likes of the NVIDIA GeForce GTX 1650 (Laptop) and the GeForce GTX 1060 (Desktop) – not bad for an iGPU.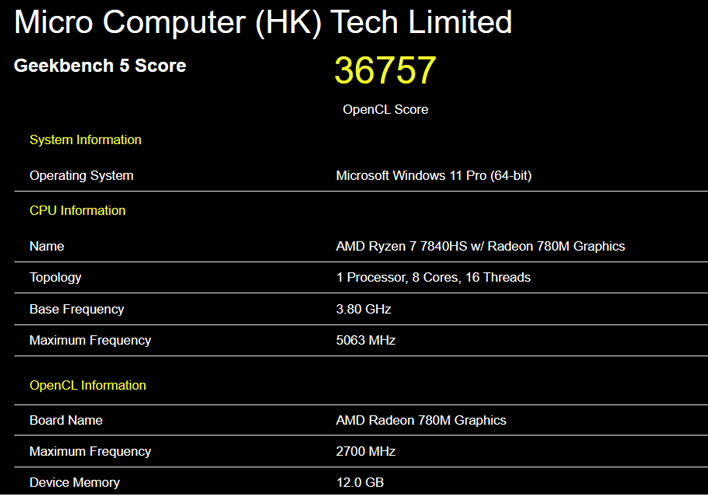 We thought the name Micro Computer (HK) Tech looked familiar, and a quick
DuckDuckGo
revealed that motherboards and systems using this ID are found within the
Minisforum
(Hong Kong) line of mini PCs. It looks like some pre-launch testing is going on...
If you remember
AMD's launch event
for these mobile processors at CES 2023, you will know these APUs are targeted at "ultimate ultrathin" laptops, and due to become available starting this month. AMD Ryzen 7040 Phoenix chips are probably the most interesting of the new Ryzen 7000 mobile line. They are the only sub-series (there are five) that combine AMD's latest CPU and GPU architectures: Zen 4 and RDNA3, respectively. The Geekbenched Ryzen 7 7840HS with 8C/16T Zen 4 cores and 12 RDNA 3 CUs is the middle member of the Phoenix line (see below), but it isn't a big step down from the crowning Ryzen 9 7940HS, with the former having just slightly slower base/turbo CPU clocks.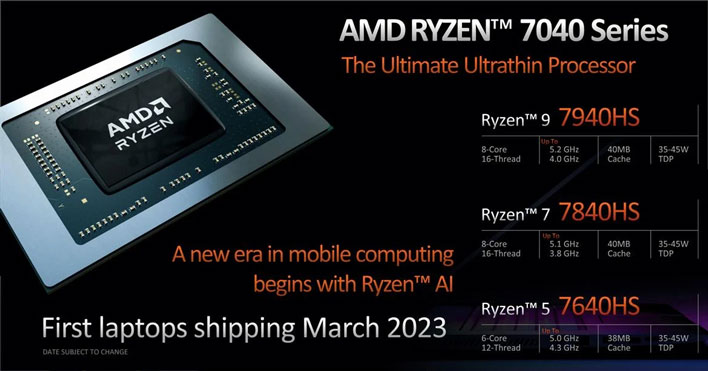 So, you are probably wondering if the Radeon 780M is an effective iGPU. If we check some other scores in the Geekbench library we can see near rivals above and below, to get a feel for the performance. For example, sitting just below the Radeon 780M is the GeForce GTX 1650 (Laptop), while the desktop version of the GTX 1650 is just a little better. For an AMD comparison, the Geekbench OpenCL charts show that a score of 36757 puts the Radeon 780M right between some samples of the Radeon RX 470 and RX 480. A lot of PC users still rely on GPUs like the GTX 1650 and RX 470, even in 2023, and many others will have had experience of them in the past.
Before swallowing this comparison whole, we must remember firstly that
this is a leak
, and secondly Geekbench OpenCL tests aren't a great comparison benchmark for PC enthusiasts. Last month we saw a Radeon 780M apparently pass through the
3DMark Time Spy
tests, which may provide a better indicator.
We have reviewed some laptops that come packing the predecessor to the Radeon 780M, which this should comfortably eclipse. Take a look at our ASUS
Zenbook S 13 OLED laptop
review, for example, which included
gaming tests
in titles like
Middle Earth: Shadow Of War
&
Gears Tactics
. We also tested the Radeon 680M integrated graphics in our
Alienware m17 R5 review
, to see the difference between the iGPU and Radeon RX 6850M XT discrete GPU.