AMD Ryzen 7 7840HS 8-Core Laptop Benchmark Leak Shows Stout 25% Gains Gen On Gen
AMD's
Ryzen 6000 mobile
series, codenamed Rembrandt, offer
solid performance
and strong efficiency along with great integrated graphics. They do fall behind Intel's latest in both single- and multi-core performance, but that's why AMD isn't standing still. The company's already announced its next-generation mobile processors, and here we are today with another early benchmark for one of those parts.
The benchmark in question actually originates in the same place as the
last leaked Phoenix benchmark
we saw: 金猪升级包 (which Google tells us means "Golden Pig Upgrade"), over on Chinese site Bilibili. The previous leak was of a range-topping Ryzen 9 7940HS, but this chip is a Ryzen 7 7840HS that sports the same core configuration, just with lower clock rates.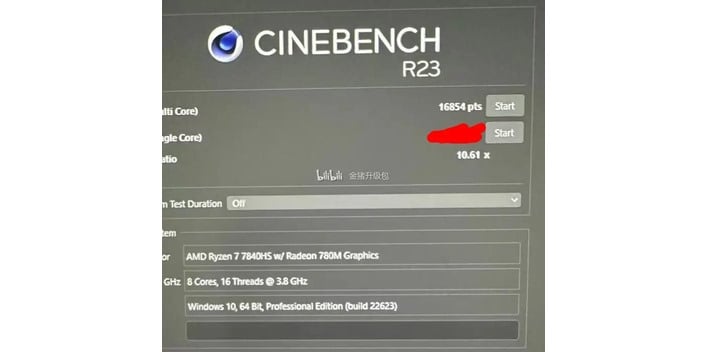 Golden Pig Upgrade tested Cinebench R23 on the pre-release processor and came away with a multi-core score of 16854 points. That is a very impressive performance for an eight-core processor, and especially one with a relatively-restrictive 45W power budget. AMD's Zen processors have always performed well in Cinebench, but this result puts it on more-or-less level footing with
Intel's Core i9-12900H
as you can see below. It's also around 25% faster than the last-gen parts at 45 watts.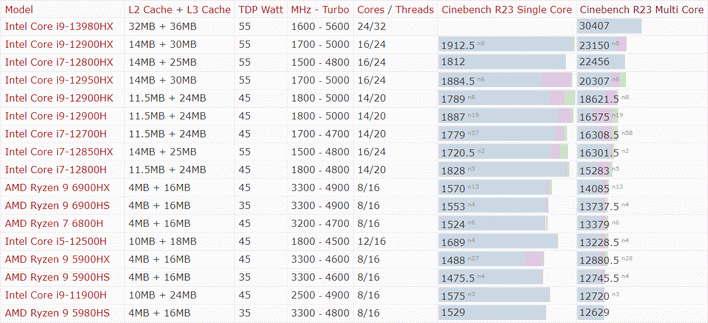 The leaker blotted out the single core score because the single-core turbo clock rate is not final. Calculating back from the shown multi-core ratio we can observe that the single-core score in this test was probably around 1589. That really isn't a bad result, but it's quite a bit lower than we'd expect from this processor. Indeed, Golden Pig Upgrade says that the usual score should be around 1800 in that test—a very impressive result, if true.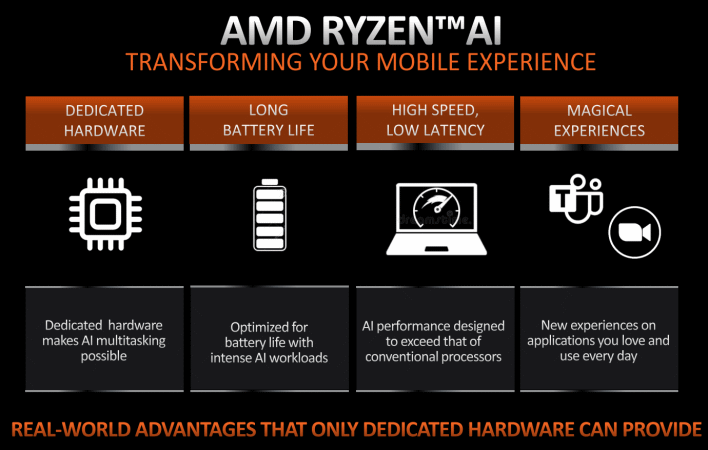 Slide: AMD

Besides eight powerful Zen 4 CPU cores, the "Phoenix" series of APUs will offer six RDNA 3 workgroup processors as well as an interesting "XDNA" compute accelerator specifically intended for AI operations. This kind of thing is very common in the smartphone SoC world, but this would be the first of its kind in the x86-64 market. Intel has instead focused on offering AI-focused ISA extensions—which Zen 4 supports, by the way.
Laptops with these processors should start shipping in March, so AMD's got a bit of time to tune and tweak the firmware and drivers for these processors.