Best NVIDIA And AMD GPUs For High Refresh Rate Gaming
High Performance NVIDIA And AMD Graphics Cards For Gaming When Milliseconds Matter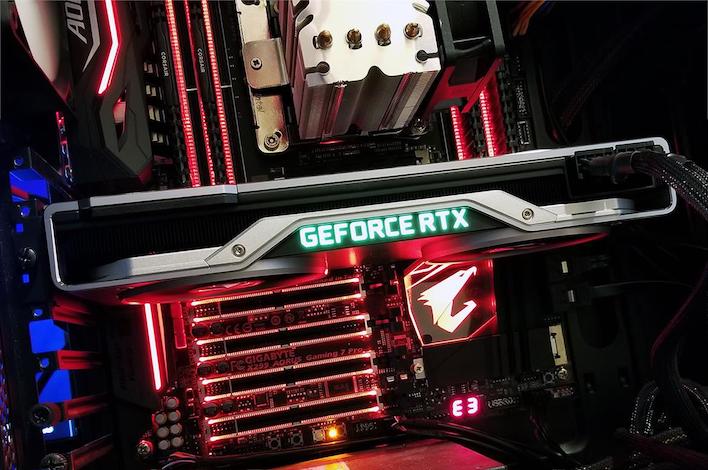 It doesn't matter if you're playing
Call of Duty
,
Counterstrike
,
Fortnite
, or
StarCraft
, there's usually a benefit to having the highest frame rates possible when playing games competitively. That requires a couple of things, namely a very fast PC and a 120 - 144Hz or other high-refresh rate gaming monitor. Today, we'll look at the PC components end of that equation and identify graphics cards and
GPUs
that will help you get the highest possible frame rate out of your rig. However, it goes without saying you'll also need a pretty speedy CPU to drive that card as hard as possible as well.
This article could be as simple as telling you to get a
GeForce RTX
2080 Ti and be done with it. The reality is that not everyone has that level of budget, though. For that reason, we're looking at cards in a "good, better, and best" fashion, and we'll talk about a variety of graphics cards from both the AMD
Radeon
and NVIDIA GeForce camp that may fit your gaming needs. All of the cards in our list are capable, though some might be more capable than others. It's also heavily dependent on the game you want to play and its graphics workload. We'll look at some test runs later on in this piece, to prove that out as well. Finally, many
eSports
pros like to dial back graphical settings, because lower-fidelity graphics can actually provide a small edge (and higher frame rates), so you might not even want max fidelity anyway, in exchange for MOAR FPS.
Without further ado, let's check out the list...
144Hz Midrange Graphics Cards: The Good List
Hitting a rendering target of 1080p isn't hard. Budget graphics cards like the GeForce 1650 SUPER or Radeon RX 5500 XT can do it at 60 frames per second. Hitting that target at 144 fps takes a little more effort, though. That's why we went with the
Radeon RX 5700 XT
for this segment. The
AMD
powered cards below will get you to that goal at affordable prices, though it might require dialing back the details slightly from their highest settings to get there. If you want to make no compromises, read on.
AMD's Radeon RX 5700 XT is a pretty fast GPU for the money, with 40 compute units for a total of 2560 stream processors. Each of these models has 8 GB of 256-bit GDDR6 memory running at 14 gigatransfers per second (GT/s), which equates to 448 GB per second of bandwidth. While Navi-based graphics cards lack the real-time ray tracing effects of their GeForce RTX competition, the frame rates at this price point is second to none. The Radeon RX 5700 XT is both faster in traditional raster-rendered games than the
GeForce RTX 2060 SUPER
, and cheaper than the 2070 SUPER which is only slightly faster. This is the best middle ground if high frame rates are most important to you.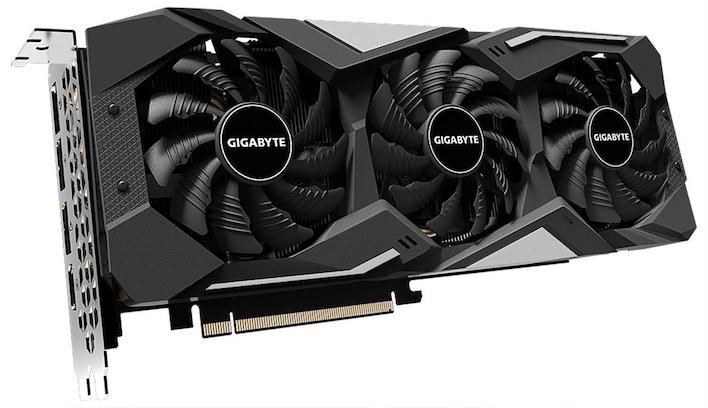 Gigabyte Radeon RX 5700 XT Gaming OC 8G - $409
: The Radeon RX 5700 XT is the fastest GPU AMD currently makes. When it comes to the Radeon RX 5700 XT, Gigabyte's triple-fan setup is about as affordable as they come. The maximum boost clock is all the way up to 1,905 MHz, and this big
Gigabyte
Radeon settles in at around 1,795 MHz during long gaming sessions. When we
reviewed this model
, we found Gigabyte's Navi-based card was just a hair faster than AMD's reference design and its beefy cooler with three fans was quieter, too.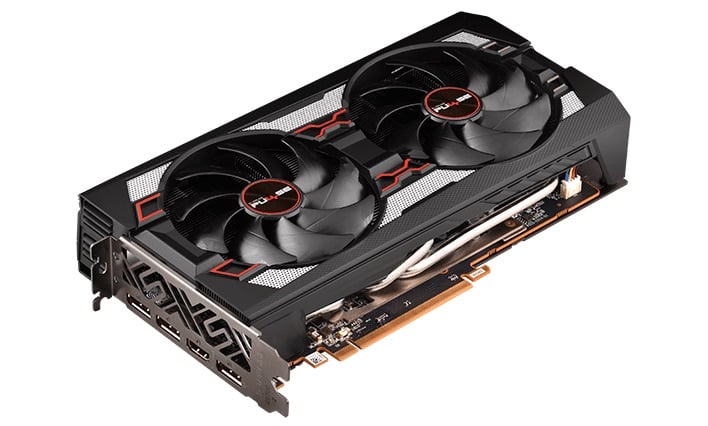 Sapphire Radeon Pulse RX 5700 XT 8 GB - $409
: For the same price as the Gigabyte card above, Sapphire's
Pulse RX 5700 XT
has a slightly higher 1,925 maximum boost clock and a 1,815 MHz game clock. Both of those figures are just a touch faster than the Gigabyte model, which can add an extra couple of frames where necessary.
Sapphire
gave the Pulse a big three-slot cooler design with a pair of large fans to wick away heat from the cooler's fin array, keeping the GPU temperatures under control.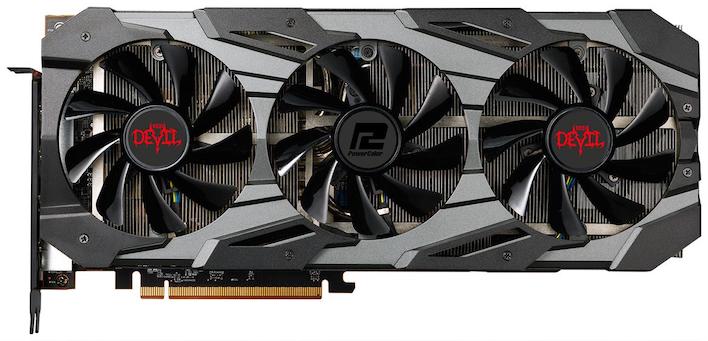 PowerColor's Radeon RX 5700 XT Red Devil - $429
: PowerColor's flagship Navi-based graphics card
came through our offices
and we were quite impressed. The Red Devil is the fastest Radeon RX 5700 XT we've gotten our hands on. There was a good amount overclocking headroom in our review sample, too. Despite the extra speed, the fastest Radeon RX 5700 XT that
PowerColor
makes was about as quiet as the Gigabyte model, and produced far less noise than AMD's reference design.
144Hz High-End Graphics Cards: The Better List
We very well could have used NVIDIA's
GeForce RTX 2070 SUPER
as a stepping stone between the Radeon RX 5700 XT and our next family of cards, but the 2070 SUPER's added performance isn't that much over the Radeon, while the price increase pushes up over 20% in some cases. Instead, to really get performance to separate from the mid-range pack, we think gamers would be better off stepping up to the
GeForce RTX 2080 SUPER
. The 2080 SUPER has 3072 CUDA cores representing a big increase in performance over the RX 5700 XT. Each of these cards has a metal plate reinforcing the board to prevent drooping under its own weight, too.
Not only will these RTX 2080 SUPER cards drive competitive gaming titles at very high frame rates at 1080p, they also have RT cores for hardware-accelerated ray tracing effects in many recent and upcoming games like
Control
,
Battlefield V
,
Cyberpunk 2077
, and
Quake II RTX
. In short, the value provided by a 2080 SUPER is that it not only drives crazy-high frame rates, it can also produce some of the most beautifully-lit scenes in gaming at the same 1080p resolution at 60+ frames per second.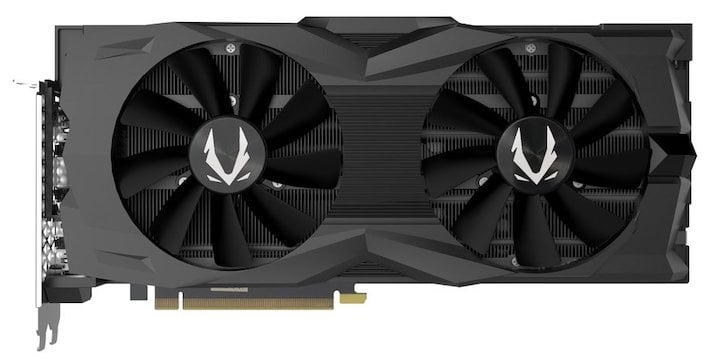 ZOTAC GeForce RTX 2080 SUPER AMP - $699
: Zotac's
AMP Edition GeForce RTX 2080
is a pretty stock example of the card with the same 1,815 maximum boost clock as NVIDIA's official spec sheet. It also happens to be the cheapest RTX 2080 SUPER on the list, and the only custom-card with a two-slot cooling solution. Still, this
Zotac
graphics card is no slouch in the gaming department, and it's got a relatively beefy 16+4 phase voltage regulation setup, which should provide ample power for overclocking.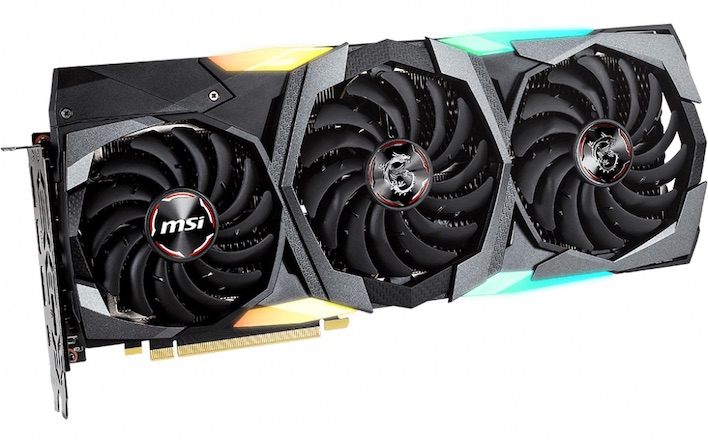 MSI GeForce RTX 2080 SUPER Gaming X Trio - $738
: For right around 5% more than Zotac's entry, MSI's Gaming X Trio edition of the GeForce RTX 2080 SUPER has a little higher boost clock at 1,845 MHz and a
mammoth three-slot cooler
with three large fans spinning to push heat off of the cooler. There's also some extra bling in the form of a large RGB LED array to give your system some more character. If your system already has an
MSI
motherboard with RGB lighting, the Mystic Light software is probably already there, so syncing up the graphics card to the motherboard or any RGB fans should be a cinch.
NVIDIA GeForce RTX 2080 SUPER Founder's Edition - $777
: For those who want to get their GPUs straight from the source, NVIDIA's GeForce RTX 2080 SUPER Founder's Edition has a really nice-looking cooler and great performance. This model adhere's to NVIDIA's stock specifications, and when we
reviewed it this past summer
, we found NVIDIA's refreshed Turing card to be the fastest solution around under $1000. That may not strictly be true now since so many partner cards are available, but it's still a really great option in its price range.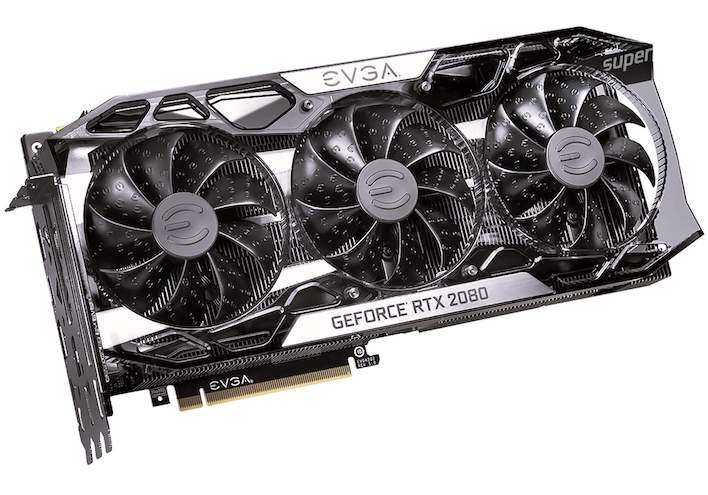 EVGA GeForce RTX 2080 SUPER FTW3 - $799
: The fastest card in this price class, EVGA's GeForce RTX 2080 SUPER FTW3 has an 1,845 maximum boost clock and a
triple-fan, triple-slot cooler
that should have no problem keeping this GPU's temperatures under control. The cooler is just as attractive as it is functional, and EVGA has strapped an RGB LED array to it here. Gamers who are used to using EVGA's Precision software for overclocking already have what they need to control not just the lights on this card, but the LEDs built into NVIDIA's NVLink Bridge, too.
144Hz Ultimate Graphics Card: The Best List
If you still haven't found what you need in the GeForce RTX 2080, we've got your prescription right here. The
GeForce RTX 2080 Ti
is the very fastest consumer graphics card on the planet for now. Not only will it drive your 1080p, 144 fps cravings, it could even handle higher resolutions like ultra-wide 2560x1080 or even 2560x1440 displays at high refresh rates. If that's not enough performance, you can run a pair of these cards in tandem to try to reach even greater heights. This card can also drive monitors with higher refresh rates, since stepping up to 165 Hz and even 240 Hz is not all that uncommon these days.
The GeForce RTX 2080 Ti has 4,352 CUDA cores for insanely high-performance computing needs with a maximum 1,545 MHz boost clock.
NVIDIA
backed the GPU with 11 GB of 14 GT/s GDDR6 memory, connected via a 352-bit interface, which works out to 616 GB per second of throughput. If that's not enough, it can also draw 10 giga-rays of ray tracing effects, producing the best and smoothest DXR effects possible today, with a consumer GPU. You're going to want a very fast CPU for this card, or else you'll probably be leaving a lot of performance on the table. Without further ado, here are some examples of the fastest consumer graphics card money can buy.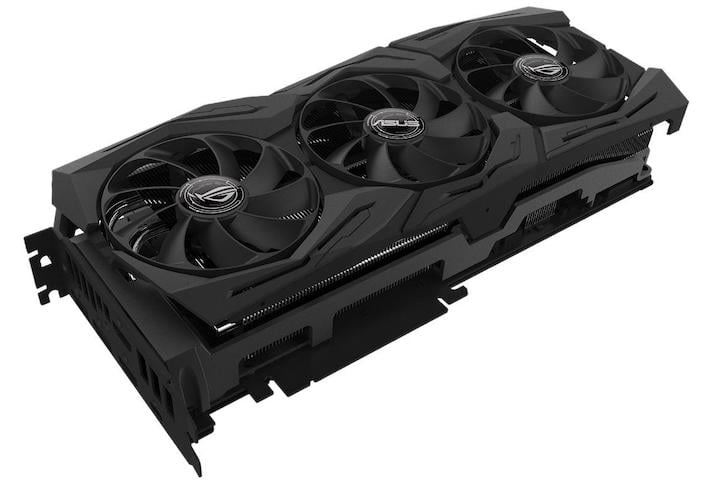 ASUS ROG Strix GeForce RTX 2080 Ti - $1,224
: Right out of the gate, we're looking at a
factory-overclocked model
. ASUS bested the default boost clock by more than 100 MHz, all the way up to 1,665 MHz. To keep the GPU cool at those high speeds,
ASUS
gave it a three-slot cooler with three large fans to keep air moving under load. The shroud also serves as home to an RGB LED array controlled by ASUS's Aura Sync software. That'll keep the lights in sync with the manufacturer's Aura Sync-compatible motherboards.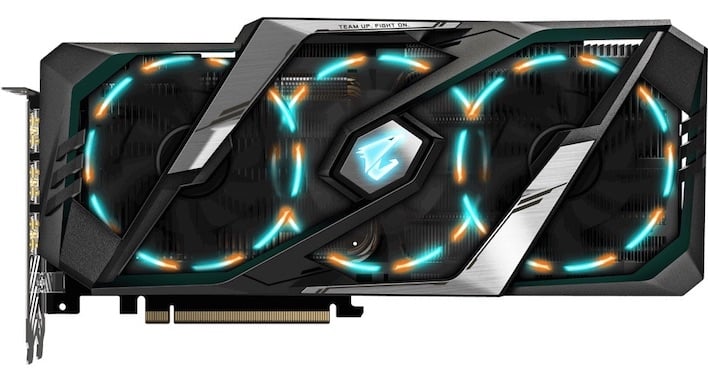 Gigabyte AORUS GeForce RTX 2080 Ti Xtreme - $1,299
: For gamers with Gigabyte's
AORUS
motherboards, it might be easier to buy a card with an RGB LED array that uses the same software.
AORUS's 2080 Ti Xtreme
is the fastest model produced by Gigabyte's gaming label, with a stratospheric maximum boost clock of 1,770 MHz. This model also has a slight memory speed advantage thanks to GDDR6 memory clocked at 14.14 GT/s, too. Along with having a beefy triple-fan cooling setup, this could very well be the fastest card in this roundup.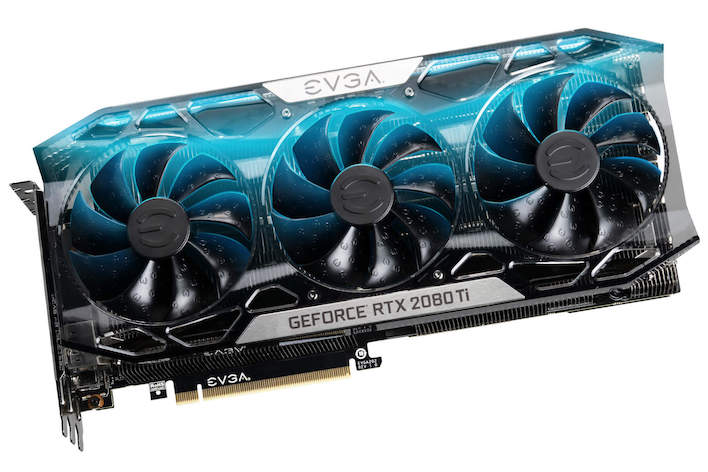 EVGA GeForce RTX 2080 Ti FTW3 Ultra - $1,349
: Just like with the RTX 2080 SUPER, EVGA's
GeForce RTX 2080 Ti FTW3 Ultra
is a factory-overclocked beast with a large cooler, three fans, and high clock speeds. This one is just a tad off the absolute maximum speed of the AORUS card, at 1,755 MHz, but it's still an incredibly fast card. The same benefits from the SUPER card apply here, as there's still an RGB LED array under the shroud and the LEDs still work with
EVGA
Precision X software.
So Many Right GPU Options For High FPS Gaming
Our little thought experiment here isn't just theoretical of course. Since we had AMD's reference Radeon RX 5700 XT card and the NVIDIA GeForce RTX 2080 SUPER Founder's Edition on hand, we put the two cards through their paces with
Battlefield V's
Pacific War multiplayer and
Fornite
Season 2's Slurpy Swamp area. We measured frame rates for a period of five minutes each to get a representative chunk of multiplayer gameplay, which should help to eliminate the variance from run to run. Here's how the cards stacked up.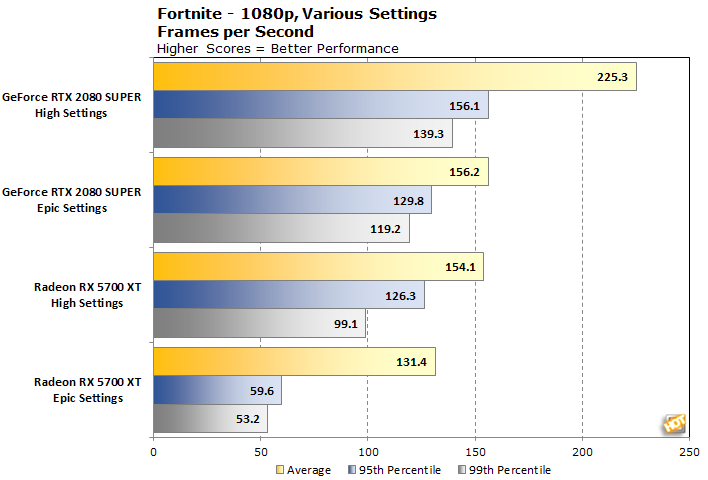 Fortnite
is the lighter of these two tests, and for the most part the two slower cards in our setup could handle average frame rates pushing up over 144 Hz. The lone exception was the RX 5700 XT with Epic settings. The game's whimsical art direction means it still looks like a cartoony wonderland using High settings, and if you're willing to forego the last layer of effects, the GeForce RTX 2080 SUPER will basically never dip below our 144 Hz target. The Radeon RX 5700 XT stayed pretty close at High, though.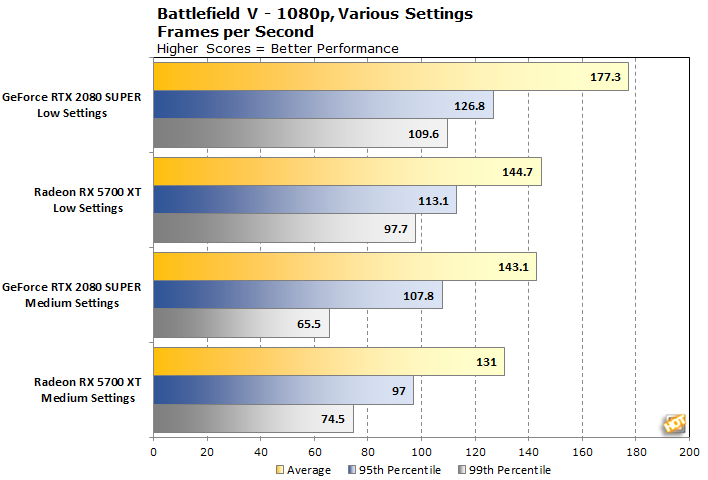 Battlefield V
is a much tougher nut to crack, but both cards found settings low enough to hit our desired render targets. For the Radeon, that means the Low setting, which still looks pretty decent. The GeForce RTX 2080 SUPER could average 144 frames per second on the Medium setting. We've got no doubt that the RTX 2080 Ti can outpace both of these cards, but getting up to High settings might be tough. Still, we managed to pull it off, with some caveats.

For gamers with $400 or so to spend, the
Radeon
RX 5700 XT is a great option, but if you can spend more, you can certainly get more performance for your dollar. The $700-and-up GeForce RTX 2080 SUPER is an even better option for eliminating compromises. If your display is even faster than 144Hz, the
GeForce
RTX 2080 Ti may just be the ticket, but it's got an eye-watering price tag to match the tears of joy inspired by its performance. If it's not already abundantly clear, there are lots of choices when it comes to 1080p gaming at at ultra-high refresh rates to match high speed displays. The only real limit is your budget.
Related content
Comments