Samsung SSD 980 Pro 2TB Review: Flagship PCIe 4 NVMe Storage
Samsung SSD 980 Pro 2TB: More Benchmark And The Final Verdict
EFD Software's HD Tune is described on the company's website as such:
"HD Tune is a hard disk utility with many functions. It can be used to measure the drive's performance, scan for errors, check the health status (S.M.A.R.T.), securely erase all data and much more."
The latest version of the benchmark added temperature statistics and improved support for SSDs, among a few other updates and fixes.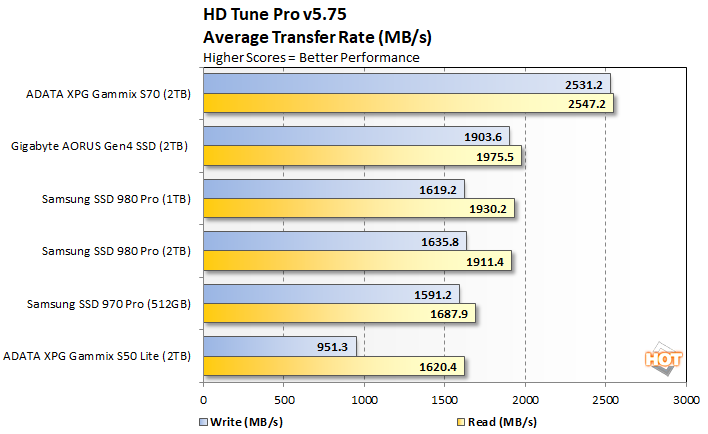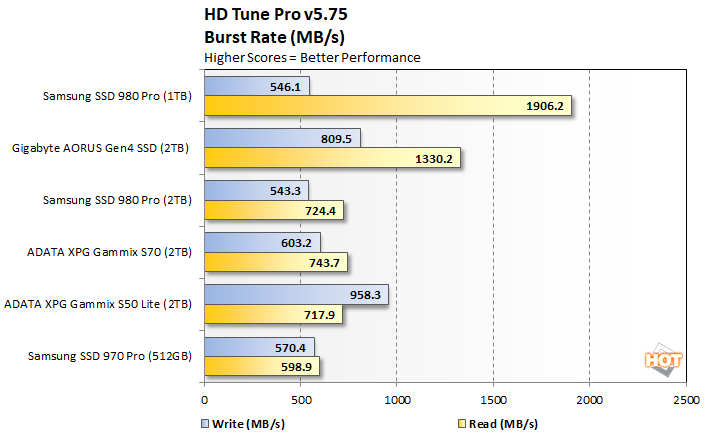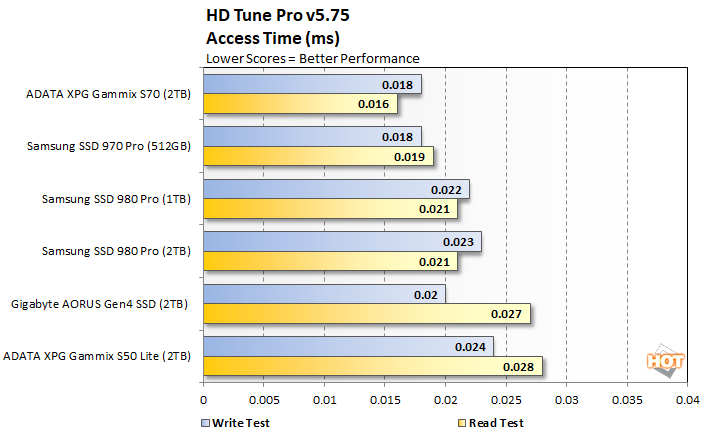 HDTune had the
Samsung
SSD 980 Pro 1TB and 2TB drives going toe to toe in terms of average transfers and access times, and landing in the middle of the pack. Read burst rates on the 1TB drive were much better, however.
CrystalDiskMark x64 Benchmarks

Synthetic File Transfer Tests
CrystalDiskMark is a synthetic benchmark that tests both sequential and random small and mid-sized file transfers using incompressible data. It provides a quick look at best and worst case scenarios with regard to
SSD
performance, best case being larger sequential transfers and worse case being small, random transfers.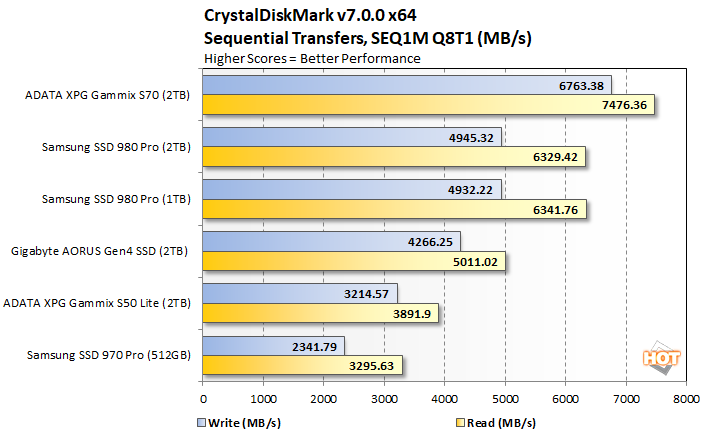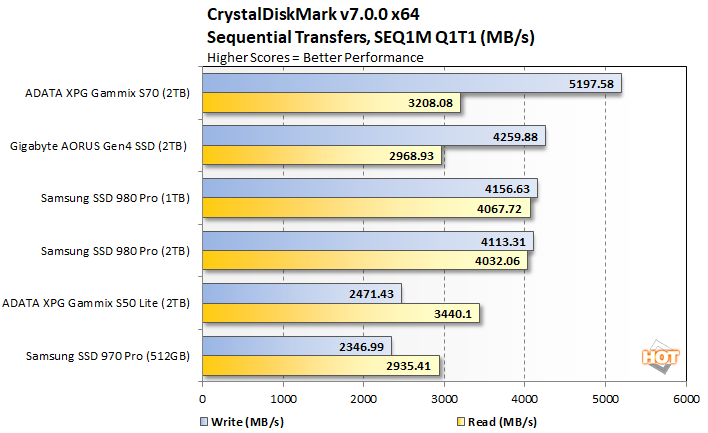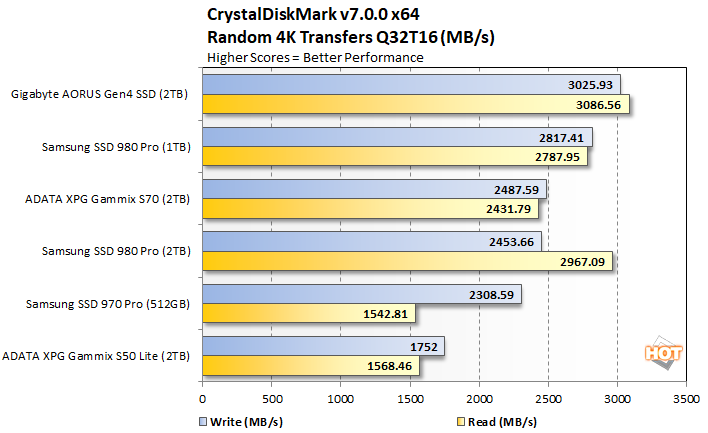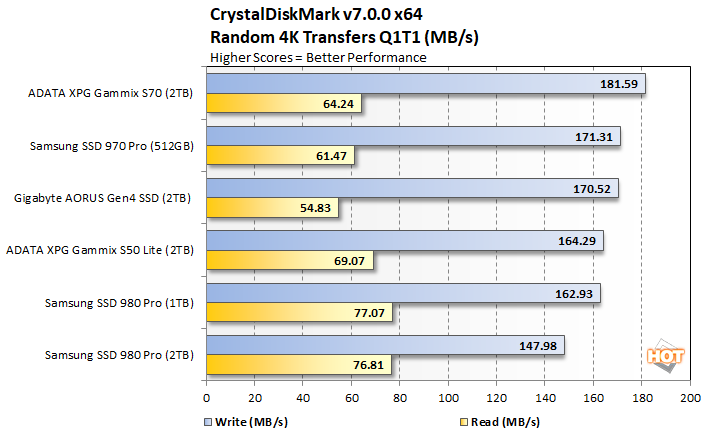 Sequential performance between the 1TB and 2TB Samsung SSD 980 Pro drives was similar, but there is some separation with 4K transfers and high queue depths. The 2TB 980 Pro put up better reads in the Q32T16 test, but trails in writes. And in the Q1T1 test, the 1TB drive outpaces the 2TB drive in reads and writes. Also note, though they're at the bottom of the chart in the Q1T1 test, the Samsung drives had the best 4K reads here -- it was writes that trailed the other drives.
We like PCMark 10's new quick storage benchmark module for its real-world application measurement approach to testing.
PCMark
offers a trace-based measurement of system response times and bandwidth under various scripted workloads of traditional client / desktop system use cases.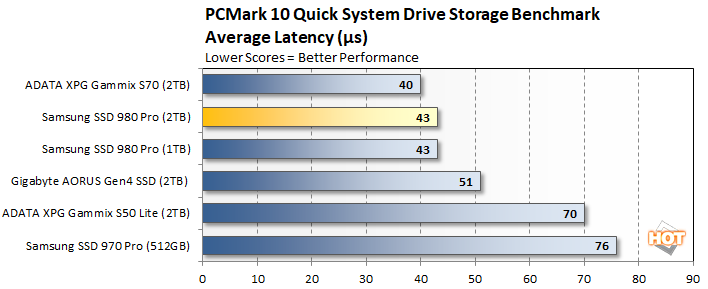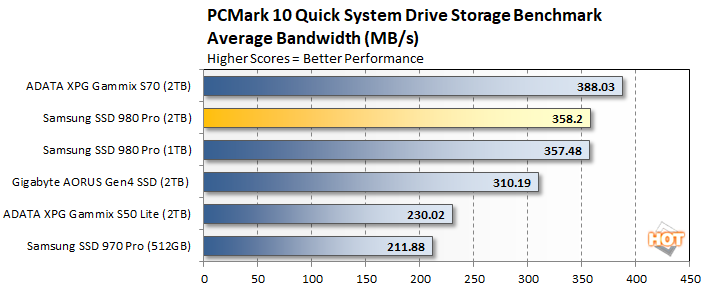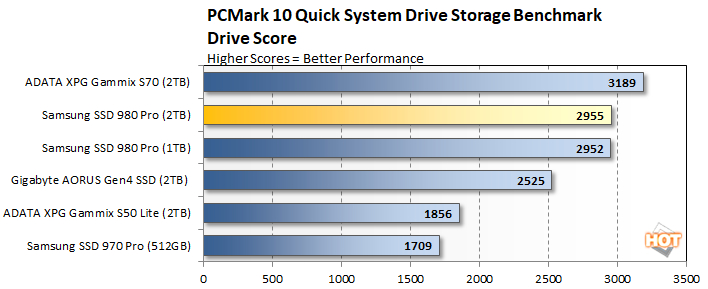 The trace-based PCMark10 storage benchmark gave an ever-so-slight edge to the 2TB Samsung SSD 980 Pro over it's lower-capacity counterpart. Here, the 2TB SSD 980 Pro takes second place, behind the InnoGrit-based ADATA XPG GAMMIX S70, but it clearly outpaces early PCIe Gen 4 SSDs and the previous-gen 970 Pro.
Samsung SSD 980 Pro 2TB Summary And Verdict
The 2TB Samsung SSD 980 Pro is available now, for street prices in the $399 to $459 range ($0.19 - $0.23 per GB). At those prices, the 2TB Samsung SSD 980 Pro lands in the upper-end of the spectrum for a high-performance Gen 4 NVMe drive. However, looking back through the numbers, it is competitively priced nonetheless.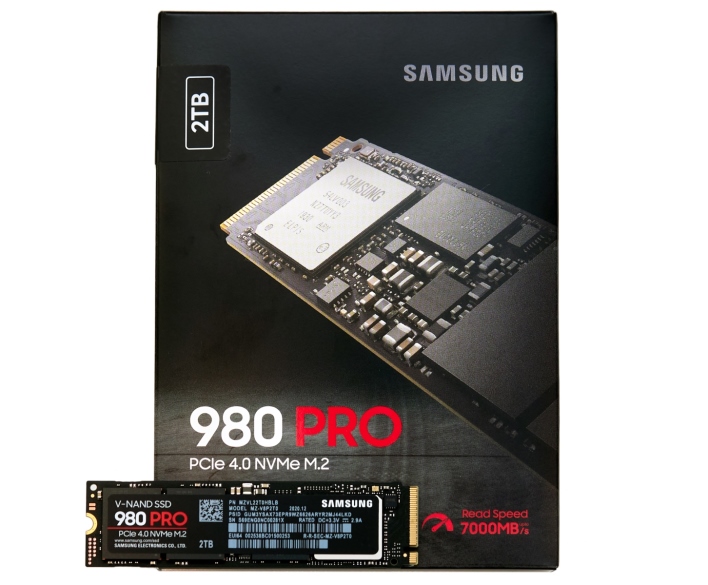 Find The Samsung SSD 980 Pro 2TB @ Amazon
Overall, the 2TB Samsung SSD 980 Pro's performance is among the best currently available. Against a drive like the ADATA XPG GAMMIX S70, the 980 Pro does trail more often than not, but the S70 runs much hotter, costs significantly more, may not even fit in some motherboards due to its relatively large (and necessary) heatsink, and its controller technology is from a relative newcomer in the space. Conversely, Samsung's track record is excellent, the drives carry a 5-year warranty, and they are no concerns, mechanically, using them in virtually any system.

There's a lot to like about the 2TB Samsung SSD 980 Pro. If you're shopping for a leading-edge, high-capacity NVMe SSD, this drive should definitely be on your short list.
Strong Performance

Good Warranty

Premium But Competitive Pricing
Related content