Samsung SSD 870 EVO Review: The Fastest SATA SSDs Yet
Samsung SSD 870 EVO: More Benchmarks And Our Verdict
EFD Software's HD Tune is described on the company's website as such:
"HD Tune is a hard disk utility with many functions. It can be used to measure the drive's performance, scan for errors, check the health status (S.M.A.R.T.), securely erase all data and much more."
The latest version of the benchmark added temperature statistics and improved support for SSDs, among a few other updates and fixes.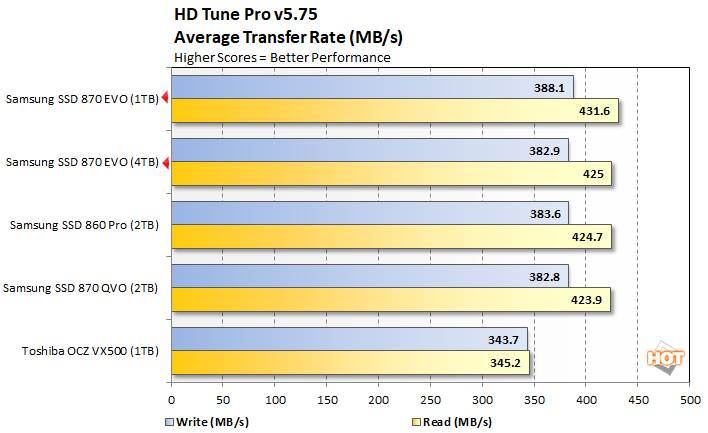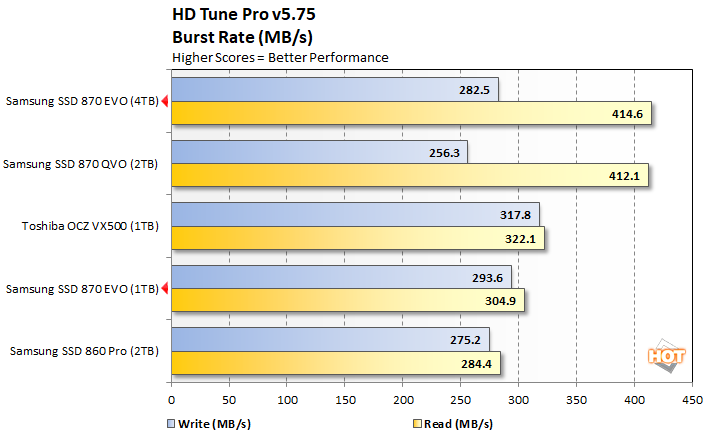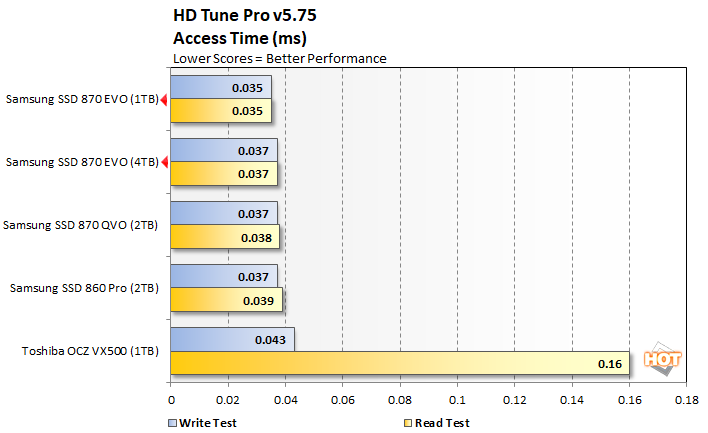 Burst rate performance was mixed for the Samsung SSD 870 EVO drives we tested, but sequential transfers and access times led the pack, albeit by relatively small margins.
CrystalDiskMark is a synthetic benchmark that tests both sequential and random small and mid-sized file transfers using incompressible data. It provides a quick look at best and worst case scenarios with regard to
SSD
performance, best case being larger sequential transfers and worse case being small, random transfers.
CrystalDiskMark x64 Benchmarks

Synthetic File Transfer Tests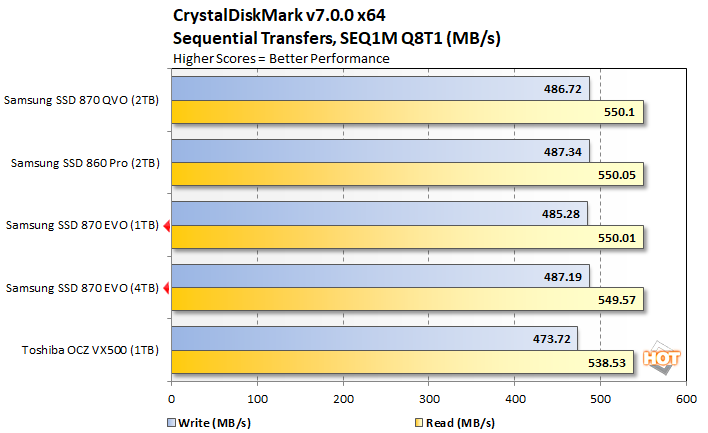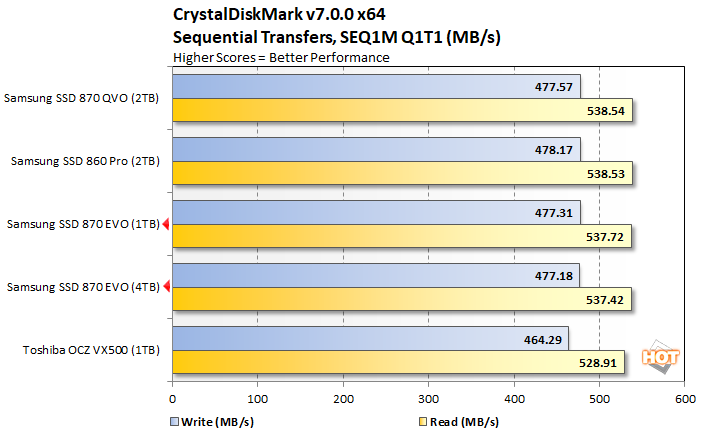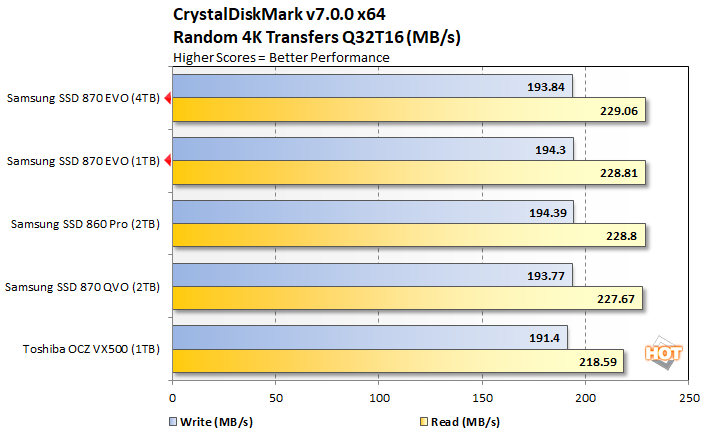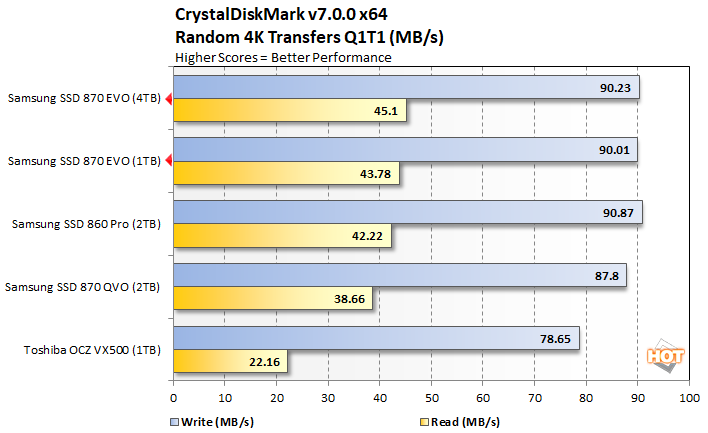 CrystalDiskMark showed the Samsung SSD 870 EVO drives trailing ever so slightly in the sequential transfer tests. In the random 4K transfer tests, however, Samsung's latest SATA SSDs led the pack once again -- at least in terms of reads. Writes were still top of the charts, but trailed by a tiny bit, which falls within the margin of error in this benchmark.
We like PCMark 10's new quick storage benchmark module for its real-world application measurement approach to testing.
PCMark
offers a trace-based measurement of system response times under various scripted workloads of traditional client / desktop system operation.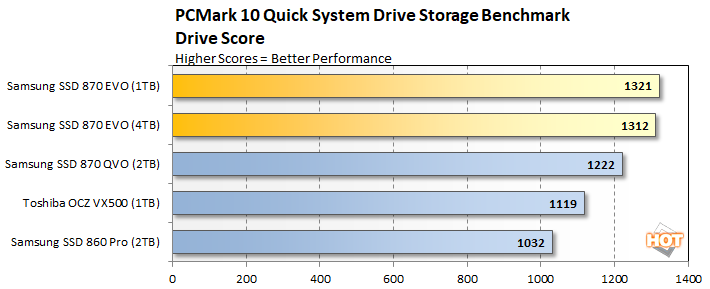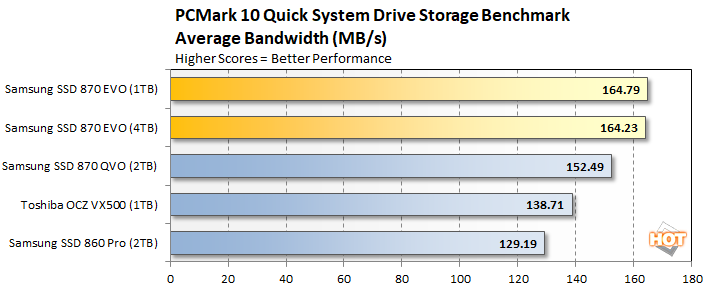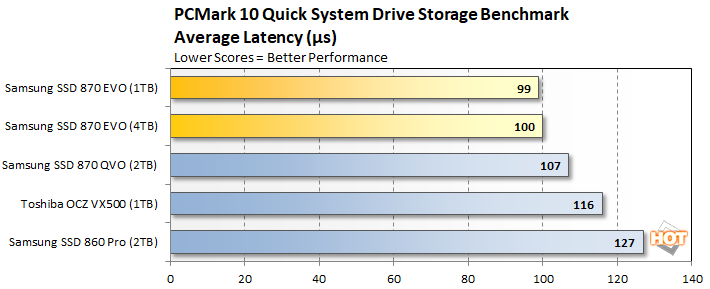 Samsung's new SSD 870 EVOs also topped the charts according to PCMark 10 as well. Their overall score, bandwidth rating, and access times were the best of the bunch by more significant margins this time around.
Samsung SSD 870 EVO Review Summary And Verdict
The Samsung SSD 870 EVO series of solid state drives will be available soon at select retailers and at Samsung.com. Prices for the drives are as follows:

(Update 1/20/21: Samsung reached-out and let us know pricing has was reduced from the MSRPs originally communicated.)
4TB ($529.99 $479.99)
2TB ($269.99 $249.99)
1TB ($139.99 $129.99)
500GB ($79.99 $69.99)
250GB ($49.99 $39.99)
Those prices are actually in-line or slightly lower than the QLC-based SSD 870 QVO drives that launched a few months back, which were originally price at $129 for the 1TB model and $499 for the 4TB model, but street prices trended lower for those drives once availability ramped.
At their current MSRPs, the Samsung SSD 870 EVO series falls in the $0.11 – $0.16 per gigabyte range, which is on the higher side for SATA-based solid state drives. However, though there isn't much headroom to play with on the legacy SATA interface, the Samsung SSD 870 EVO series is a strong performer in its class, due to the improved random 4K performance and lower access times, so a bit of a premium isn't a surprise. And like we saw with Samsung's QVO drives, street prices are likely to trend lower in time as these new Solid State Drives become more widely available.
If you're in need of a high-capacity, top-performing SATA SSD and want something from a well-respected brand with a long track record in the space, the Samsung SSD 870 EVO series should be on the top of your short list.
Class-Leading Performance

High Capacities Available

5 Year Warranty

Samsung's Strong SSD Track Record

Hard To Get Excited Over SATA
Related content
Comments