Samsung Galaxy S21 5G Review: Packed With Features And Value
Samsung Galaxy S21 5G: Benchmark Performance Results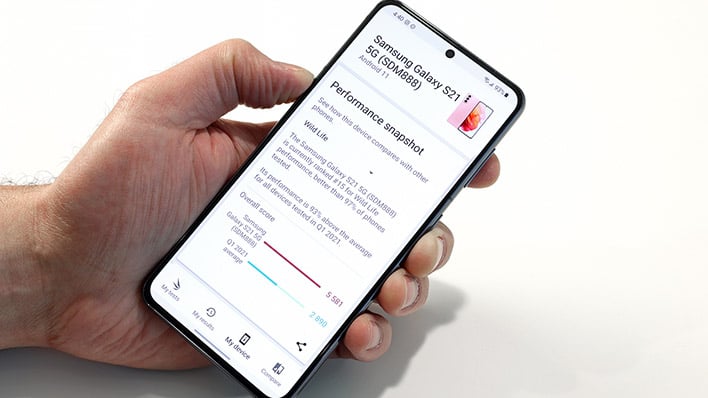 The
latest version of Geekbench
for Android has aligned its scores with the desktop version of Geekbench 5, which means we recently had to capture all new results. The data presented here shouldn't be compared to Geekbench results in some of our older smartphone reviews. However, we still have a pretty big cross-section of devices represented, so let's see how the Samsung Galaxy S21 fares versus some other high-end handsets...
Geekbench 5

Synthetic CPU Benchmark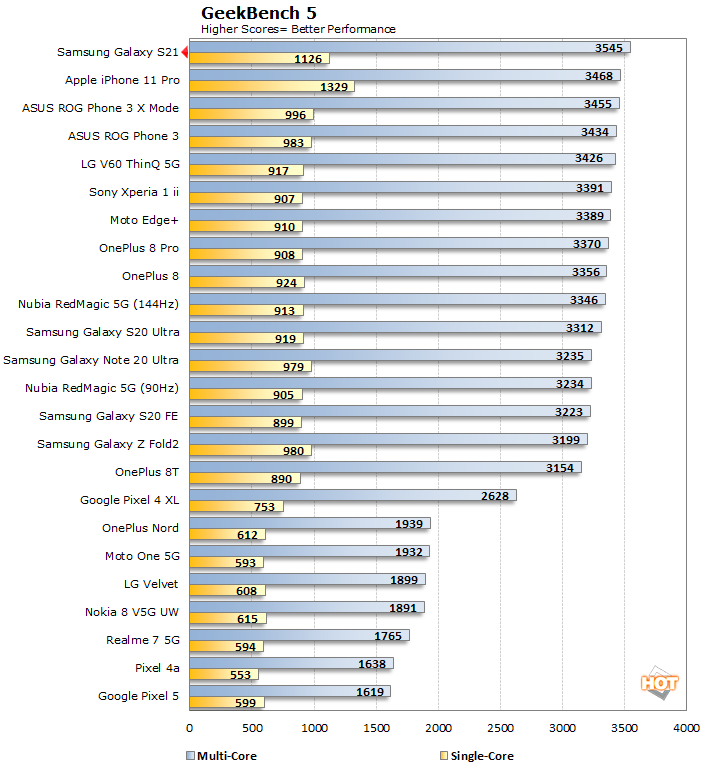 GeekBench isn't our favorite benchmark, as it's purely synthetic and can be heavily targeted for optimization. Regardless, the Galaxy S21 and its Snapdragon 888 processing engine deliver a roughly 15% lift in single thread performance and a more modest 3% lift in multithreaded performance over previous generation Android flagships, at least in the Galaxy S21.
Futuremark PCMark For Android

General Purpose Pocket Computing Performance Metrics
Futuremark's PCMark for Android is an excellent suite of tests if you want to benchmark a wide range of general purpose tasks on any handset -- things like image and video editing, as well as lighter-duty, everyday workloads such as email and web browsing. When you see the test running live, it's clear the scripted application tests are carefully selected to make use of the each mobile platform in a very controlled way...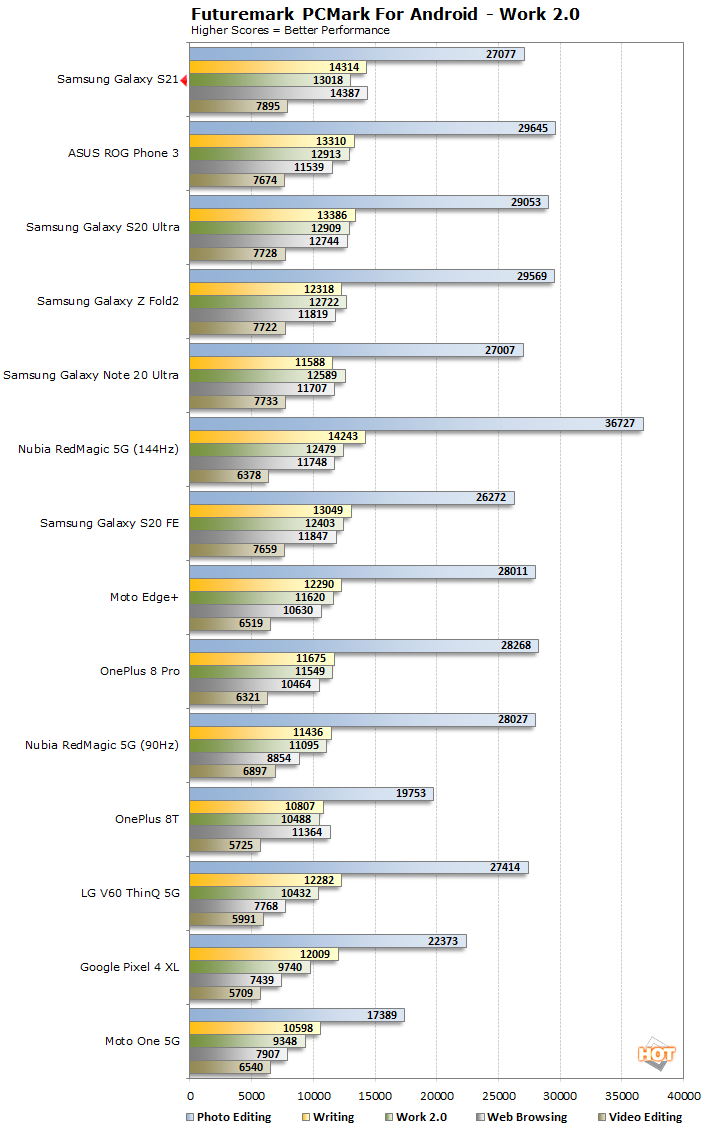 Here Samsung's Galaxy S21 shows similar performance to previous generation flagships, though it does eke out a victory in the overall score. Notable break-out performances for the new Galaxy device are in the Web Browsing and Writing test results.
AnTuTu 8

Platform Benchmarks
AnTuTu's latest benchmark returns a number of metrics ranked with somewhat nebulous scores, rather than frame rates or time to complete. Here we're running the latest version of AnTuTu across an multiple Android devices. AnTuTu returns four top level performance results which are all included here: CPU, RAM, 3D, UX (or User Experience), along with a total score...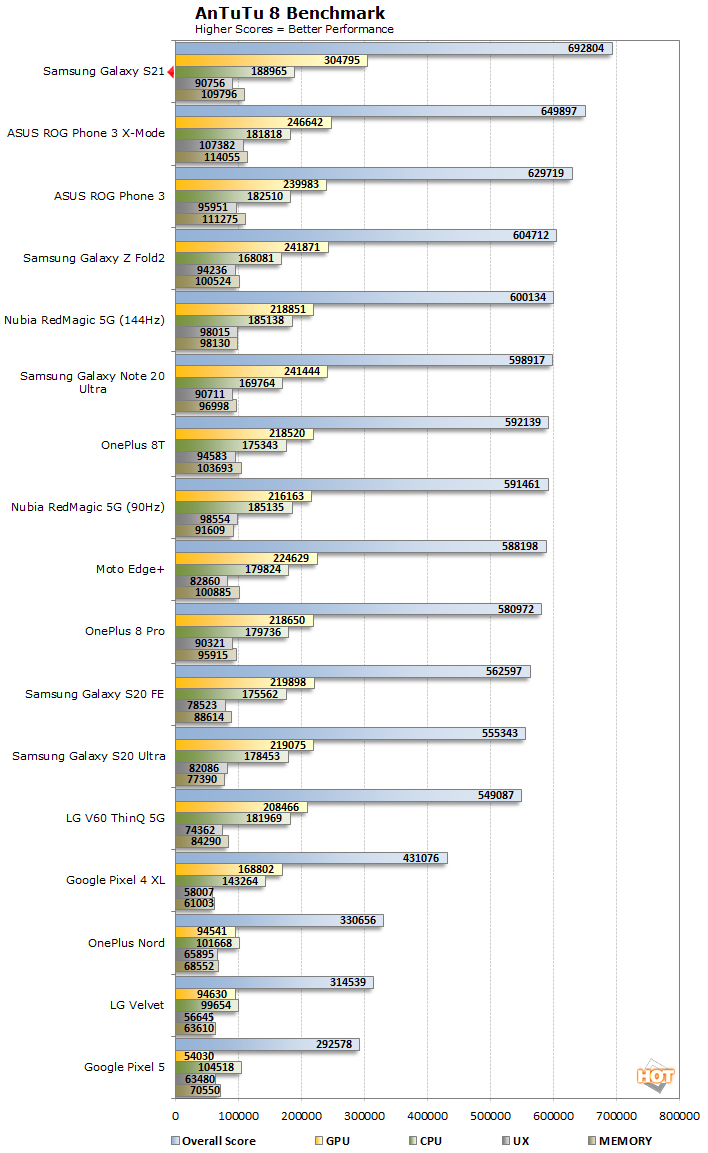 According to AnTuTu, the Galaxy S21 offers a much more substantial increase in performance versus previous generation Android handsets, to the tune of about 10% in the Overall score and just north of 27% in its GPU throughput.


3D Graphics Benchmarks: 3DMark And GFX Bench

Pushing The Pixels
Next we're checking how the Samsung Galaxy S21 compares in GFXBench, which has been one of the standard mobile graphics/gaming performance benchmarks for years. To ensure that display refresh (v-sync) and resolution aren't limiting factors, we're comparing off-screen test results here. GFXBench tests OpenGL ES graphics workloads and we're specifically testing OpenGL ES 2...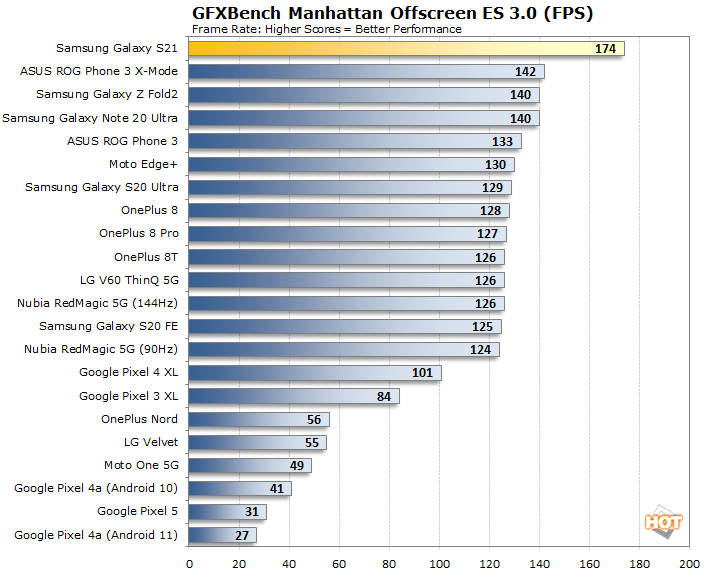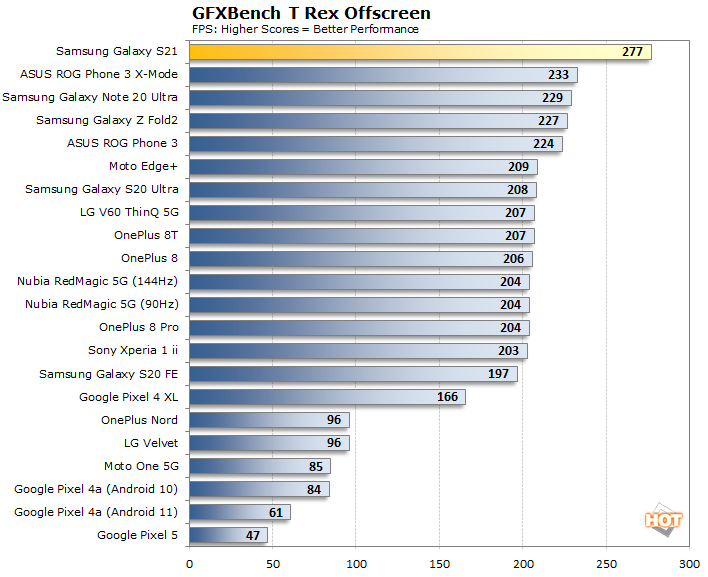 Now we're seeing the kind of performance lift we expected from the Qualcomm
Snapdragon 888
Mobile Platform on-board the Galaxy S21 5G. Here the spread looks like a 20 - 24% gain for this new Samsung device over the top Snapdragon 865-powered devices.
Futuremark's 3DMark Sling Shot is a newer benchmark module that's been added to the
3DMark
mobile suite. Unlike previous gen 3DMark mobile tests, Sling Shot is a much more advanced OpenGL ES 3.1 and Metal API-based benchmark that employs more advanced rendering techniques, like volumetric lighting, particle illumination, multiple render targets, instanced rendering, uniform buffers and transform feedback.
Futuremark 3DMark Sling Shot Extreme Benchmark

We're running this test in off-screen mode once again to remove display resolution differences from the equation. This lets us compare cross-platform results more reliably...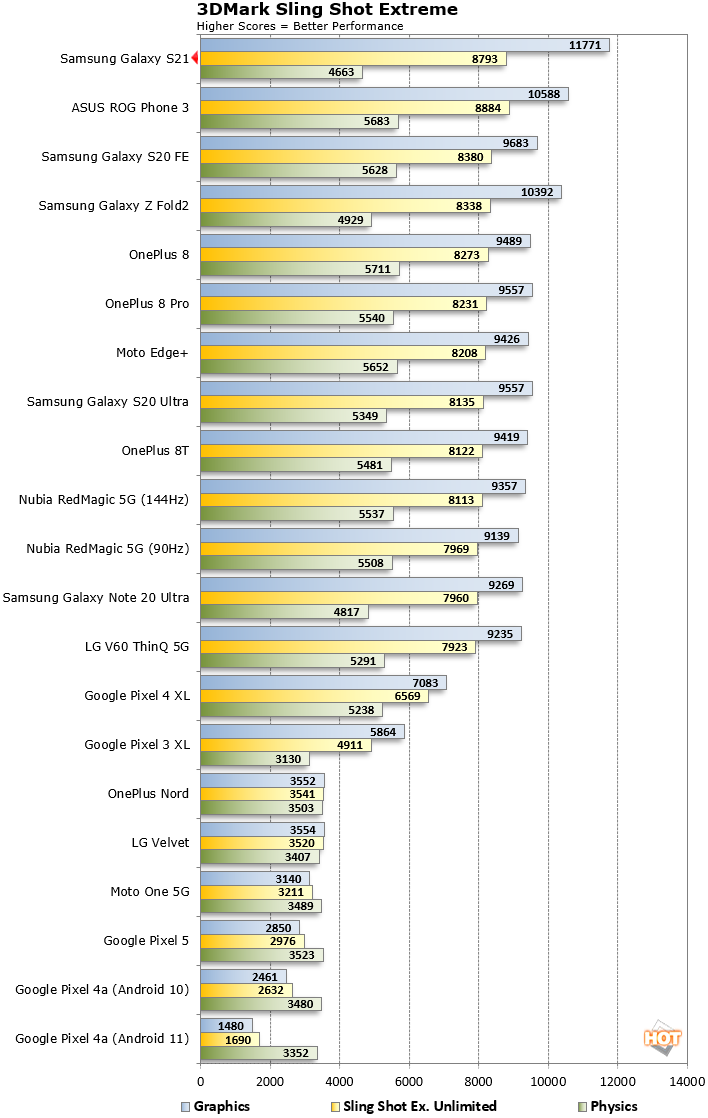 Again here we see a more modest lift to the graphics score, but similar weighting in benchmark subsets. What's surprising is how the Galaxy S21 Physics score lags behind some other devices, though overall its still near the top of our chart.
Galaxy S21 3DMark Wild Life Benchmark - Next-Gen Mobile Gaming And Graphics Testing
3DMark Wild Life is the latest cross-platform test from UL. UL explains that WildLife is primarily tasked with measuring GPU performance across platforms, and two distinct tests are available. The standard WildLife test is designed to give feedback on how a game performs over a short period of time. With mobile games, people typically play in brief spurts when they find some free time; be it on the bus, on the subway, or a quick battle royale session on your lunch break. The 3DMark WildLife Stress Test, on the other hand, shows how a device performs over a longer stretch of time, and takes note of performance degradation that can crop up due to increased heat levels and throttling (which we'll get to a bit later).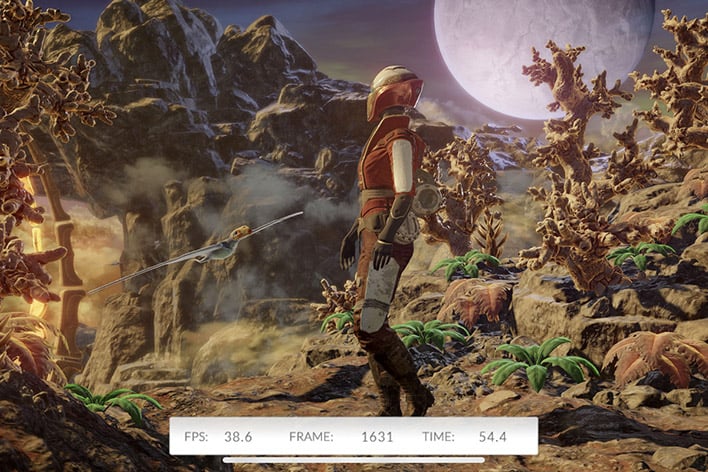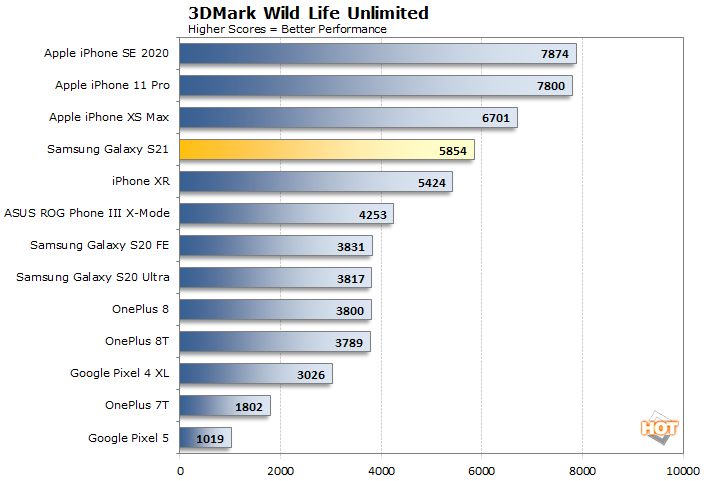 3DMark Wild Life is a much more taxing graphics benchmark that employs cutting-edge mobile game engine technologies to deliver impressive visuals, as you can see in the screen shot above. As you can see in the scoring, Samsung's Snapdragon 888-powered Galaxy S21 5G delivers a massive ~ 53% lift in performance versus some of the fastest Snapdragon 865-powered scores (Galaxy S20 FE and Ultra) we've compiled here. This is a major spike in performance but there's more to the story here it seems...

Samsung's Galaxy S21 5G Thermal Throttling Issue
During the course of testing, we were scratching our collective heads as to why the new Snapdragon 888-powered Galaxy S21 was putting up scores in some of the longer duration tests that were more in-line with previous generation devices. So to explore this a bit further, we fired up the 3DMark Wild Life Stress Test, which basically just runs a concurrent, 20-loop test of the same benchmark you see above, in an effort to thermally saturate the device its being run on. This results in a 20 minute test run that is indicative perhaps of a continuous heavy-duty gaming workload over and extended period. Historically, we've found that iPhones throttle hard in this test, while previous generation
Snapdragon 865 devices generally don't budge
. Let's look at how the Galaxy S21 5G handles this workload...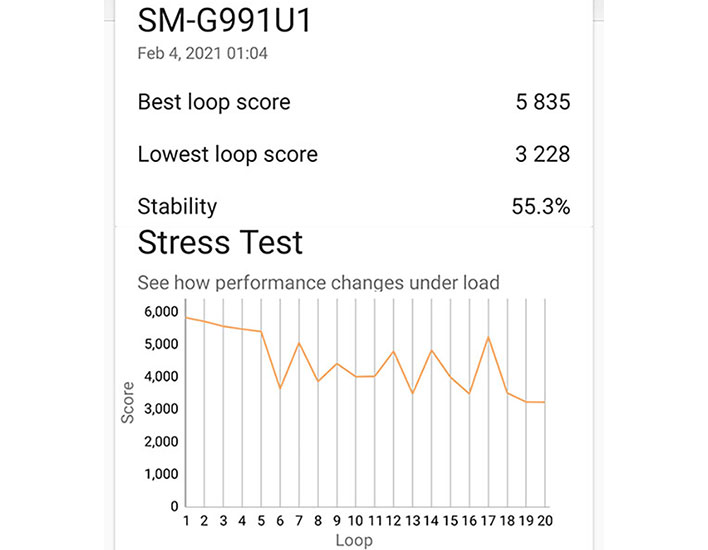 In this test, we witnessed the Galaxy S21 bleed off about 40% of its performance over time, starting with a more dramatic decline at right about the 5th loop or 5 minute mark (each run lasts 1 minute). This mostly explains why we witnessed some of the mixed results in the benchmarks, where in other places Qualcomm's new Snapdragon 888 dominates. Interestingly, we tossed the device into a freezer and ran this 20 minute test again, and the Galaxy S21 maintained 98+% of its performance over the same 20 minute/20 loop test duration. It seems as though Samsung's thermal solution on board the Galaxy S21 isn't quite up to the task, though it's unlikely mainstream consumers will notice much of a difference over extended mixed use workloads. Generally speaking, only performance enthusiasts and gamers that heavily stress their devices with gaming or graphically-intensive VR workloads will be concerned about the Galaxy S21's performance bleed-off, which ends up leaving it on par with previous generation Snapdragon 865 devices over these extended strenuous use cases.
Samsung Galaxy S21 5G Battery Life Performance
Futuremark's PCMark for Android Work 2.0 Battery test takes workloads from the benchmark itself (image and video editing, email and web browsing) and scripts them in a loop that runs until battery levels drop below 20 percent. This test is more real-world in terms of its setup, because we calibrate display brightness on all devices to 200 Lux with meters, and the test then locks that display brightness in for the duration. In these tests, Bluetooth connectivity and Location services are disabled, though Wi-Fi and mobile data is left enabled as part of a traditional use case workload. In the case of the Galaxy S21 5G, it maintained a 5G connection to T-Mobile's network in our lab for the entire duration of this test.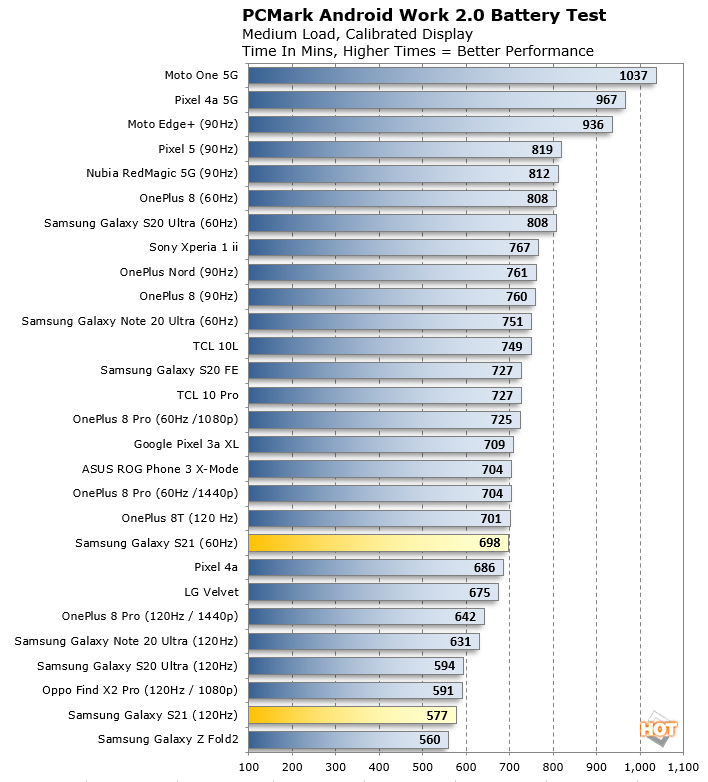 Even at its 60Hz refresh rate setting on Samsung's Dynamic AMOLED display, that Galaxy S21 landed in the lower quadrant of battery life results. Regardless, at 698 minutes of up-time, or a little over 11.5 hours, we're still feel the Galaxy S21 will serve most mainstream users will with a full day's worth of on/off mixed usage. For example, I personally run a OnePlus 8 Pro at 120Hz and it only survives 642 minutes in this test, but I never find myself reaching for a top-off before it's time to turn in at night. In any event, the numbers are the numbers as they say, and the Galaxy S21 with its 4000mAh battery is squarely in the bottom range of our test results, though admittedly this test is again a heavier workload with tasks like video editing in the mix, alongside mainstream tasks like web browsing and email.
On the other hand, wired fast charging is limited to 25 Watts for reasonably quick top-offs, while wireless charging will trickle along at just 15 Watts for the Galaxy S21 series, both of which are a notch or two behind the likes of OnePlus. In any event, Samsung's Galaxy S21+ and
Galaxy S21 Ultra
with their 4800 and 5000 mAh batteries, respectively, will likely fare much better in this test.
Let's look at a quick 5G speed test sanity check and wrap things up...
Related content