Samsung Galaxy S21 5G Review: Packed With Features And Value
Samsung Galaxy S21: 5G Performance And Our Review Summary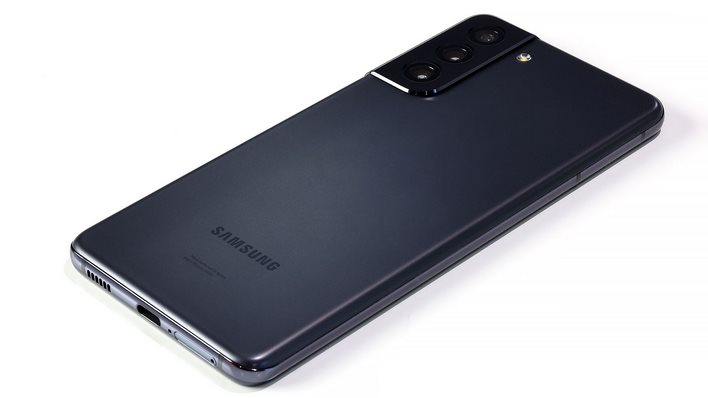 Samsung Galaxy S21 5G - Testing T-Mobile Sub-6 Connectivity
Before we wrap-up, we felt it was a good idea to explore the primary functionality that all users require as a basic necessity from a smartphone, and that's call quality and good cellular network connectivity. In terms of call quality, the Galaxy S21 5G performs just fine with good audio capture and background noise isolation. On the connectivity front, we had a T-Mobile enabled Galaxy S21 unit at our disposal, so significantly longer reach Sub-6 5G network performance is what we were working with. In practice, for most users in the suburbs, Sub-6 5G connectivity will likely be the mainstay for some time, as the 5G rollout continues, with mmWave remaining prevalent typically only in major city areas.
So, here's a taste of 5G speed out in the 'burbs and likely what most users will experience...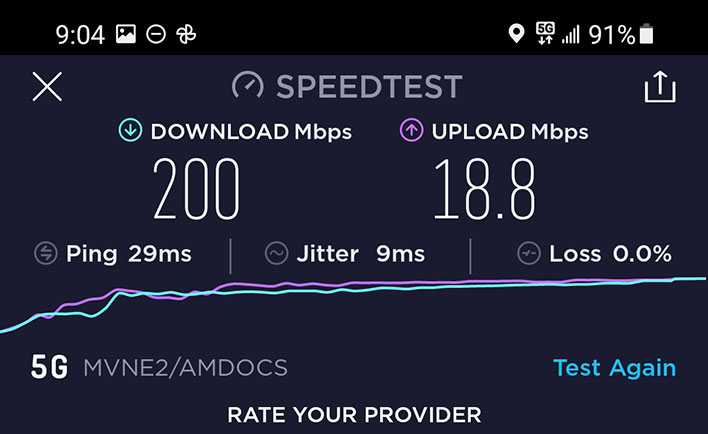 In our area, we've seen T-Mobile's 4G LTE connectivity top out at around 60Mbps down and 15Mbps up, so these are solid gains for a
5G
connection on
T-Mobile's
network in our local area. We would caution, however, that network provider performance varies wildly from town to town, and in many cases is more dependent on network provider roll-out, capacity and any limitations that may be set in your area. Regardless, for Sub-6, this is solid performance, though mmWave can provide multi-Gigabit throughput if you're lucky enough to be line of site to an antenna in an urban area, or perhaps at sports stadium venue.
Samsung Galaxy S21 5G - The Final Analysis
As we noted at the start of this review, Samsung's new Galaxy S21 5G delivers a boatload of features and the latest Snapdragon 888 mobile platform technologies at a very competitive price point (especially
at $699 unlocked
currently). An additional feature we haven't covered yet is its IP68 rated water and particle resistance, which is something you won't find on some competing handsets in this price range, due to its inherent cost adder. When you consider there's wireless charging, both mmWave and Sub-6 5G support, a 120Hz OLED display, Samsung's innovative DeX features and a killer camera setup on board, the Galaxy S21 5G is an excellent value. Yes, there's no microSD card slot and Samsung no longer packs in a wall charger, leaving users with only a USB-C cable, but
that's a $10 - $15 item
, if you actually have to go out and buy one.
The Galaxy S21 5G feels like Samsung took a page from
its Fan Edition playbook
and targeted delivering good value to consumers, with key features and the full Galaxy S21 series experience offered even within this base model device.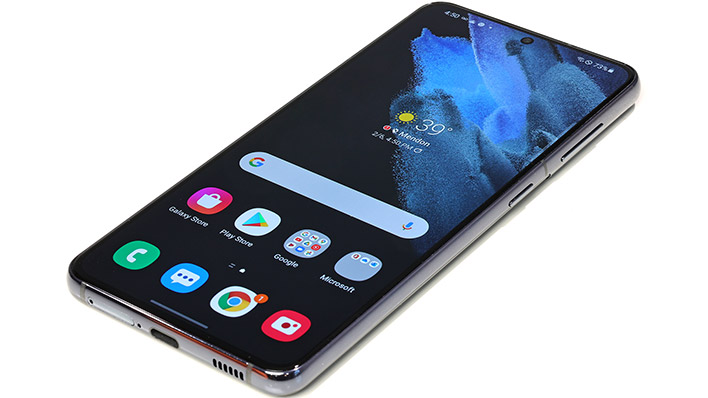 Find The Samsung Galaxy S21 5G For Just $699 On Amazon
Conversely, the Galaxy S21 5G did give us some minor pause with its obviously thermally-challenged design that bled off a notable amount of performance over extended, heavy-duty use. Although, again, this is an issue that only serious gamers or performance enthusiasts will care about and the average mainstream user likely won't notice. Then there was the Galaxy S21's softer battery life in our more strenuous testing, though we do feel confident this smartphone will serve most users just fine with all-day to multi-day mixed usage uptime.
In the end, the new Samsung Galaxy S21 5G has an excellent value proposition, and packs some of the latest mobile platform technologies into a svelte, beautifully-designed, size-efficient device. In this case, you get what you pay for and then some. The Samsung Galaxy S21 5G checks a lot of boxes that many next-generation 5G phones should, only at a price point that will minimize sticker shock for those looking to update their smartphone without such a major financial commitment. The Galaxy S21 5G is indeed, HotHardware approved.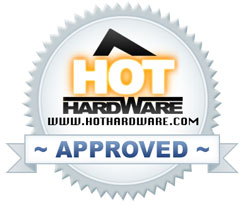 Excellent performance

Killer OLED 120Hz display

Great camera performance

Innovative and useful Samsung DeX
Very useful Director's View camera mode
Aggressively priced currently
Solid battery life

One UI still occasionally gets in the way
Noticeable throttling under extended load
Fast charging isn't as fast as some
Lack-luster battery life
Related content
Comments