NVIDIA GeForce RTX 3080 Laptop Performance: What To Expect
NVDIA GeForce RTX 3080 Mobile Vs. Desktop GPU Performance At 1440P
This next group of benchmark results feature the MSI GS66 Stealth and GeForce RTX 3080 laptop GPU running at the machine's native display resolution of 2560x1440 (except for a couple of the synthetic tests), but all of the comparison data is from desktop GPUs, backed by a Ryzen 9 5950X. These comparisons are far from what we'd consider "fair", but they serve two purposes. First, they give us a frame of reference -- having single-bars in the charts for the GS66 Stealth wouldn't be particularly useful. But they also show where the GeForce RTX 3080 laptop GPU falls relative to its desktop-class namesake.

With the Pascal-based GeForce GTX 10-series, the performance disparity between mobile and desktop GPUs was relatively small. That disparity got somewhat larger with the mobile RTX 20 series. And now we get to see where things land with the RTX 30 series...
UL 3DMark Time Spy

Direct X 12 Performance
3DMark Time Spy is a synthetic DirectX benchmark test from UL. It features a DirectX 12 engine built from the ground up to support bleeding-edge features like asynchronous compute, explicit multi-adapter, and multithreading. Time Spy is designed to test the DX12 performance of the latest graphics cards using a variety of techniques and varied visual sequences. This benchmark was developed with input from AMD, Intel, Microsoft, NVIDIA, and the other members of the UL Benchmark Development Program, to showcase the performance and visual potential of graphics cards and other system resources driven by close-to-the-metal, low-overhead APIs.
3DMark Time Spy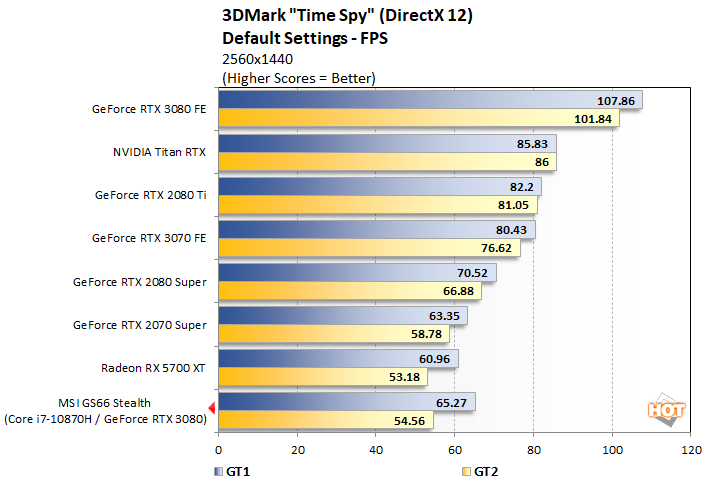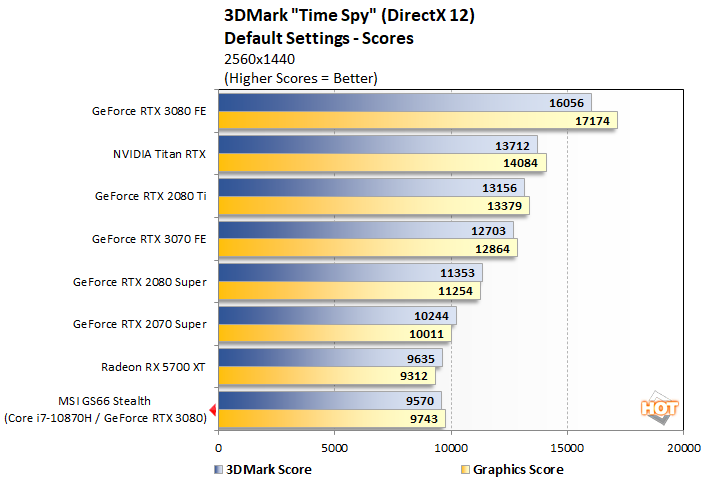 In the DX12-based 3DMark Time Spy benchmark, the GeForce RTX 3080 laptop GPU technically trails the pack in terms of its overall score. But, if you look at the individual results in the top chart, you'll see the the RTX 3080 actually beats the full-desktop Radeon RX 5700 XT in terms of framerate and outpaces the GeForce RTX 2070 Super in Game Test 1 as well. It was the Core i7-10870H's CPU Physics score that pulled down the overall result, relative to the desktop test system's Ryzen 9 5950X.
UL 3DMark Fire Strike

Synthetic DirectX Gaming
3DMark Fire Strike has multiple benchmark modes: Normal mode runs at 1920x1080, Extreme mode targets 2560x1440, and Ultra mode runs at a 4K resolution. GPU target frame buffer utilization for normal mode is 1GB and the benchmark uses tessellation, ambient occlusion, volume illumination, and a medium-quality depth of field filter. The more taxing Extreme mode targets 1.5GB of frame buffer memory and increases detail levels across the board. Ultra mode is explicitly designed for high-end and CrossFire / SLI systems and cranks up the quality even further. GT 1 focuses on geometry and illumination, with over 100 shadow casting spot lights, 140 non-shadow casting point lights, and 3.9 million vertices calculated for tessellation per frame. GT2 emphasizes particles and GPU simulations.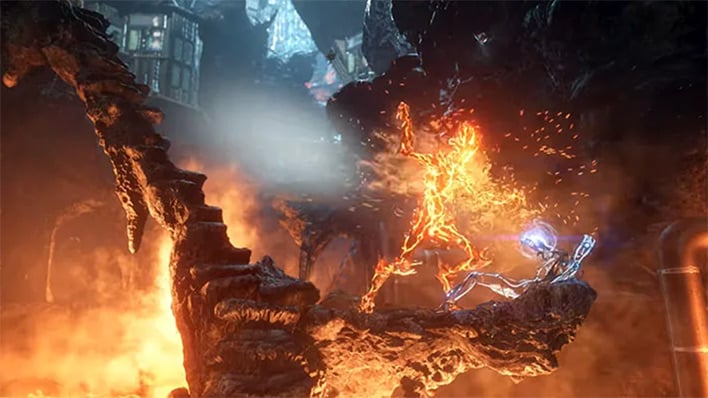 3DMark Fire Strike


The Fire Strike Ultra benchmark has the GeForce RTX 3080 laptop GPU falling in right between the Radeon RX 5700 XT and GeForce RTX 2070 Super, but nowhere close to a GeForce RTX 3080 Founder's Edition card.

UL 3DMark Port Royal

DXR Ray Tracing Benchmark
Port Royal was released earlier this year as an update to UL's popular 3DMark suite. It is designed to test real-time ray tracing performance of graphics cards that support Microsoft DirectX Raytracing, or DXR. Although DXR is technically compatible with all DX12-class GPUs, the graphics card must have drivers that enable DXR.
3DMark Port Royal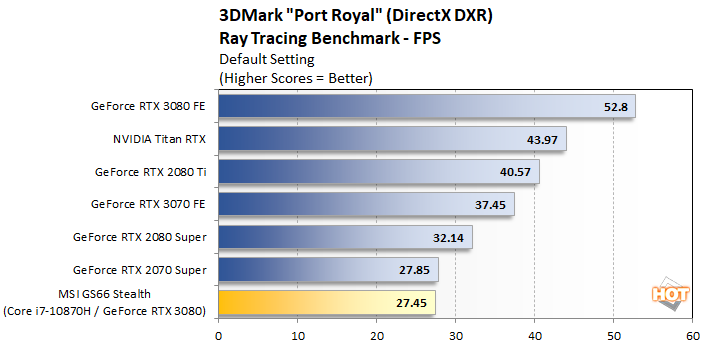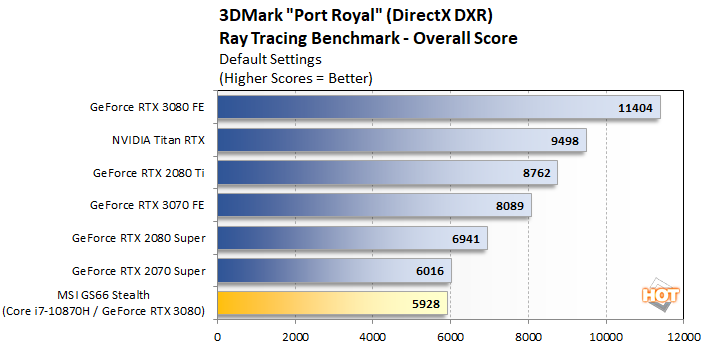 3DMark's Port Royal benchmark shows the GeForce RTX 3080 laptop GPU performing a touch behind the GeForce RTX 2070 Super.
We also experimented with the newer, more demanding DirectX Ray Tracing Feature test, which was recently released as an update to 3DMark...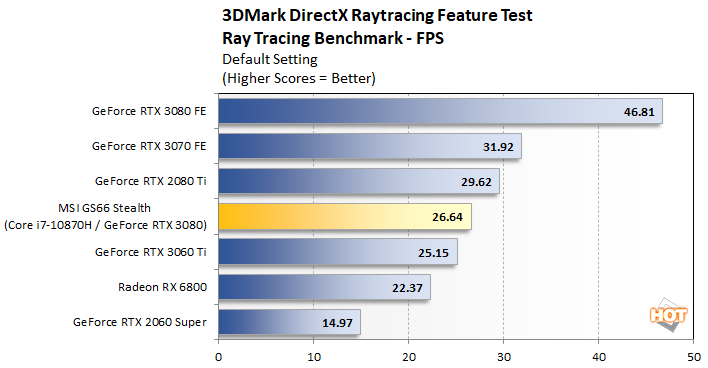 Ampere's newer architecture and updated RT cores push the GeForce RTX 3080 laptop GPU well ahead of the GeForce RTX 2060 Super and Radeon RX 6800 here. It outpaces the GeForce RTX 3060 Ti as well, and falls within 10% of the powerful GeForce RTX 2080 Ti.
Metro Exodus

With And Without RTX / DLSS
Metro Exodus is based on author Dmitry Glukhovsky's series of Metro novels that started with Metro 2033 back in 2005. The first installment in the series was Metro 2033, which was then followed by Metro Last Light (and later, Last Light Redux). Like other games in the series, Metro Exodus follows a post-apocalyptic story line that takes place in the former Russian Federation. The game features advanced graphics and visuals and also supports NVIDIA's RTX and
DLSS
technologies.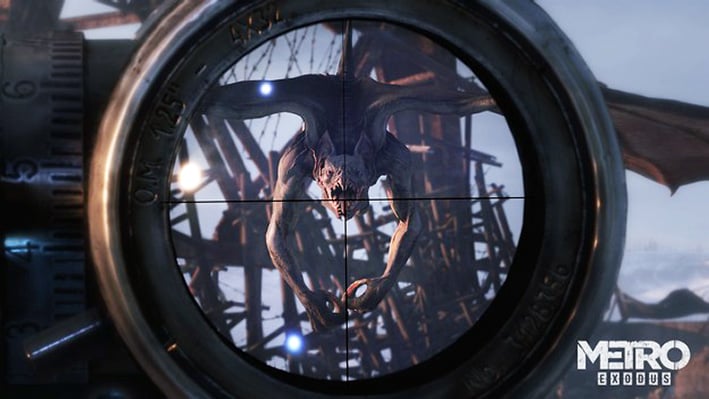 Metro Exodus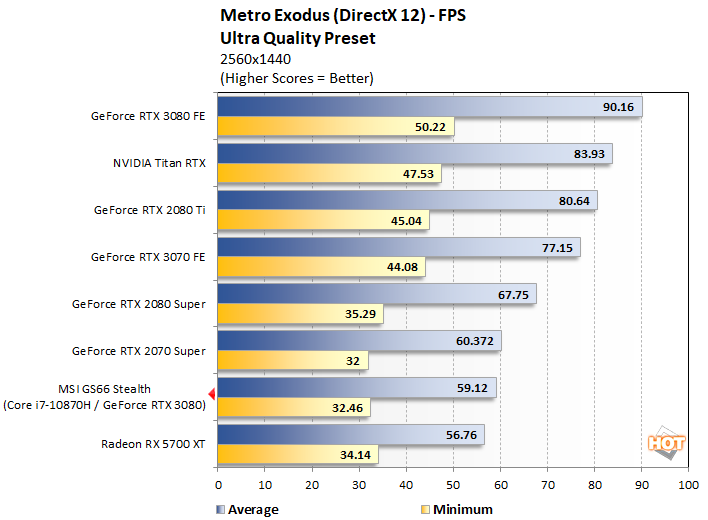 Using the Ultra quality preset in Metro Exodus, the GeForce RTX 3080 laptop GPU once again lands right in between the Radeon RX 5700 XT and GeForce RTX 2070 Super.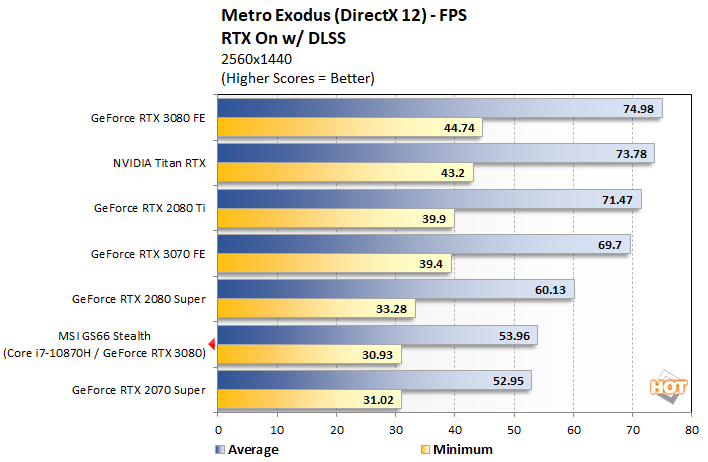 When using the RTX preset (which enables
DXR
ray tracing effects and DLSS) in this game, the GeForce RTX 3080 laptop GPU is able to overtake the GeForce RTX 2070 Super, but it can't quite catch the more powerful RTX 2080 Super.
Gears Tactics

DirectX Tactical Shooter
Gears Tactics is a turn-based tactical game spun-off of the popular Gears of War franchise. Technically, Gears Tactics is a prequel to the first game, but it was just recently released. Like
Gears 5
, Gears Tactics features a wide array of graphics options that can be tweaked and tuned to optimize performance on a given system.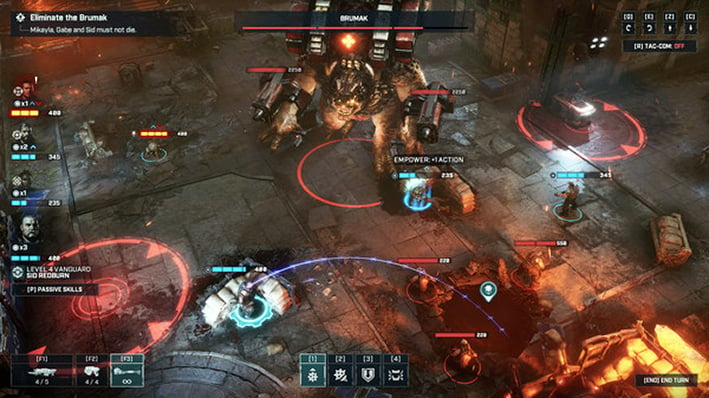 Gears Tactics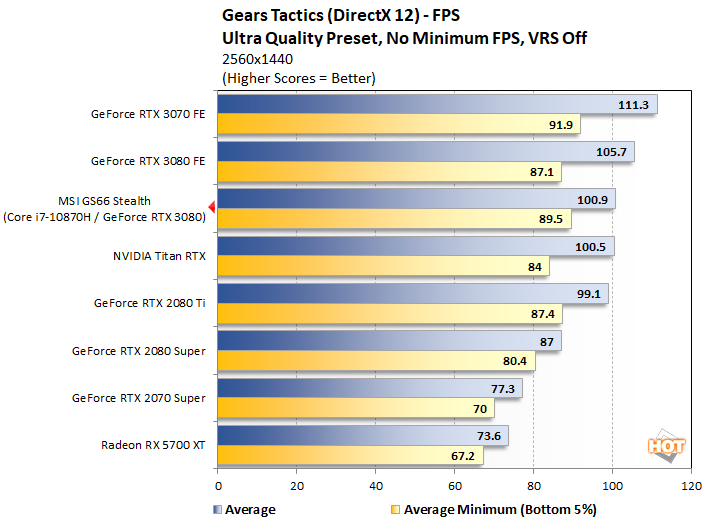 Gears tactics is somewhat GPU bound at 1440p, so there's not much separating the highest-end cards. The performance characteristics of this game, however, result in a particularly strong showing the GeForce RTX 3080 laptop GPU, which ended up outperforming a Titan RTX and finishing only a couple of percentage points behind the GeForce RTX 3080 FE.
Far Cry New Dawn

The Dunia Engine Lives On

Next up, we've got some benchmark scores from Far Cry New Dawn, the latest installment in the storied franchise. Like its predecessors, Far Cry New Dawn is a fast-action shooter set in an open world environment with lush visuals and high graphics fidelity. The game takes place in a fictional county in Montana, where a cult has taken over control of the area. We tested all of the graphics cards here at multiple resolutions using Ultra Quality settings to see how they handled this recently-released AAA title.


FarCry New Dawn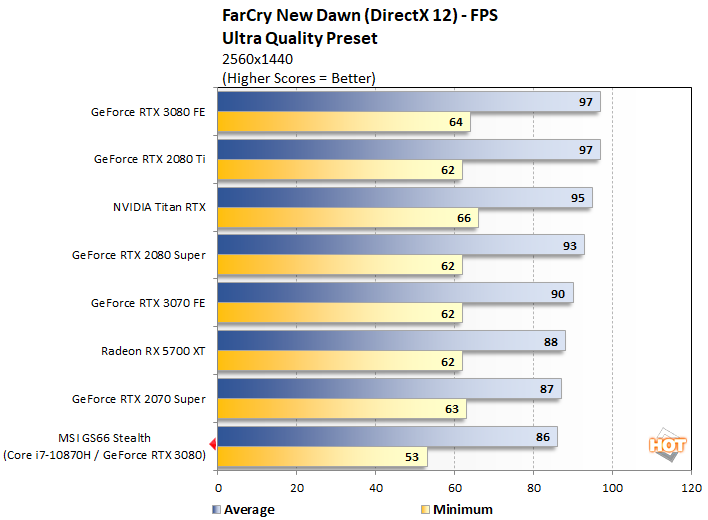 FarCry New Dawn is also somewhat GPU bound at 1440p, so there's not a massive spread between the fastest and slowest configurations here. The GeForce RTX 3080 laptop GPU ends up trailing the pack, but puts up a smooth 86fps, which is right on the heals on cards like the RTX 3070 Founders Edition and Radeon RX 5700 XT.
Related content
Comments