NVIDIA GeForce RTX 3080 Laptop Performance: What To Expect
NVDIA GeForce RTX 3080 Mobile Power, Acoustics And Our Verdict
As we've mentioned earlier, the particular
MSI
GS66 Stealth laptop configuration we received for testing may or may not be offered for sale, so we're not going to dwell too much on the system's acoustic and thermal characteristics. We had to do SOME poking and prodding though, to see how the GeForce RTX 3080 laptop GPU behaved in such a thin (18mm) form factor...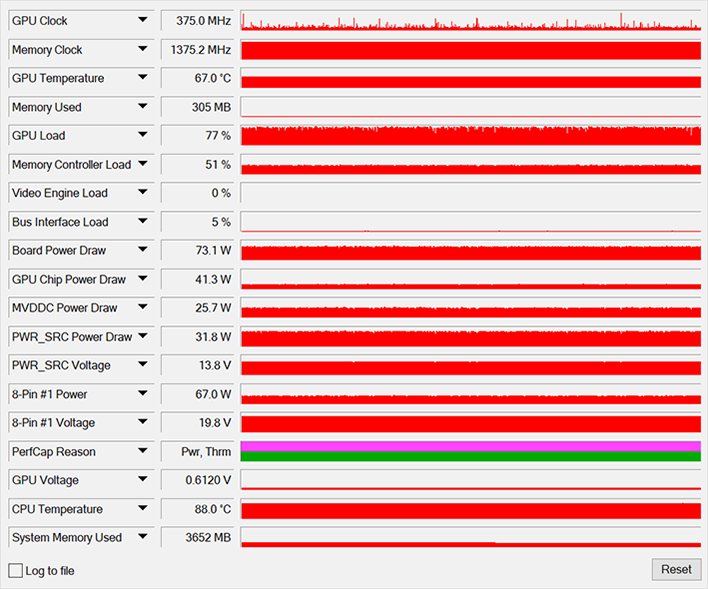 This data was gathered by the system's sensors using the latest version of GPU-Z, while the machine was configured in its "Balanced" thermal profile, running Furmark's CPU and GPU burn-in tests -- both the processor and GPU were concurrently under a sustained load for an extended period. The data shows the GeForce RTX 3080 laptop GPU settling in around 67°C, with the CPU topping out at a toasty 88°C.
| | |
| --- | --- |
| | Total System Power Consumption |
We'd also like to cover a couple of final data points regarding power consumption and acoustics. Throughout all of our benchmarking and testing, we monitored noise output and tracked how much power the notebook was consuming under various conditions. Note, this is not the GPU power alone, but power measured at the outlet, being drawn by the entire machine...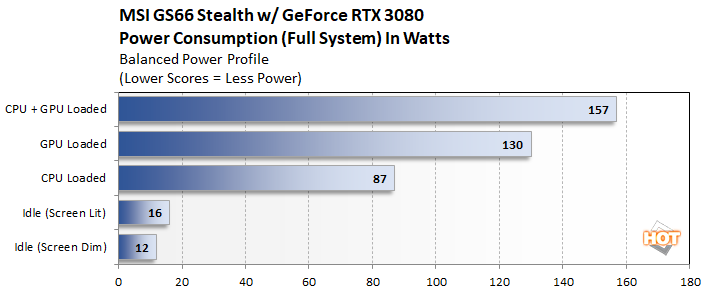 While idling, the particular MSI GS66 Stealth we tested pulled very little power from the wall. Taxing the CPU resulting in a peak of 87 watts, and whacking the GPU pushed power up to 130 watts. Hitting both the CPU and GPU concurrently resulted in a peak of 157 watts being pulled from the wall.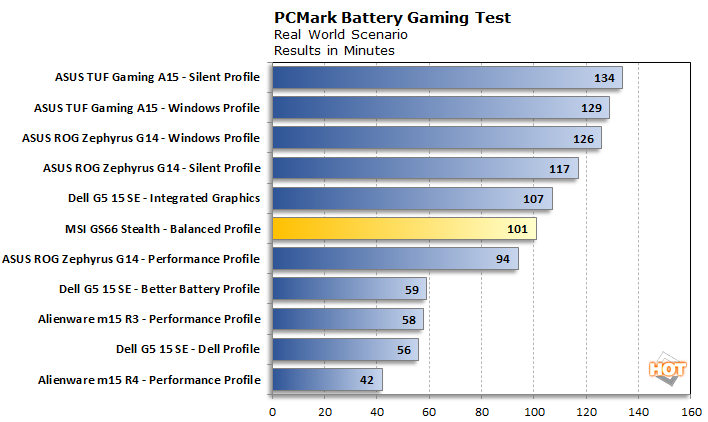 High-end gaming laptops packed with powerful components don't typically offer stellar battery life. With that said, despite having one of the most powerful, truly-mobile gaming laptop configurations available, the MSI GS66 Stealth with GeForce RTX 3080 Laptop GPU went for over an hour an forty minutes running PCMark's gaming battery life test, which put it well ahead of a number of notebooks that don't offer near the same level of performance.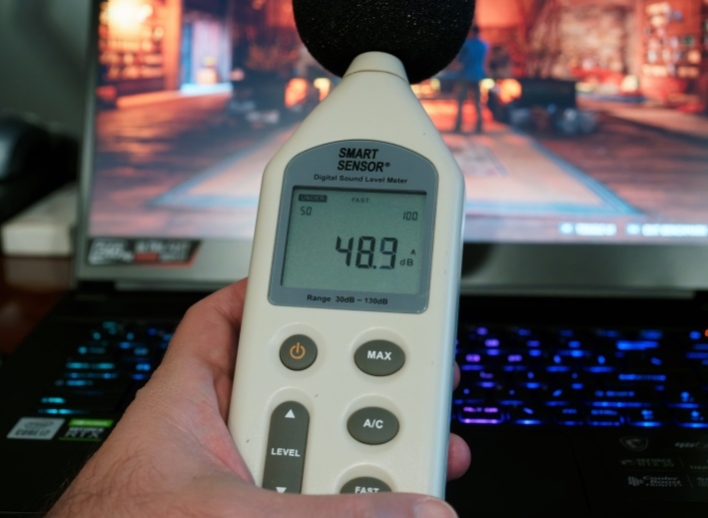 Keeping high-performance laptop components cool in only 18mm requires a capable cooling solution. The fan in out MSI GS66 Stealth test vehicle ran constantly, even when the machine was at idle. The fan generated only a dull whir when the machine was idling though, and registered about 39dBa on our sound pressure meter from about a foot away from the display. Putting the machine under a heavy load, however, results in significantly higher fan speeds. Under load, the system output nearly 49dBa, which is relatively loud, but in the same ballpark as many other high-end gaming notebooks.
NVIDIA GeForce RTX 3080 Mobile - The Verdict
The GeForce RTX 30-series laptop GPUs are somewhat of a departure from previous-gen mobile GPUs. With the 16nm Pascal-based GeForce GTX 10-series, there was little to distinguish between the desktop and mobile parts. Save for the GeForce GTX 1070 mobile variant, which actually had more CUDA cores than its desktop counterpart, the other members of the family were very similar to their desktop namesakes. The complexity and power requirements of the GeForce RTX 20-series mobile GPUs changed that a bit, and the new GeForce RTX 30-series laptop GPUs shift the desktop and mobile disparity somewhat further. It's just physics though -- there's only so much power and thermal headroom available in mobile form factors. And while the GeForce RTX 30-series mobile GPUs have more tame specs and don't perform at near the same level of their similarly-branded desktop counterparts, they're still quite speedy.











Strong Performance

Targeting Attractive Form Factors
Full Ampere Feature Support
New Platform Capabilities

Desktop/Mobile GPU Branding May Lead To Confusion
Cooling Solutions May Get Fairly Loud



Related content
Comments