NVIDIA Brings DLSS 3 Gaming To The Masses With GeForce RTX 4060 And RTX 4060 Ti
RTX 4090
and
RTX 4080
blew everyone's socks off with explosive performance, great new features and impressive power efficiency. These are killer GPUs, but at upwards of a thousand dollars this is certainly the price domain of wealthy enthusiasts or truly hard core gamers that want all the performance they can get. The GeForce
RTX 4070 Ti
and
its non-Ti sibling
brought Ada Lovelace a little closer to the grasp of mere mortals, but as NVIDIA itself points out, most folks generally fall into the "x60" class of GPU price bands.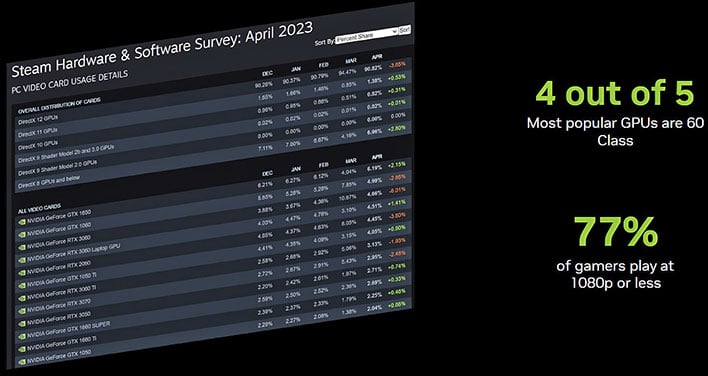 Indeed, the "x60" tier has been the GPU of choice for the everyman PC gamer for a long time now, and that's why we're extremely elated that NVIDIA is finally launching the Geforce RTX 4060 Ti along with its little brother, the GeForce RTX 4060. These new GPUs pack
all the same Ada Lovelace goodness
as their more powerful cousins, simply in a smaller form factor and a lower power budget—oh, and a lower cost, too, fortunately for your wallet.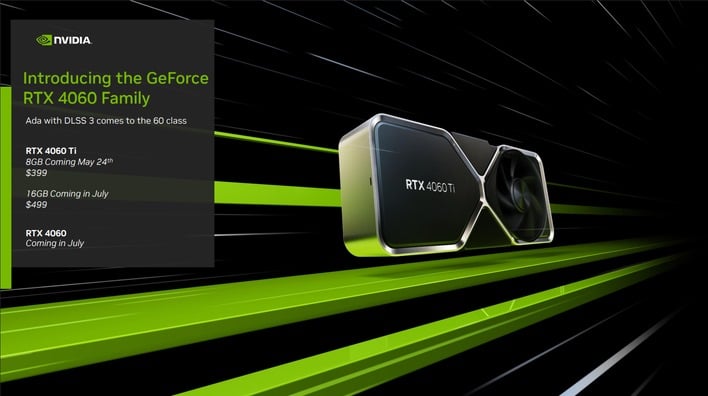 A standard GeForce RTX 4060 is on its way too in July, at just $299, though spec particulars have yet to be disclosed.
Regardless, NVIDIA's chart below compares the two new cards against their previous-generation predecessors from the Ampere and Turing families. A few details stick out right away: the RTX 4060 Ti is indeed coming in a 16GB variation,
as rumored
, and power is down significantly from the previous generation, which is good news all around. The L2 cache allotments are increased by a factor of eight over the previous generations, too.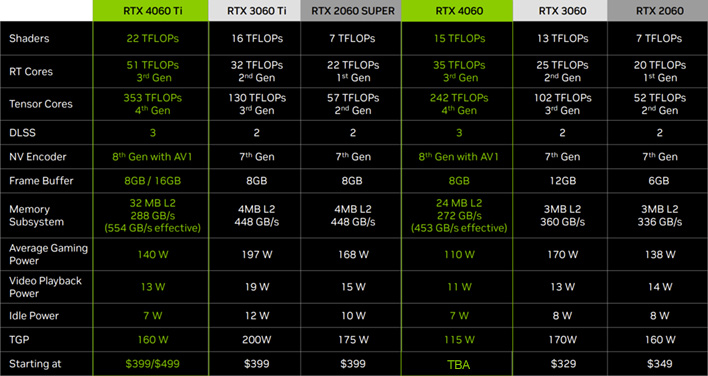 That should help mitigate the loss of bandwidth compared to the previous cards. NVIDIA gets right out in front of this concern by remarking that the new GPUs have much higher "effective" memory bandwidth. That claim seems to be based on the idea that the increased L2 cache reduces VRAM traffic per frame by about 52%. It's an interesting one, and it'll be fascinating to see if the performance of these cards falls behind their predecessors when tested in higher resolutions, just as we saw with the
cache-dependent RDNA 2 Radeon
cards.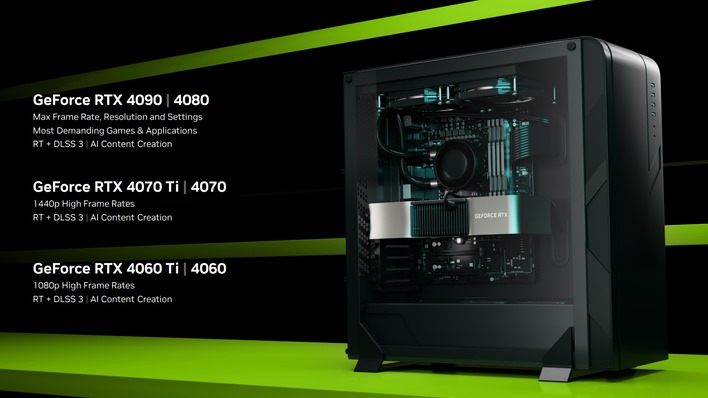 Indeed, NVIDIA emphasizes that these GPUs are both targeted for high-frame-rate 1080p gaming. Thanks to DLSS 3 Frame Generation—which both GPUs fully support—players can overcome even a CPU bottleneck to some degree, meaning that throwing an RTX 4060 Ti into an older machine could still be a really big upgrade, as long as your game supports DLSS 3.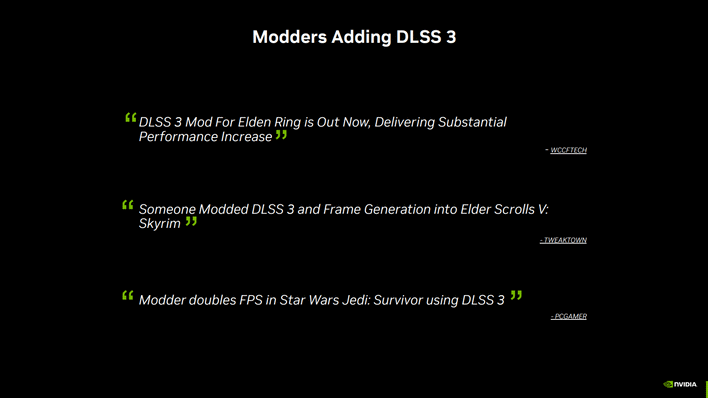 Actually, in a rather comical slide, NVIDIA points out that users have been modding DLSS 3 Frame Generation into games that don't natively support it, including
Elden Ring, Elder Scrolls V: Skyrim
, and
Star Wars Jedi: Survivor
. These types of hacks aren't applicable to most online games, but they could definitely improve the experience in offline titles. We've been
impressed with DLSS 3
on the faster Ada GPUs.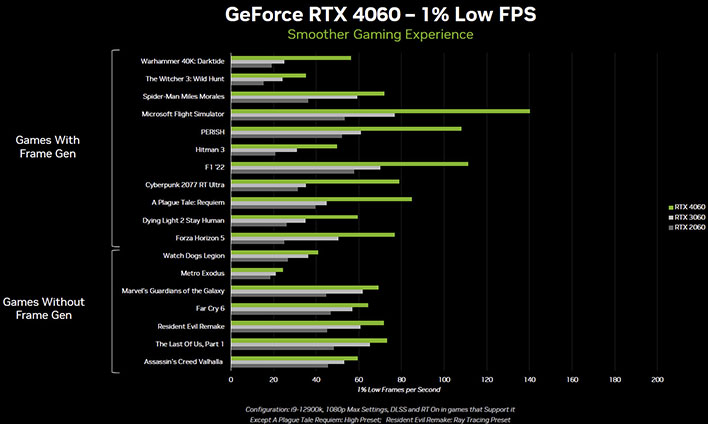 NVIDIA also offered up this impressive slide, showing the improvements in 1% low FPS to be had when using a GeForce RTX 4060 in comparison to its predecessors. Keep in mind that most of the chart has frame generation enabled, but that's not much of a caveat. Even in the games that don't, there's still a marked improvement in smoothness, especially compared to
legacy GeForce RTX 2060
class GPUs.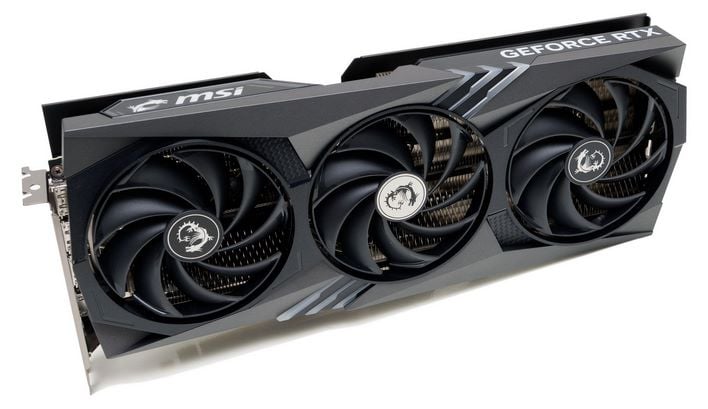 MSI Gaming X Trio GeForce RTX 4060 Ti

There are more NVIDIA-provided benchmarks we could publish, but we'll be doing our own testing very soon, of course. Besides the Founders Edition model up top, we've also got an
MSI Gaming X Trio RTX 4060 Ti
card on the bench right now. We'll be getting our reviews of those out sooner than later, so stay tuned if you're curious how these more cost-efficient Ada GPUs stack up in terms of performance and value.