Pixel 6a Review: A Mid-Range Smartphone Win For Google
Google Pixel 6a: Audio, Call Quality And Benchmark Performance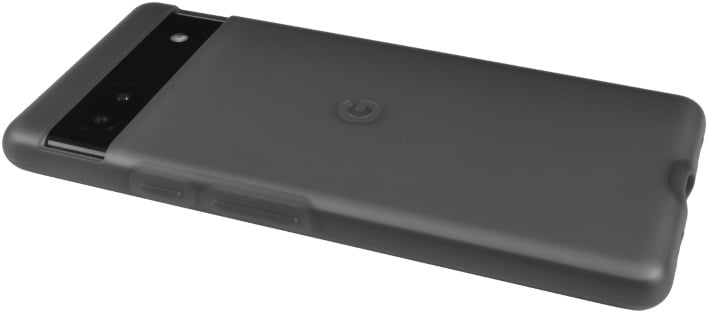 The Pixel 6a comes in two different versions. Model GB62Z, which is available only through Verizon and the Google Play Store, supports both Sub-6GHz and mmWave 5G. Meanwhile, Model GX7AS is limited to just Sub-6GHz 5G. Our review unit happens to be the latter model. Unfortunately, we weren't able to measure high 5G speeds in our limited testing, but we don't think that's the fault of the device. The Samsung 5G modem in the 6 and 6 Pro gave a
very strong showing
in our testing with Sub-6Ghz 5G, and we expect similar results with the 6a. Our failure to measure high speeds is probably the result of our testing location and the network coverage in that area. We'll have to see if we can pick up the kind of speed we'd expect out of this 5G capable handset and report back here shortly.
All that said, we found call quality in our testing to be solid and reliable, even when reaching a VOIP number on a mobile network and behind a VPN. Besides having dependable reception, the stereo speakers in the Pixel 6a put out clean sound, whether on a phone call, listening to music, or watching a video. While the speaker systems in the Pixel 6a isn't the best we've ever heard from a handset, it's still quite good for phone audio anyway, and didn't leave us cringing, like some phone speaker systems do when they butcher a favorite music track.
Google Pixel 6a Performance
Before going into a detailed breakdown of the benchmarks, we should sum up the results by saying that the Pixel 6a's benchmark scores don't vary drastically from the scores output by the Pixel 6 and 6 Pro. Google's Tensor SoC largely manages to beat out or find parity with Qualcomm's previous generation SoC, the Snapdragon 888, but delivers lower scores than the current gen Snapdragon 8 Gen 1. Regardless, this level of performance is well suited to a mid-range phone like the Pixel 6a, enabling it to significantly outperform more budget friendly phones, like the OnePlus Nord N20, which we
recently reviewed
. Meanwhile, Google is getting ready to release its second generation Tensor chip along with its next generation Pixel devices, so now is a good time to get this generation's mid-range phone out the door before fully shifting focus to the next.
Google Pixel 6a Geekbench Results
Geekbench is a cross-platform benchmark that simulates real world processing workloads in image processing and particle physics calculation scenarios. We tested all of the smartphones featured here with Geekbench's single and multi-core workloads.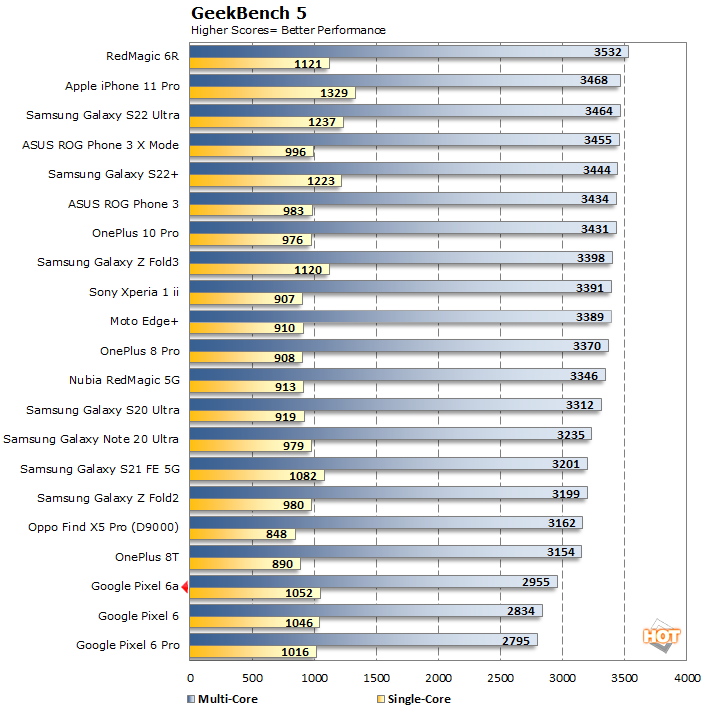 Geekbench isn't our favorite benchmark, as it's purely synthetic and can be heavily targeted for optimization. That said, it shows the
Pixel 6a
as outperforming the Pixel 6 and 6 Pro by just a tad. Tensor's multi-core performance falls a ways behind that of devices multiple generations old, but the chip's single-core performance is better, landing Tensor scores just under Snapdragon 888 scores.
Google Pixel 6a PCMark For Android Benchmark Results
Futuremark's PCMark for Android is an excellent suite of tests if you want to benchmark a wide range of tasks on any handset -- things like image and video editing, as well as lighter-duty, everyday workloads such as email and web browsing. When you see the test running live, it's clear the scripted application tests are carefully selected and tuned to make use of the each mobile platform in a very controlled way.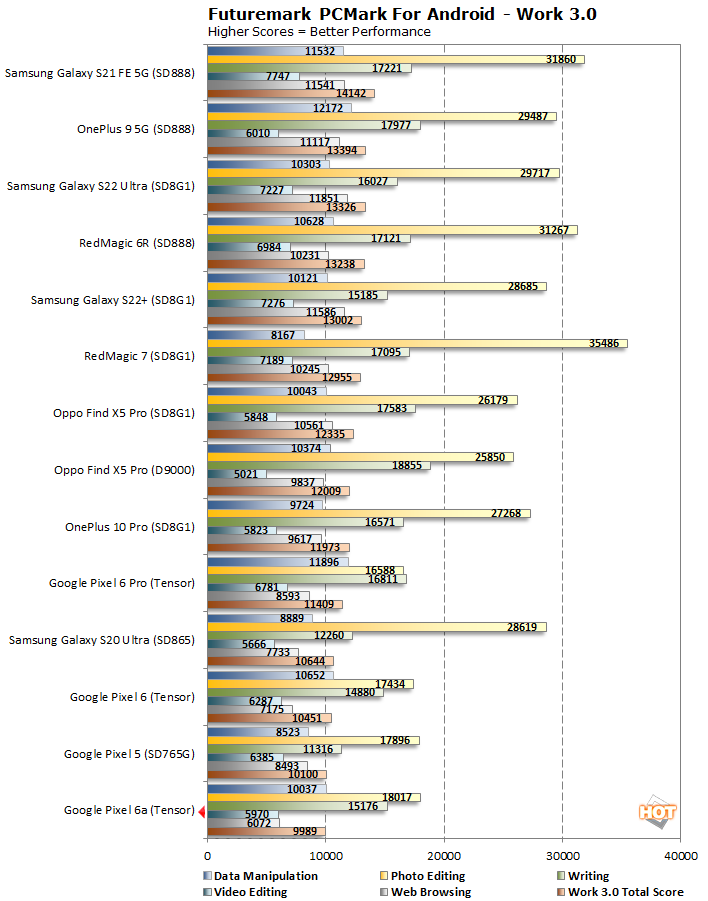 Here the Pixel 6a comes in under the Pixel 6 and 6 Pro, as well as the Pixel 5, which bump up against Snapdragon 8 Gen 1 scores on the lower end.
Google Pixel 6a AnTuTu 8 Benchmark Results
AnTuTu's latest benchmark returns a number of metrics ranked with somewhat nebulous scores, rather than frame rates or time to complete. Here we're running the latest version of AnTuTu across multiple Android devices. AnTuTu returns four top level performance results which are all included here: CPU, RAM, 3D, UX (or User Experience), along with a total score.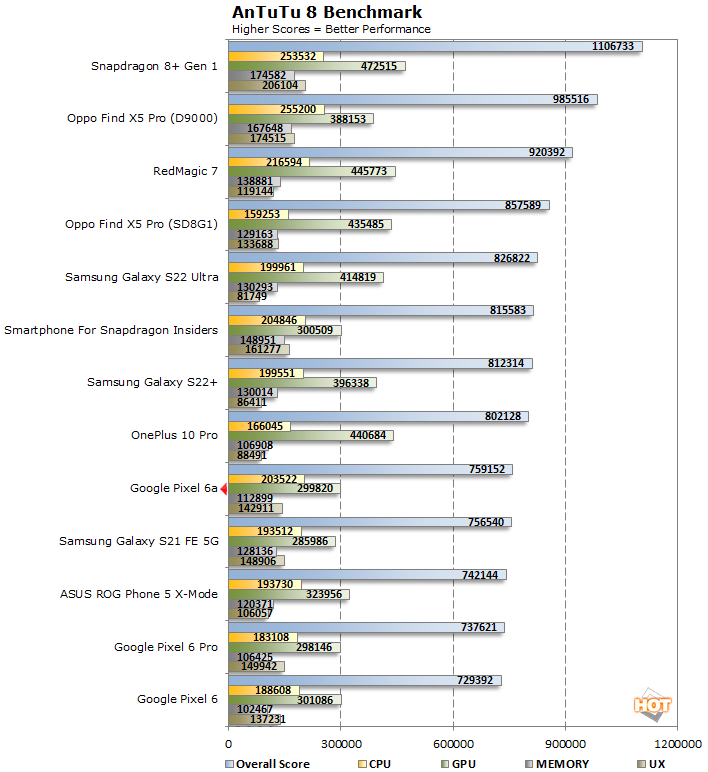 When we reviewed the Pixel 6 and 6 Pro, we hadn't yet reviewed any phones bearing Qualcomm's Snapdragon 8 Gen 1. Both Pixels bested the AnTuTu scores of almost all the Snapdragon 888 equipped phones we'd reviewed. However, since then, our internal database has filled up with Snapdragon 8 Gen 1 scores, pushing the Pixel 6 and 6 Pro down the performance ladder. The Pixel 6a manages to fair a little better, but still can't outperform any devices powered by Qualcomm's previous gen SoC, and
the new Snapdragon 8+ Gen 1
leads the pack at the top.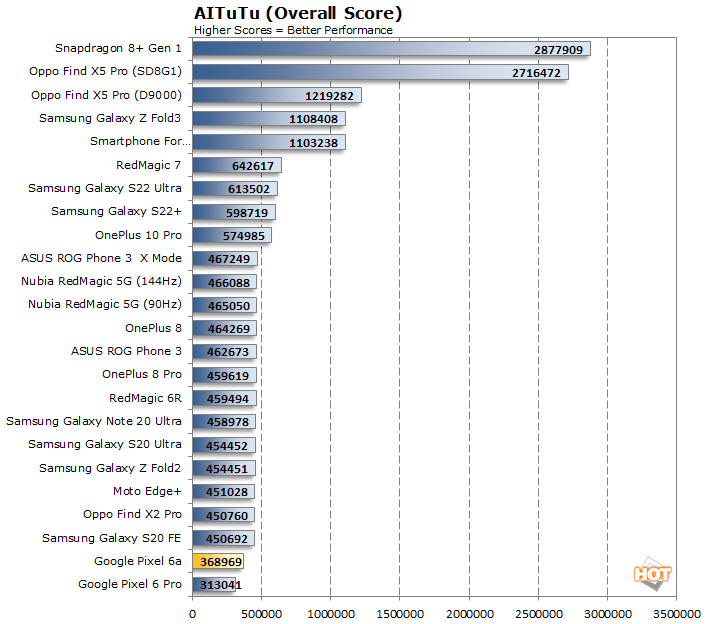 Google touts the machine learning (ML) capabilities of its Tensor SoC, even deriving the name from its dedicated Tensor Processing Unit and TensorFlow ML software library. However, in our testing, Tensor's ML performance lags behind the Snapdragon 8 Gen 1, Dimensity 9000, and Exynos 2200. All three Pixel 6 devices output AITuTu scores that are more in line with the scores of devices that are multiple generations old. We've also seen Tensor underperform other current generation SoCs in the MLPerf benchmark.

However, these scores aren't necessarily an indicator of absolute ML performance. It could be the case that Google spends more time developing practical applications for ML than it does optimizing its devices for ML benchmarks. The version of Android 12 that Google ships with the Pixel 6 lineup is brimming with extra features that tap into Tensor's ML capabilities. As we detailed some in the previous page, Google's camera app in particular relies quite heavily on ML. Compared to other Android phone manufacturers, Google stands out as working hard to put more "smart" in smartphones.
Google Pixel 6a 3D Graphics And Gaming Benchmarks Results
Next we're checking how the Pixel 6a compares in GFXBench, which has been one of the standard mobile graphics/gaming performance benchmarks for years. To ensure that display refresh (v-sync) and resolution aren't limiting factors, we're comparing off-screen test results here. GFXBench tests OpenGL ES graphics workloads and we're specifically testing OpenGL ES 2.0 and 3.0.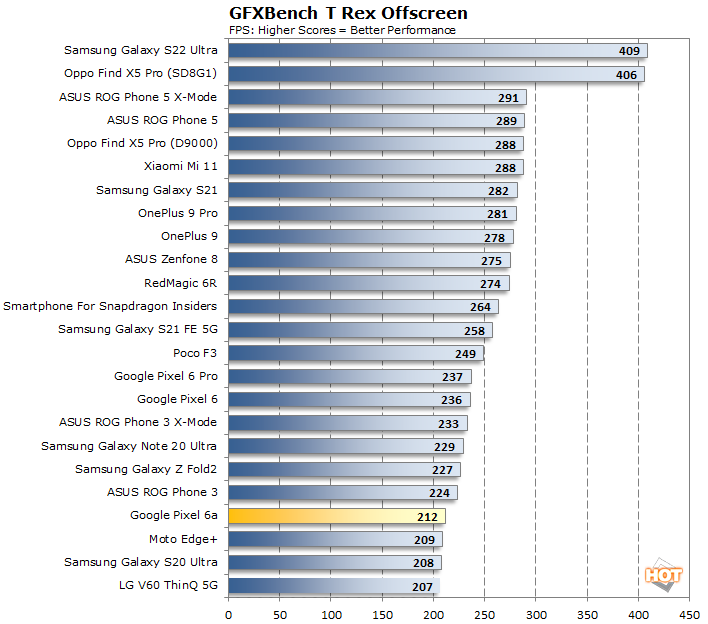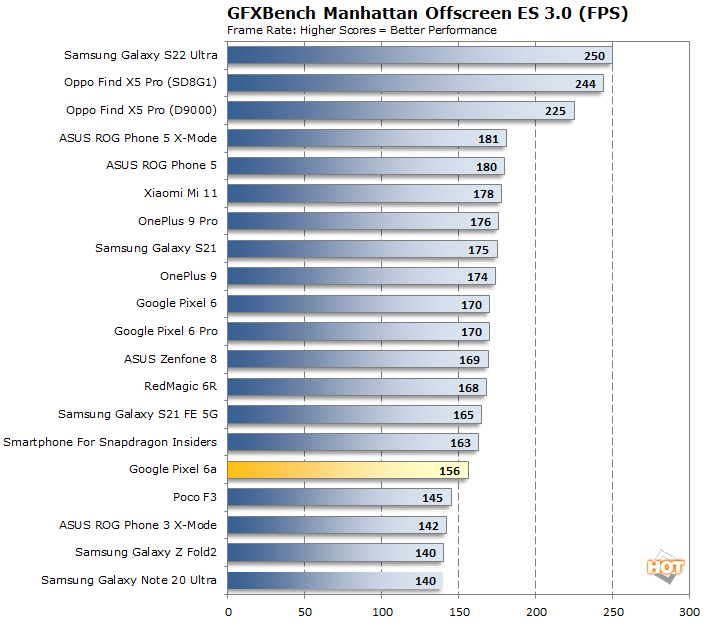 These two benchmarks, unlike most others we ran, place the Pixel 6a a little below the Pixel 6 and 6 Pro. The Pixel 6a has less RAM and a smaller form factor, which could mean more challenged management. These factors are potential culprits for the performance discrepancy, but there could be something else going on of which we're unaware. Whatever the cause, the Pixel 6a still blows cheaper phones out of the water. The 6a more than triples the score of the OnePlus Nord N20. However, the Pixel 6a just can't quite keep up with recent flagship devices.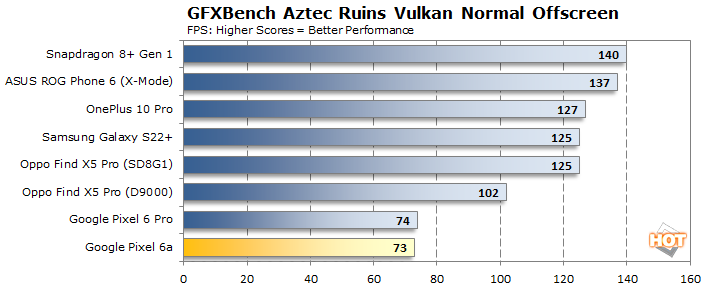 The Aztec Ruins benchmark is a recent addition to our test suite, so we have a limited number of scores for comparison. Nonetheless, this test is able to show that the Pixel 6a's Vulkan performance falls in line with that of the Pixel 6 Pro, which is well behind the Vulkan performance of handsets powered by the MediaTek Dimensity 9000 and Qualcomm Snapdragon 8+ Gen 1.

Futuremark's 3DMark Sling Shot is a newer benchmark module that's been added to the 3DMark mobile suite. Unlike previous gen 3DMark mobile tests, Sling Shot is a much more advanced OpenGL ES 3.1 and Metal API-based benchmark that employs more advanced rendering techniques, like volumetric lighting, particle illumination, multiple render targets, instanced rendering, uniform buffers and transform feedback.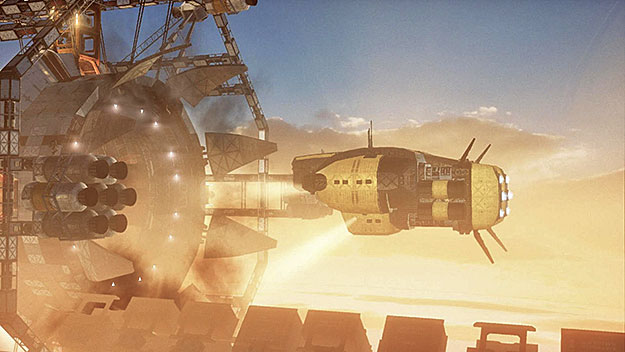 We're running this test in off-screen mode once again to remove display resolution differences from the equation. This lets us compare cross-platform results more reliably.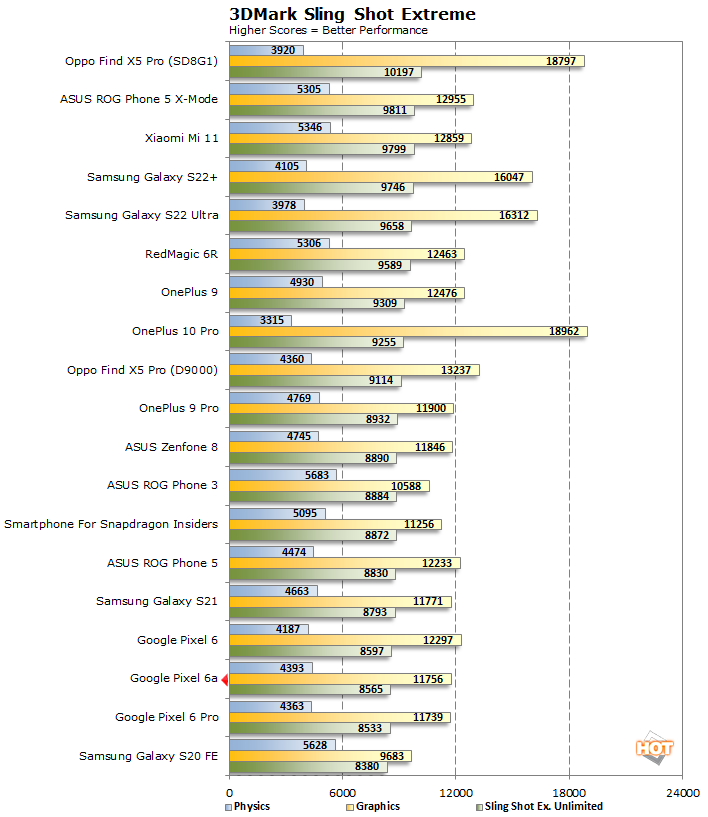 With the results ranked by overall score, the Pixel 6a sits comfortably between the 6 and 6 Pro. This test shows Google's Tensor SoC as performing similar to Qualcomm's prior generation SoC, the Snapdragon 888.
Google Pixel 6a 3DMark Wild Life Benchmark Tests
3DMark Wild Life is the latest cross-platform test from UL. Its primary purpose is to measure GPU performance across platforms, and two distinct tests are available. The standard Wild Life test is designed to give feedback on how a game performs over a short period of time. With mobile games, people typically play in brief spurts when they find some free time; be it on the bus, on the subway, or a quick battle royale session over lunch break. The 3DMark Wild Life Stress Test, on the other hand, shows how a device performs over a longer stretch of time, and takes note of performance degradation that might crop up due to increased heat levels and throttling.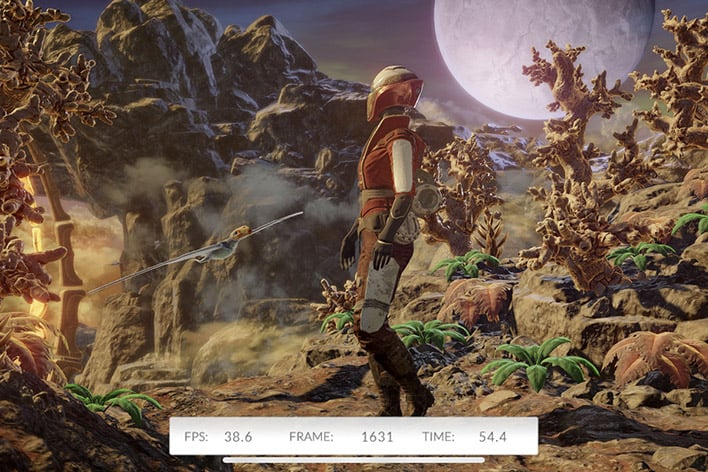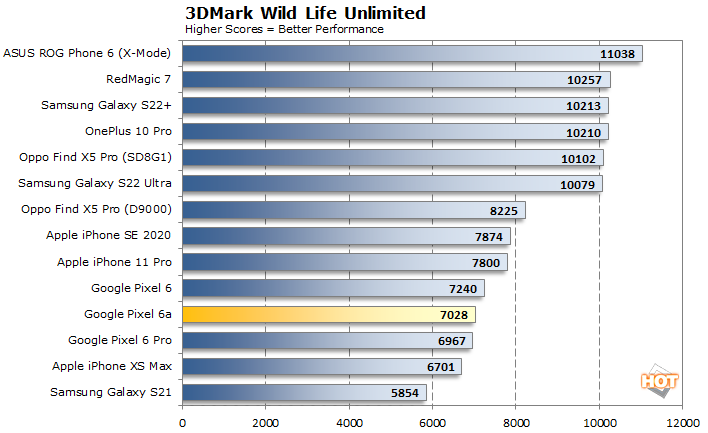 3DMark Wild Life is a significantly more taxing graphics benchmark that employs cutting-edge mobile game engine technologies to deliver impressive visuals -- as you can see in the screen shot above. As with the 3DMark Sling Shot benchmark above, the Pixel 6a falls squarely between our 6 and 6 Pro scores. All three Pixel 6 devices land at the bottom of the stack of current generation devices, but still outpace older previous-gen devices, which largely score in the five thousands.

3DMark's Wild Life Unlimited Stress Test loops the Wild Life Unlimited benchmark twenty times to see how well mobile devices handle sustained loads. We were interested to see whether the Pixel 6a's smaller form factor would negatively affect heat dissipation and sustained performance compared to the Pixel 6 and 6 Pro. The smaller phone's stability score of 60.6% in 3DMark's stress test is about the same as the scores of the 6 Pro and 6, which were 61.6% and 62.8%, respectively. All three devices also started out and ended with roughly equivalent loop scores.
However, the Pixel 6a's scores fell off much faster over the course of the test, bottoming out around the ninth loop or 9 minute mark. For comparison, the Pixel 6 bottomed out around loop thirteen, while the 6 Pro did so around loop seventeen, which is nearly a complete test run. Regardless, it's safe to say that the Pixel 6a reaches thermal saturation more quickly than its larger siblings. Even so, the phone maintains better performance stability under load and doesn't fall off as hard as some more expensive phones we've tested recently, such as the
Samsung Galaxy S22+ and S22 Ultra
.
Related content
Comments