EVGA Z12 Gaming Keyboard, X20 And X15 Mice Review: Value-Priced Arsenal
EVGA X20 Mouse, EVGA Unleash RGB Software And The Verdict
EVGA X20 Gaming Mouse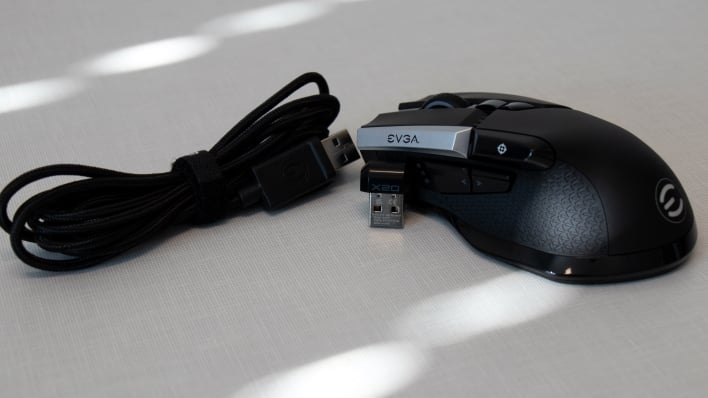 Switching gears slightly, the EVGA X20 gaming mouse is a more standard device with a premium build and higher price. Though this mouse has already been announced, EVGA sent one over for us to look at alongside the Z12 and X15, and it is likely our favorite product of the bunch.
The EVGA X20 gaming mouse is a
close cousin of the X17
, and features triple sensors -- two dual lift-off distance sensors and one optical sensor for precision mouse tracking.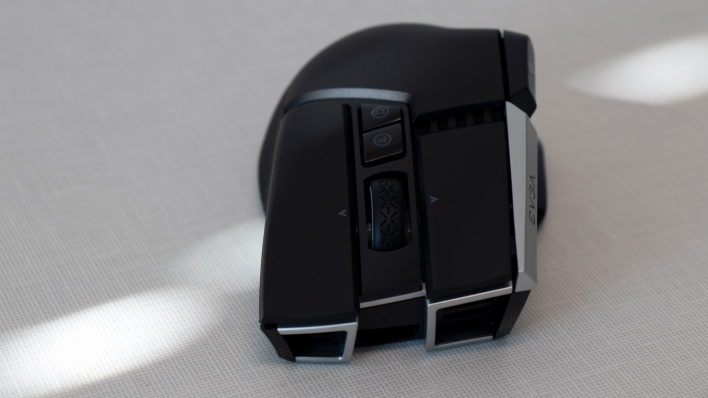 The main switches in the X20's buttons are made by Omron. The Omron switches offer a 60 million click life cycle, which means they should last quite a while and they feel good too. In addition to the main buttons, there are also forward and back buttons beside a sniper button that lowers DPI quickly so gamers can precisely aim with smooth motion. Finally, on top, there are profile and DPI switching buttons, directly below the scroll wheel, which like the X15 offers a tactile roll.
Besides these base features, the X20 also has wireless capability. This mouse can connect over Bluetooth or a 2.4Ghz
EVGA
wireless USB dongle. To power the X20 while untethered, it also has a 900mAh battery which can last up to 60 hours without lighting or 24 hours with RGB lighting enabled.
With all this in mind, not only did the X20 make for a solid gaming mouse, but it's a reliable, comfortable work and productivity tool as well. It felt snappy and responsive when gliding across the mousepad or desk, and we did not encounter any issues during testing. However, the biggest draw may be that this mouse felt very comfortable in hand, so there are no distractions little learning curve while adapting to it initially. You can effectively plug it in and start using it right away without needing to get intimately familiar with it.
If this sounds like a good mouse for you, the MSRP of the EVGA X20 is $119.99, but like the other devices features here, it has an introductory sale price that's much lower -- $59.99 to be exact.
EVGA Unleash RGB Software Utility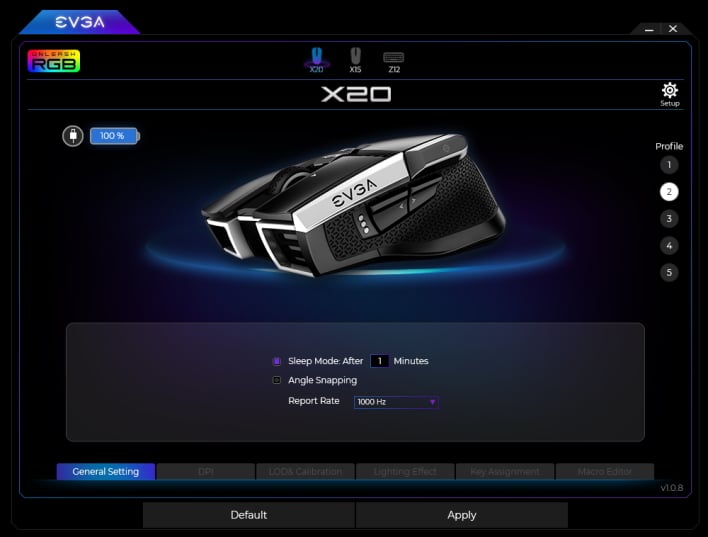 Although all of the devices featured here can be tweaked somewhat via their integrated buttons or various controls, you'll need EVGA's Unleash RGB utility to fully customize their buttons or lighting.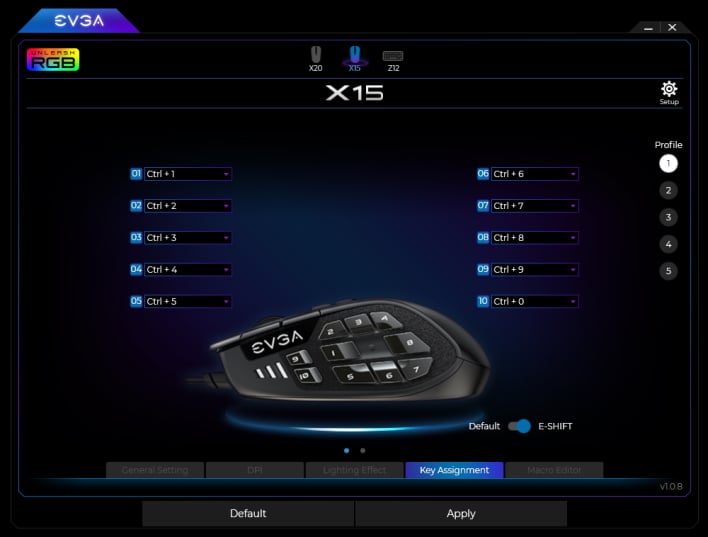 EVGA Unleash RGB will automatically detect compatible devices and create a tab at the top for each one. In the screenshot above, you can see tabs for the X20, X15, and Z12.
Each tab has its own unique layout, dedicated to the specific product. In the
case of the X15
, the main window consists of five different tabs, for General Settings, DPI settings, Lighting Effects, Key Assignments and a Macro Editor -- the buttons are visible at the bottom of the screenshot above. To the right are five profile buttons, which can individually be customized with any mix of settings. Options for the X20 are similar, but geared to its individual button configuration. We should also note, that when the X20 is used wirelessly, a batter indicator is visible on the left side of the interface as well.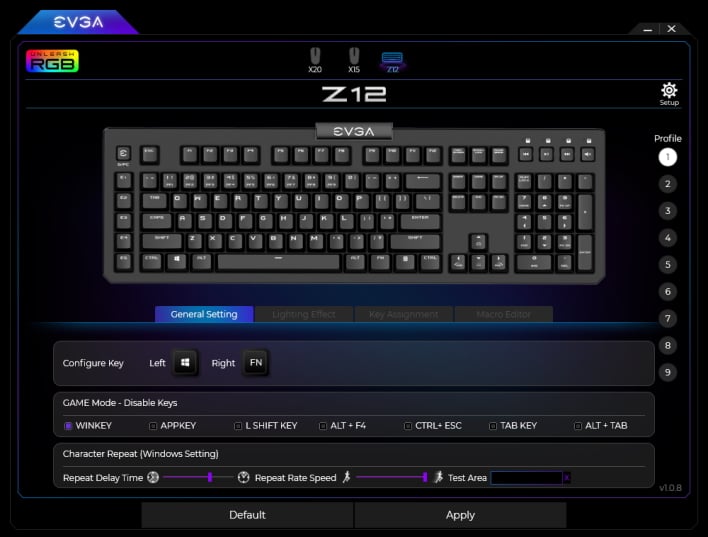 Keyboard customizations are obviously quite different. You still have your profiles on the right side, and below the main menu are general settings, lighting effects, key assignment, and a macro editor. There are also just a few more settings under the general tab with the keyboard, including Windows and function key swapping, key-disabling game mode options, and character repeat options.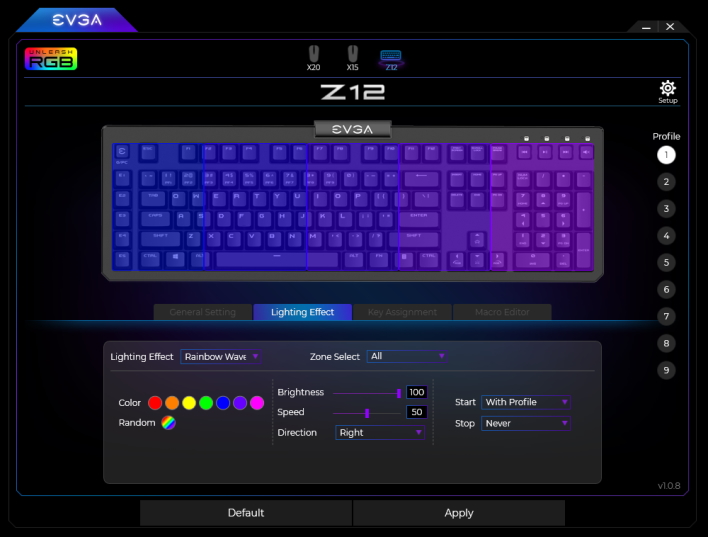 Under the lighting effects tab, you can tinker with the five individually adjustable lighting zones. For example, if you so desired, you could have the left side of your keyboard have a rainbow pattern while the right is a solid color, or any combination of effects available in the menu. The brightness, speed, or direction of effects can all be altered as well. Anyone familiar with EVGA's Precision Utility, should have no trouble navigating the Unleash RGB app -- their interfaces and overall design are quite similar.
EVGA Z12, X15 And X20 Conclusion
Overall, we were quite pleased with EVGA's mouse and keyboard offerings at their respective price points. The
X15 and X20 mice
target different game genres, but both are well built and offer a generous array of customization options. And with the massive introductory discounts currently in place, their price points are highly competitive.
As for the EVGA Z12 keyboard, it's also a reasonably priced product that offers a quality user experience, making this a great entry-level gaming keyboard in our opinion, that won't break the bank. Furthermore, with up to a three year warranty across the board, it is clear that EVGA stands behind the quality of their products. Let us know what you think of EVGA's new gaming peripherals in the comments below.
Fully Customizable Keys/Buttons

RGB Backlighting/Accents

Long Warranty

Competitive Pricing


Mostly Plastic Construction

No Wrist Rest Included With Z12 (optional purchase)

Related content
Comments