ASUS Zenfone 9 Review: A Small Device With Big Performance
ASUS Zenfone 9 Review: Audio, Call Quality And Benchmark Performance
The ASUS Zenfone 9 supports an array of wireless standards, including GSM/GPRS/EDGE, WCDMA/HSPA+/DC-HSPA+, FDD-LTE, TD-LTE, and 5G Sub-6 SA/NSA. 5G mmWave, however, is not supported. We tested the device on AT&T's network in southern Connecticut, where sub-6 5G is available and active, but has never offered particularly higher performance in speed tests (on any device). Our inability to measure high speeds is the result of our testing location and the network coverage in the area. While the numbers are not particularly exciting, there are in-line with performance we've seen in the area with both Samsung, LG, and
OnePlus devices
.
That said, we did not experience any connectivity issues with voice or data. Our connection was reliable and calls were as clear as any devices we've tested. In fact, the speakers on the Zenfone 9 are particularly good, so general voice quality during calls was a notch above some other devices.
ASUS Zenfone 9 Software Experience
The Zenfone 9 features a mostly unmolested installation of Android 12. Anyone that has used a modern device with the latest version of Android will find themselves right at home on the Zenfone 9.
Save for ASUS' own wallpapers, camera app and control panel customizations to accommodate the unique features of the Zenfone 9, the software and OS on the phone is what you'd expect from Android 12.
ASUS
does pre-install its own Data Transfer app to help users migrate from other devices and a handful of third-party apps are installed as well, but there's nothing particularly worrisome in our opinion. We should also note that as of this writing, the OS is patched up to the August 1, 2022 security update. One downside is that ASUS has committed to only 2 years of OS updates on the Zenfone. That could chance, of course, but for now it's not quite as long as some other companies.
ASUS Zenfone 9 Performance
The ASUS Zenfone 9 is powered by Qualcomm's current flagship Snapdragon 8+ Gen 1 and the device features a relatively advanced vapor-chamber cooling system, fast LPDDR5 memory and UFS 3.1 storage. As such, the Zenfone 9 is a particularly high-performing device across and array of benchmarks and workloads. Anecdotally, the phone feels fast and fluid, both because of the high-end platform hardware and the responsive 120Hz display. And our benchmarks confirm this high performance. As you'll see shortly, the ASUS Zenfone 9 is one of the fastest Android devices currently on the market.
ASUS Zenfone 9 Geekbench Results
Geekbench is a cross-platform benchmark that simulates real world processing workloads in image processing and particle physics calculation scenarios. We tested all of the smartphones featured here with Geekbench's single and multi-core workloads.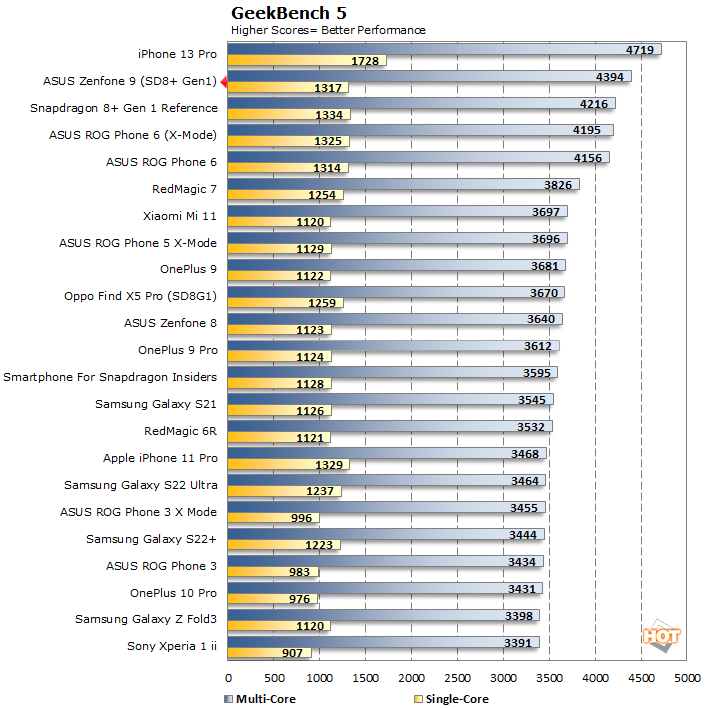 The ASUS Zenfone 9 put up the strongest multi-threaded score of all the Android-based devices we tested, and is only bested by the iPhone 13 Pro. The Zenfone's single-threaded score is ever so slightly lower than some other devices, but right in the ballpark with the best we've tested.
ASUS Zenfone 9 PCMark For Android Benchmark Results
UL's PCMark for Android is an excellent suite of tests if you want to benchmark a wide range of tasks on a handset, including things like image and video editing, as well as lighter-duty, everyday workloads like email and web browsing. When you see the test running live, it's clear the scripted application tests are carefully selected and tuned to make use of the each mobile platform in a very controlled way.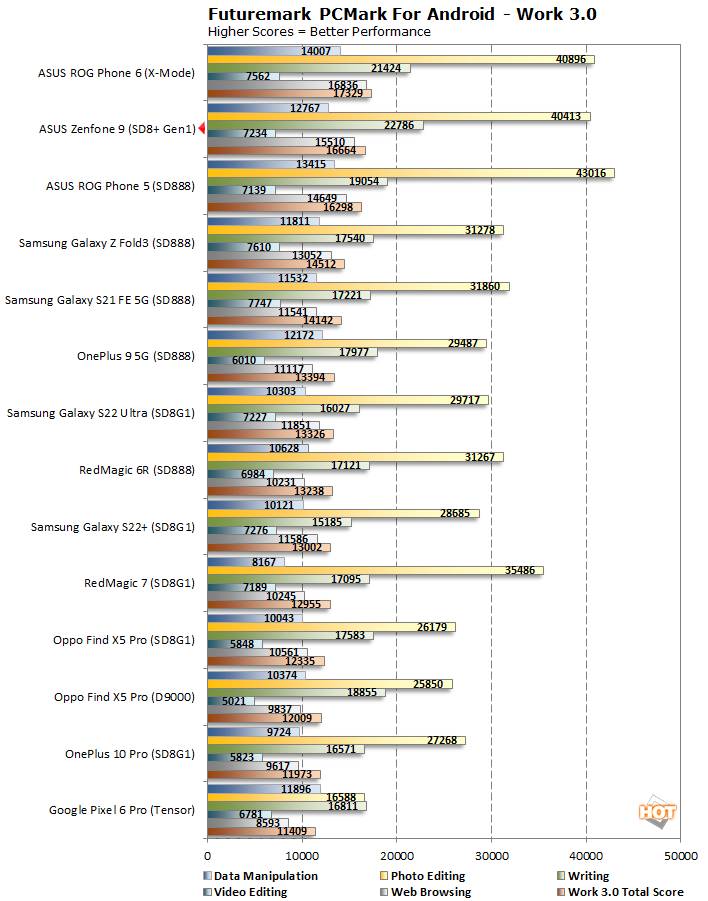 The ASUS Zenfone 9 also performs particularly well across all of the tests here, and is outpaced only by the larger
ROG Phone 6
, when the latter is configured in its high-performance "X-Mode". All of the tasks measured by PCMark for Android are not a problem for the Zenfone 9.
ASUS Zenfone 9 AnTuTu & AITutu Benchmark Results
AnTuTu's latest benchmark returns a number of metrics ranked with somewhat nebulous scores, rather than frame rates or time to complete. Here we're running the latest version of AnTuTu across multiple Android devices. AnTuTu returns four top level performance results which are all included here: CPU, RAM, 3D, UX (or User Experience), along with a total score.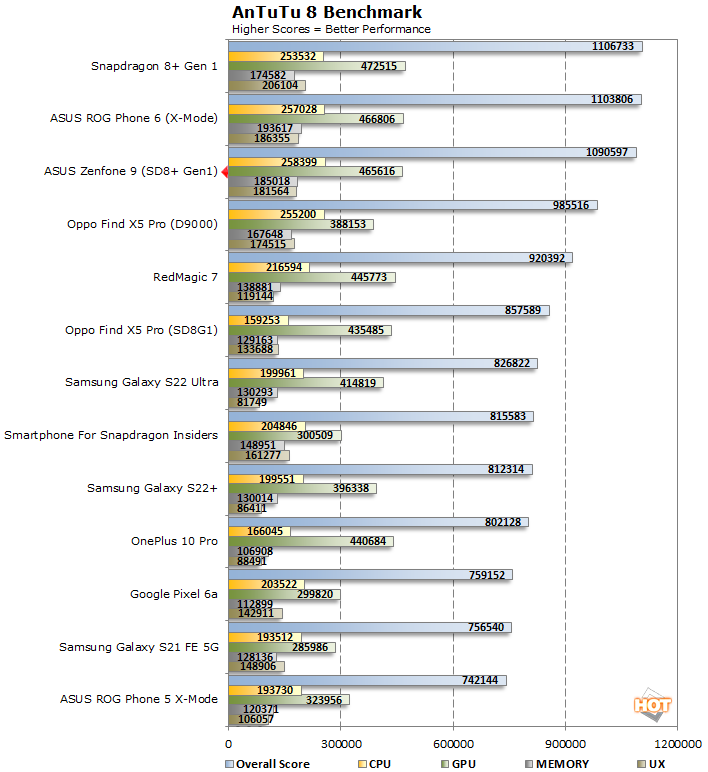 Once again we see strong performance from the ASUS Zenfone 9. It couldn't quite catch the ROG Phone 6 or latest
Snapdragon
reference platform, but it is right there in the mix at the top of the chart.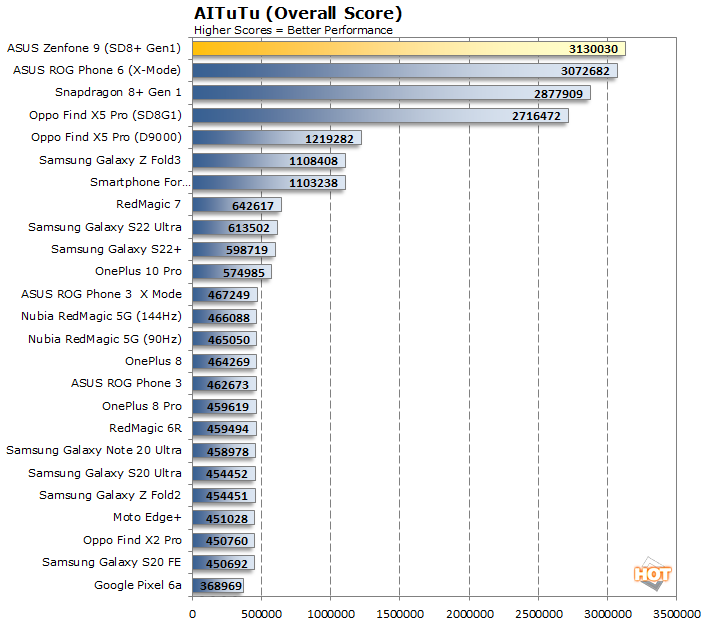 In the AITuTu benchmark, which evaluates performance and accuracy in Classification and Object Detection AI models, the Zenfone 9 comes out on top.
ASUS Zenfone 9 3D Graphics And Gaming Benchmarks
Next we're checking how the ASUS Zenfone 9 compares in GFXBench, which has been one of the standard mobile graphics/gaming performance benchmarks for years. To ensure that display refresh (v-sync) and resolution aren't limiting factors, we're comparing off-screen test results. GFXBench tests OpenGL ES graphics workloads and we're specifically testing OpenGL ES 2.0 and 3.0 and
Vulkan
.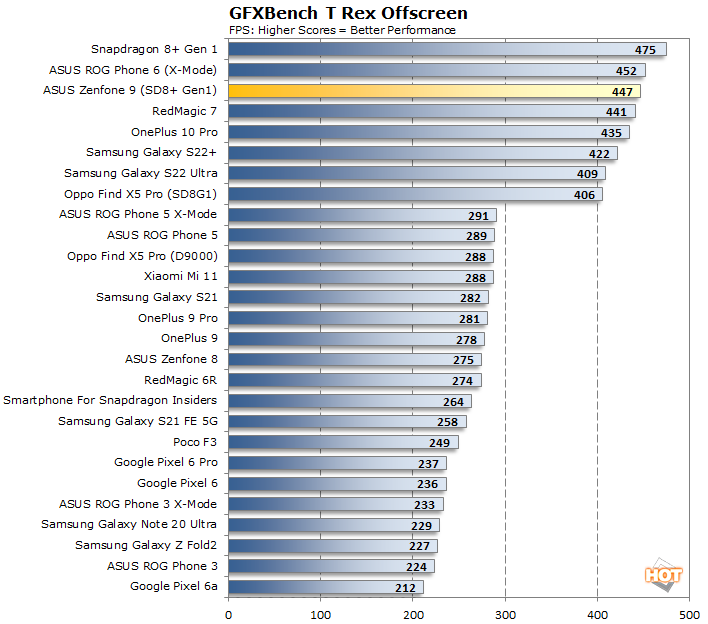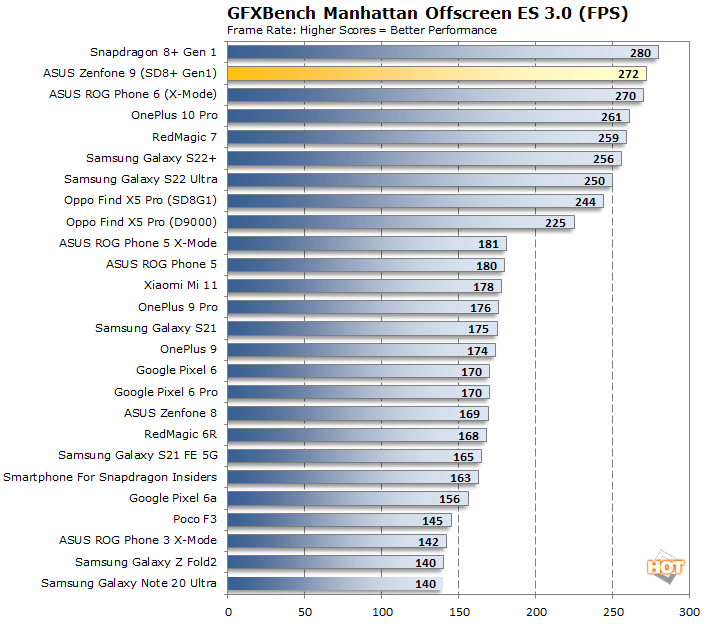 In these first two benchmarks, the ASUS Zenfone 9 doesn't quite top the charts, but it competes well with the fastest devices we've tested.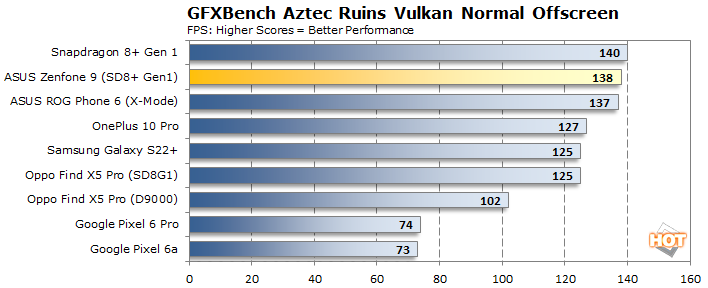 The Aztec Ruins benchmark is a recent addition to our test suite, so we have a more limited number of scores for comparison. Still, this test shows the ASUS Zenfone 9 outpacing all of the other commercial devices we've tested -- only the larger Snapdragon 8+ Gen 1 reference platform came out ahead.

UL's 3DMark Sling Shot is a newer benchmark module that's been added to the 3DMark mobile suite. Unlike previous-gen 3DMark mobile tests, Sling Shot is a more advanced OpenGL ES 3.1 and Metal API-based benchmark that employs more advanced rendering techniques, like volumetric lighting, particle illumination, multiple render targets, instanced rendering, uniform buffers and transform feedback.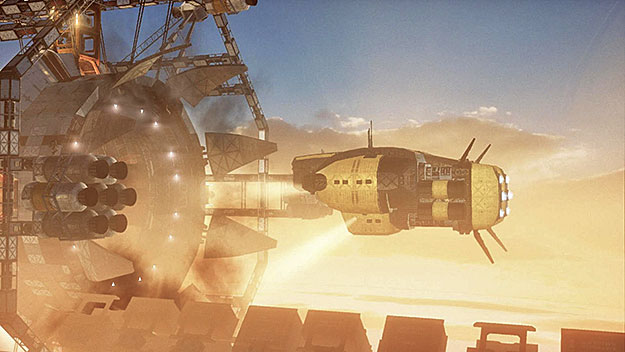 We're running this test in off-screen mode once again to remove display resolution differences from the equation. This lets us compare cross-platform results more reliably.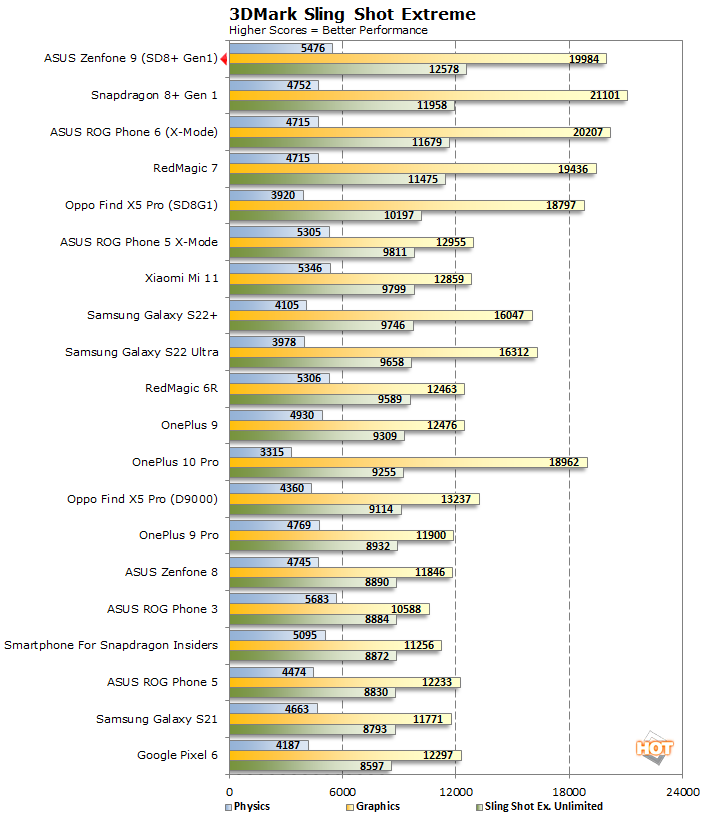 Once again we see the ASUS Zenfone 9 coming out on top. Looking more closely at the individual results shows the Zenfone 9 trailing a couple of other devices in the graphics tests, but its Physics score was the best of the bunch.
ASUS Zenfone 9 3DMark Wild Life Benchmark Tests
3DMark Wild Life is the latest cross-platform test from UL. Its primary purpose is to measure GPU performance across platforms, and two distinct tests are available. The standard Wild Life test is designed to give feedback on how a game performs over a short period of time. With mobile games, people typically play in brief spurts when they find some free time; be it on the bus, on the subway, or a quick battle royale session over lunch break. The 3DMark Wild Life Stress Test, on the other hand, shows how a device performs over a longer stretch of time, and takes note of performance degradation that might crop up due to increased heat levels and throttling.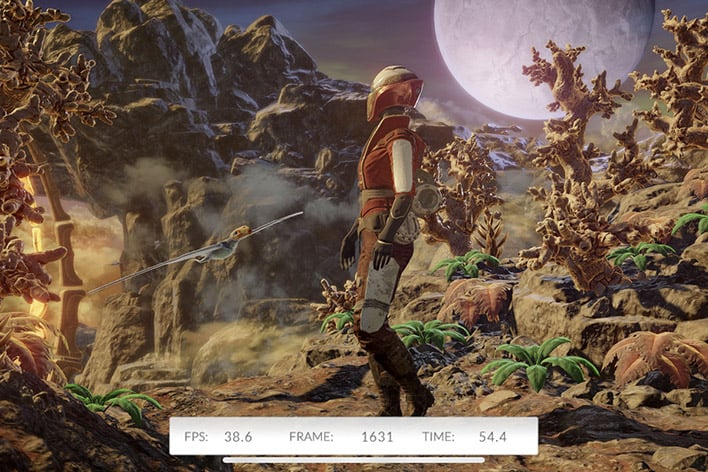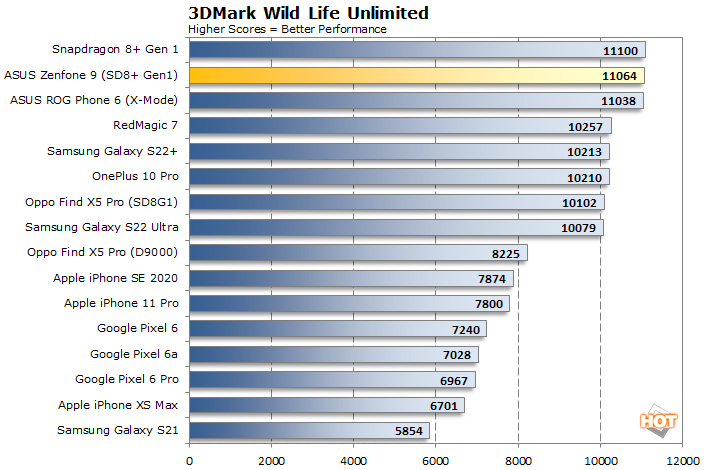 3DMark Wild Life had the Zenfone 9 finishing near the top of the chart, once again, trailing only the larger Snapdragon reference device. Peak performance in this test is very good, but things get more complicated under longer, sustained graphics workloads.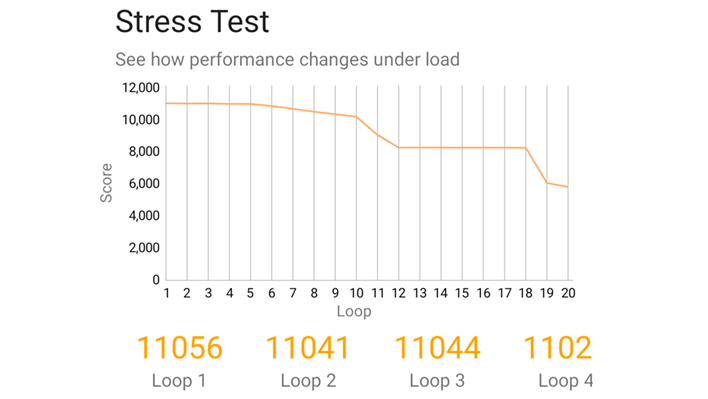 3DMark's Wild Life Unlimited Stress Test loops the Unlimited benchmark twenty times to see how well mobile devices handle sustained loads. We were interested to see whether the Zenfone 9's smaller form factor would negatively affect heat dissipation and sustained performance. As you can see, after the tenth run, half-way through the stress test, the device bleeds off quite a bit of performance, then remains consistent until the last couple of runs, where performance throttles once again. This kind of result isn't surprising given the Zenfone 9's smaller form factor and class-leading performance, but it does show a steeper drop-off in performance than similarly performing,
larger devices
that leverage the same Snapdragon mobile platform.
Related content