Ace Magician AM06PRO Review: Speedy, Cheap, Ryzen-Powered Mini-PC
Ace Magician AM06PRO Review: More Testing And Our Conclusion
Becuase the AM06PRO os powered by one of AMD's mobile APUs, it seemed fairest to compare it to a range of recently reviewed laptops, in an attempt to give you an accurace picture of how the system performs. As you'll see, the system is not a barn burner by any means, but for 250 bucks, it's no slouch either...
ATTO Disk Benchmark
We started our assessment of the Ace Magician AM06PRO mini-PC by looking at built-in storage performance. ATTO disk benchmark was run to test the system's M.2 PCIe Gen3 SSD.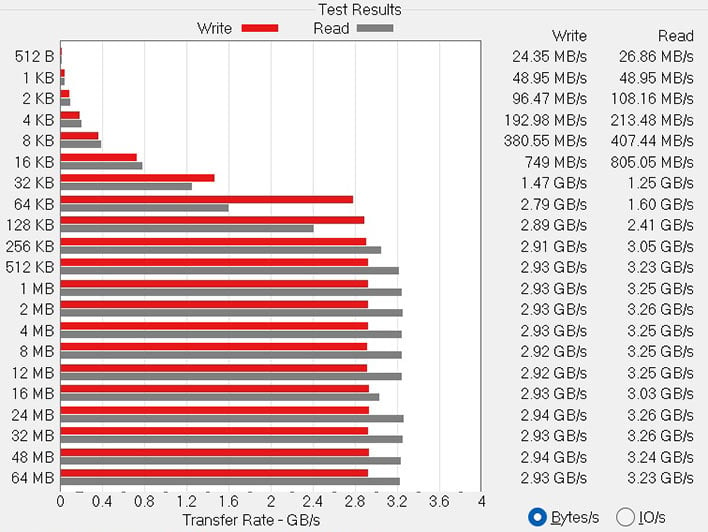 Though we haven't heard of the AirDisk brand used in the system before, it used familiar key components like SK Hynix NAND. Overall, we were pleased with the consistent performance of the supplied drive, with approx 3GB/s read and write capability in the tests, once it hits the 256KB block size and greater. Remember to put this PCIe Gen3 storage performance in context with this mini PC's price.
Speedometer 2.0 Browser Benchmark
BrowserBench.org's Speedometer is a pretty good measure of mixed web-content consumption performance. It also tests web app performance and how fast a system can execute JavaScript.
The Ace Magician AM06PRO did well here, and a score of 274 gets it in the upper echelons of the charts. The little AMD Ryzen 5 5625U 'Barcelo' seems to be punching above its weight in the chart here. We must consider that there may have been some software / driver improvements since the other systems were tested, to help give this PC a step-up, however. This machine is going to be doing a lot of website browsing and streaming during the next few years, so we are quite pleased with its punchy Speedometer 2.0 result.
Cinebench R23 Rendering
Software developer Maxon provides a useful free benchmarking app based upon its professional 'Cinema 4D' rendering software. A mini-PC like this isn't going to be tasked with 3D rendering by many folks, but this is a standard benchmark for us to test CPU performance, and the app gives results for both single-threaded and fully multithreaded rendering.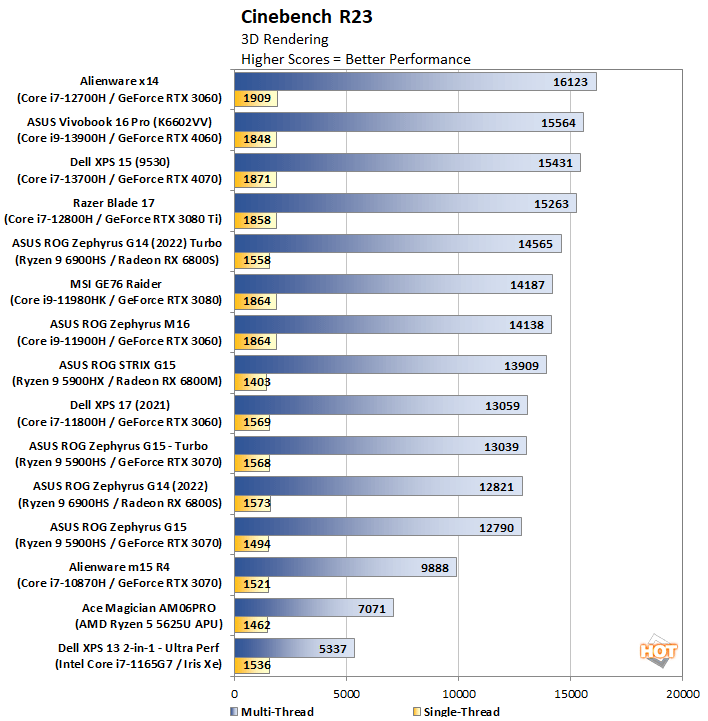 Comparing the Ace Magician AM06PRO mini-PC's score against some premium laptops, we see it isn't the worst performer here in nT workloads, but the 1T score alone would place it at the bottom of the chart.

Geekbench 5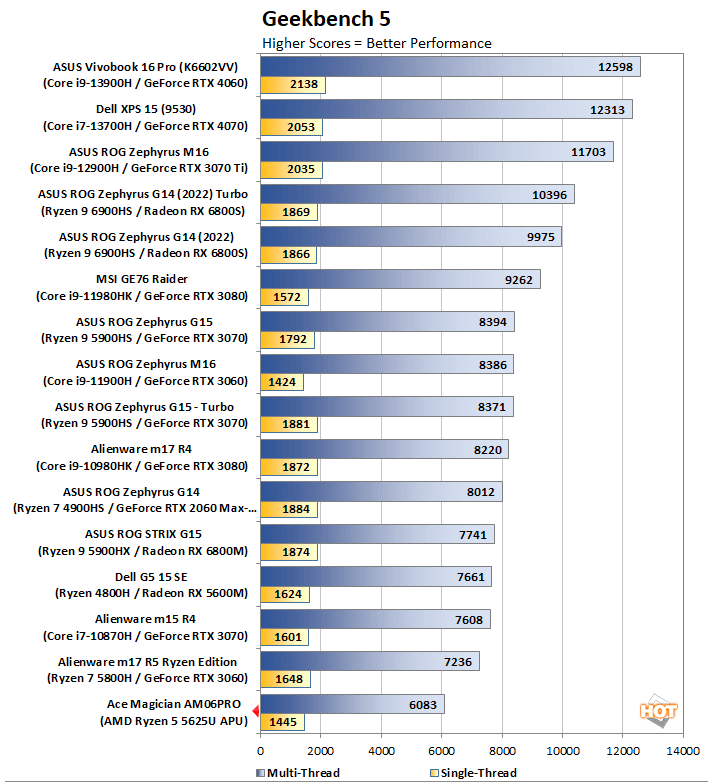 The Geekbench 5 score we achieved with the AM06PRO came as no surprise, falling just behind a laptop featuring its bigger brother, the Ryzen 7 5800H. Remember, the stronger Ryzen APU is an option when purchasing, if you think it is worth it over the AMD Ryzen 5 5625U in the test system or the Ryzen 5500U model currently on offer on Amazon.
PCMark 10 Productivity And Content Creation Benchmarks
PCMark is a useful benchmark for gauging the potential performance of a PC in typical office-creative tasks. PCMark 10 will run a suite of timed productivity tasks, including image and video editing, web browsing, and document editing - based on the engines from various popular free apps (Gimp, OpenOffice etc).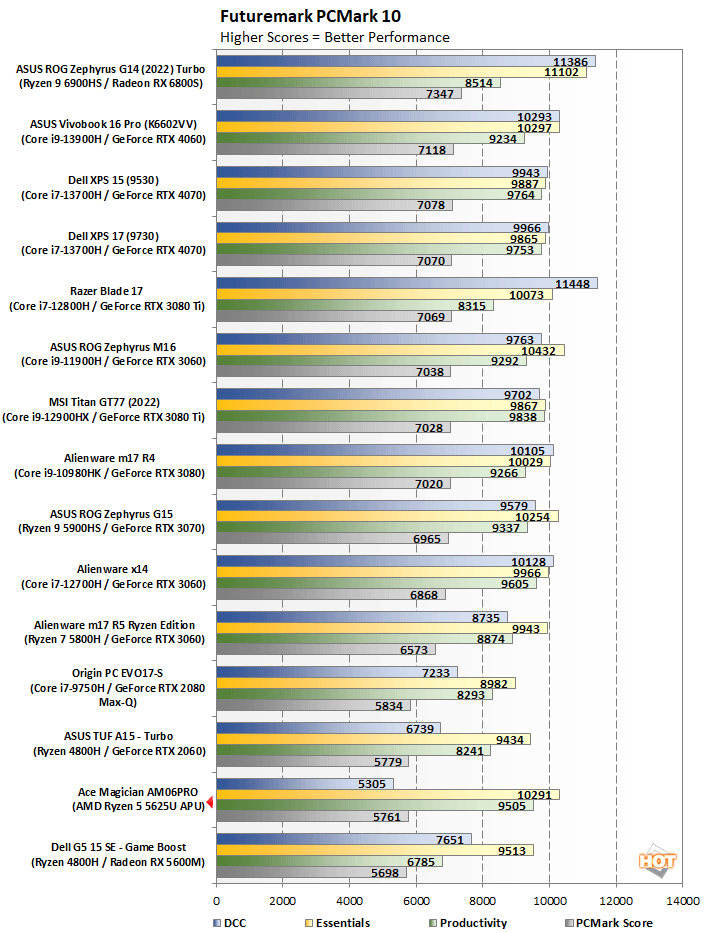 The AM06PRO does well here, not left behind by any real distance by its relatively pricey laptop form factor competitors. This rings true in the real world too, as the system feels quite responsive in everyday usage.
3DMark Graphics And GPU Tests
For an SFF form factor like this, with no discrete GPU, we test using the appropriately targeted 3DMark Night Raid.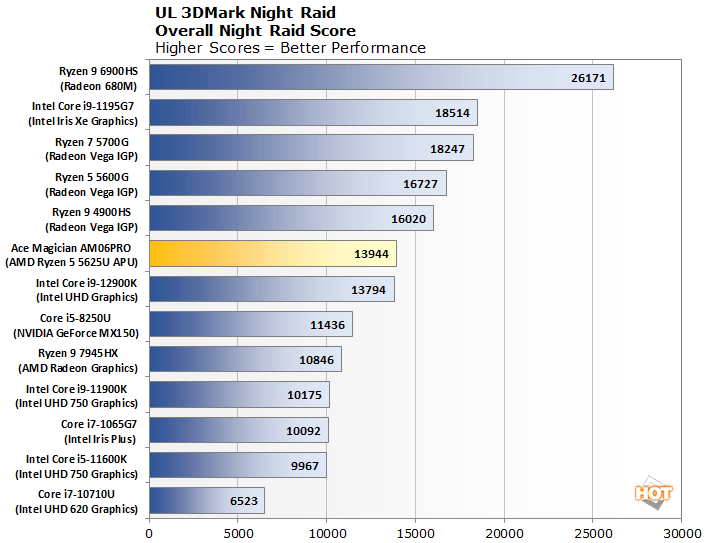 The Ace Magician AM06PRO's integrated Vega 7 graphics acheived a score of 13944, which puts it right about in the middle of the pack. We also ran 3DMark Fire Strike Extreme, but the score fell off the bottom of the chart at 1570.

Thankfully, Ace Magician doesn't market this device as a gaming PC, so we can't complain too much about Vega 7 performing like the modest iGPU that it is in 2023. Does that rule out any PC gaming with the AM06PRO, though? Actually, no -- you just have to be realistic with playing older / eSports titles with low settings, and perhaps scaling back the resolution.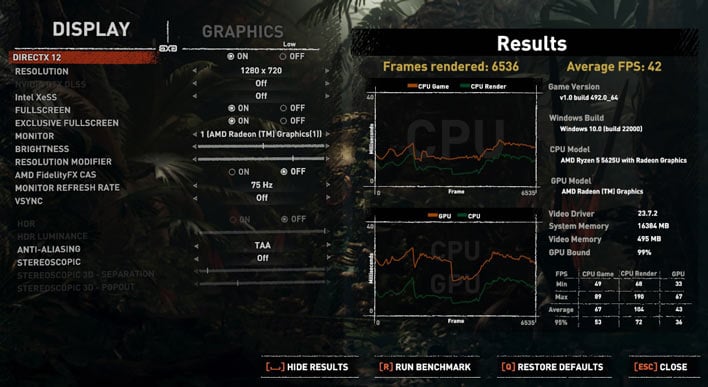 We tried adjusting the settings in Shadow of the Tomb Raider, for example, to get a playable experience. Initial tests at 1080p high yielded a paltry 18fps. 1080p low helped us hit an average 25fps. Switching to 720p low resulted in an average of 42fps, though (see image above). This game would probably be enjoyable enough at 30fps, so it looks like users might be able to have a little fun with older titles, running them at lower resolutions.
Ace Magician AM06PRO Power, Thermals and Acoustics
We measured power draw at the wall under a variety of conditions while testing the Ace Magician AM06PRO. At idle, the system would run at about 15W. Active browsing of modern weg pages raised consumption to around 20W. Adn Cinebench and 3DMark benchmarking and gaming pulled about 36 to 38W. Meanwhile, the highest spikes of power draw observed were in the region of 42W. So, this system is pretty economical with its power consumption. Remember these wattage figures aren't just the APU, they are the full system.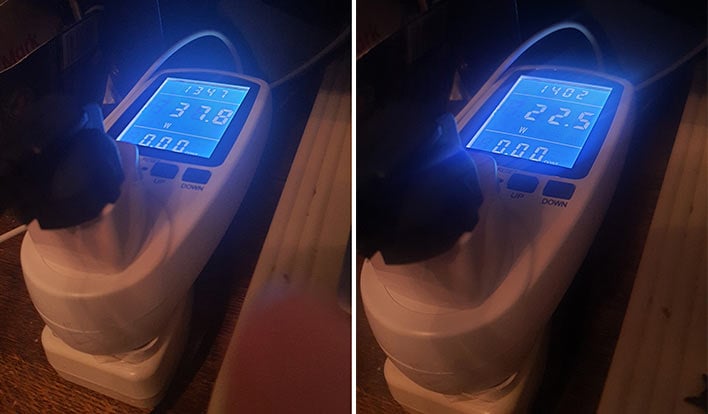 Thermals weren't great, though. We initially recorded CPU temperatures between 67 and 93°C while testing. Sometimes the system seemed to be hotter when browsing than when doing a strenuous benchmark, however. This is probably due to the system's fan profile configuration, but AMD says running these APUs sustained at up to 95°C is not an issue. If this was a normal desktop with an enthusiast air cooler, we would be hoping for CPU temperatures much lower, though.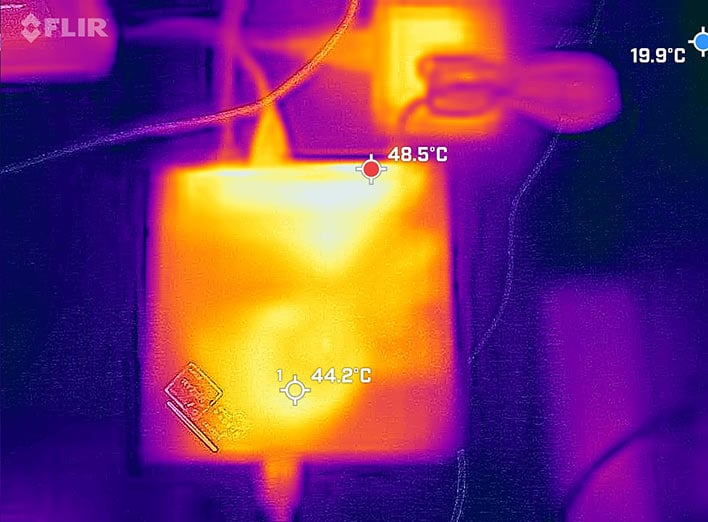 In the FLIR thermal camera image above you can see the hottest zone of the mini-PC was where it was exhausting the heat from the APU. The 48.5°C surface temperature is equivalent to 119.3°F.

The thermal and acoustic profile of the AM06PRO hints to the fact that that Ace Magician hasn't really unshackled the system's Ryzen mobile APU, as its cooling solution isn't much beefier than one found in a laptop. Therefore, unlike some other mini-PCs we have seen using mobile processors, this device can be almost as hot and noisy as a laptop under load. From about 18-inches away, the system's fan noise may irritate some users, as there seemed to be quite frequent fast whirrs that occurred, but there may be a fix.
After we completed testing of the stock machine, we cracked open the system open again to look at the other side of the PCB with the AMD Ryzen 5 5625U.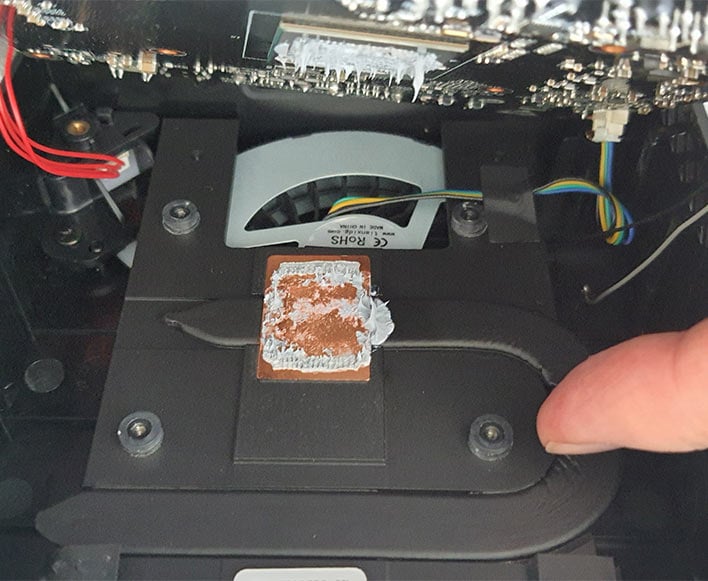 In the above picture you can see the device, as supplied, had a lackluster application of thermal paste. So, we cleaned it up, subsequently used a small dab of Arctic MX-4, and then we took great care to reattach the motherboard to the cooling assembly to ensure proper contact.
Since the repaste, the Ace Magician AM06PRO seems to behave much better with regard to noise - the fan seems to be much more predictable, only kicking in when the system is under load (and a quick spin at boot). Re-running some benchmarks showed no difference in performance, though. The system wasn't thermal throttling before, but the repaste seems like a thoroughly worthwhile 'quality of life' upgrade.
Ace Magician AM06PRO Takeaways And Conclusion
Using the AM06PRO has mostly been a pleasure. With day-to-day, non-gaming computing tasks it doesn't seem to miss a beat, and certainly never felt 'slow' in general use.

Other things going for the AM06PRO are its tiny size. This mini-PC is easily portable, concealable, and VESA-mountable and it is powered by a USB-C adapter.
We'd be remiss if we didn't also mention the price. In the US a Kamrui branded AM06PRO, albeit with a slightly lower-clocked Ryzen 5 5500U, but the same 16GB DDR5 and 512GB SSD, can currently be grabbed
for about $249
.
At this low of a price point, there are obviously some drawbacks to the system, however. We take away a few points for the basic, plastic chassis. Additionally, the system is using an older, mid-range mobile processor, so it lacks some of the features and IO of current-gen platforms. We'd also like to see the audio connectors moved to the rear, for people putting this on a desk that may want to use wired speakers. And fan noise may be an issue for some users.
That said, considering the Ace Magician AM06PRO's bargain price point, 6-core processor, Radeon graphics, and included OS, it is still easy to like the system. If you're shopping for an affordable mini-PC, the Ace Magician AM06PRO is worth a look.
Related content