Xbox One S All-Digital Console Falls To Record Low $149 With This Hot Holiday Deal
If you're looking for a last-minute Christmas gift that won't break the bank for a friend or family member that is into gaming, we might just have the perfect idea. Amazon is currently selling the
Xbox One S All-Digital
console for $100 off its regular MSRP of $249.
The console is selling for a low, low price of $149 with free shipping and free returns from Amazon. In addition, if you're an Amazon Prime member, you'll get the console by Friday with two-day shipping, which will give you plenty of time to wrap the gift and stick it under the Christmas tree.
Unlike other the members of the Xbox One family, the Xbox One S All-Digital doesn't come with a Blu-ray drive. Depending on how invested you are into Blu-ray movies, this could be a serious knock against the console. However, with the prevalence of streaming services like Netflix, Hulu, Amazon Video, Sling TV, etc., it's likely not that big of a deal for most folks.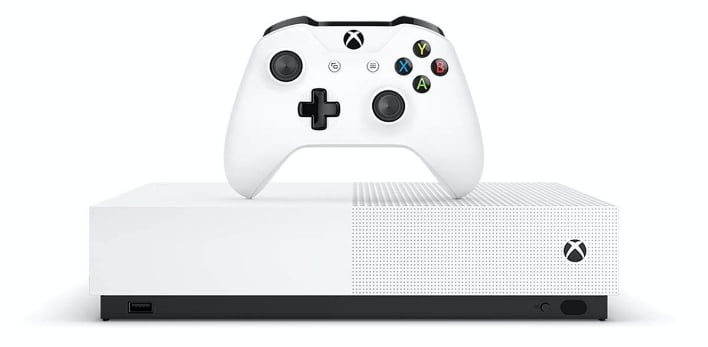 As for gamers, you can get all of your Xbox One games digitally these days, and services like Xbox Game Pass and xCloud are making disc-based gaming a thing of the past.
Once you get past the lack of an optical drive, the specs of the Xbox One S All-Digital are identical to that of the standard Xbox One S. You'll find the same hardware lurking underneath including the 1TB hard drive and Xbox One Wireless controller. In addition, you'll receive free digital copies of Fortnite (with 2000 V-Bucks and the Legendary Rogue Spider Knight Outfit), Sea of Thieves, and Minecraft.
You can get the Xbox One S All-Digital right here from Amazon for $149. If you want a second controller, there's a separate bundle that's available for $169.99 instead of usual $299.