Samsung Galaxy S20 Makes Benchmark Cameo With Snapdragon 865 And 12GB RAM
What would a smartphone launch be without the usual round of pre-launch leaks and rumors? We may never find out the answer to that question, because frequent leaks are simply part of the game these days (whether they're real or controlled leaks is another matter). And so it goes over at Geekbench, where where a bit of specs and performance data has seemingly been revealed for
Samsung's
next generation
Galaxy S20
handset.
Or you can call the Galaxy S11. That is still a possibility, though rumor has it Samsung is rolling with "Galaxy 20" for its next-gen flagship phone. To avoid confusion, we will refer to it as that from here on out. All that really matters is that we are clear on this being the successor to the
Galaxy S10
line, no matter what Samsung ends up calling it.
Now then, onto the Geekbench entry in question...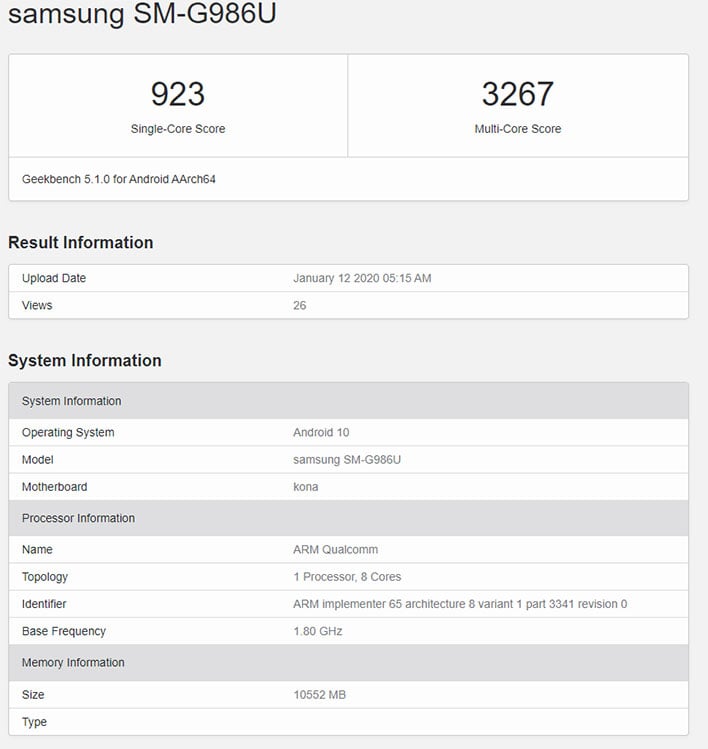 Source: Geekbench
The model number is listed as SM-G986U. It is powered by
Qualcomm's Snapdragon 865
system-on-chip (SoC) and 12GB of RAM. According to Qualcomm, the Snapdragon 865 delivers a 25 percent performance uplift over the Snapdragon 855 in both compute and graphics workloads, the latter of which is powered by a new Adreno 650 GPU. We had a chance to
preview the SoC
, and it left a good first impression with us.
How it fares in the real world will depend on a variety of factors. As it pertains to the Galaxy S20, the leaked benchmark entry (shown above) has it scoring 923 in the single-core test and 3,267 in the multi-core test, in Geekbench 5.1.0.
Those numbers are pretty close to what we saw in our hands-on preview of the Snapdragon 865. Have a look...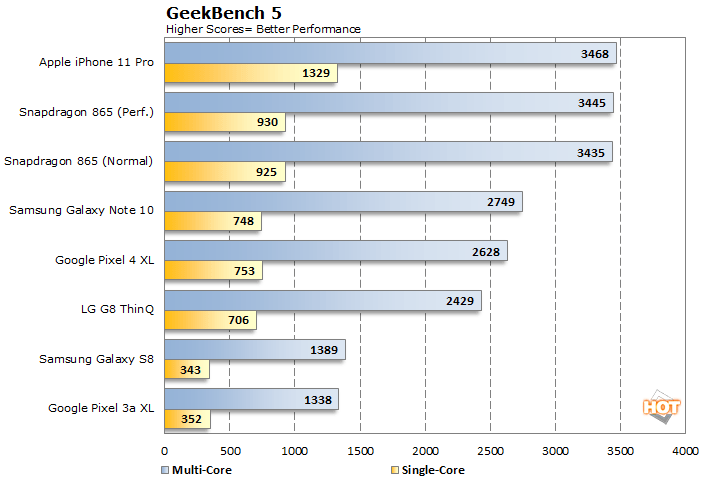 The leaked scores comes in a tad lower than what we obtained on a different device with the same SoC. Assuming the Geekbench entry is of an actual Galaxy S20, the lower scores can be attributed to overhead associated with the custom UI, drivers and firmware, and cooling, and forth. Overall, however, it appears the Galaxy S20 is about where it should be, in terms of expected performance.
All will be made clear soon enough—Samsung is expected to announce the Galaxy S20 (and also the
Galaxy Fold 2
, or
Galaxy Bloom
) on February 11, 2020.