Samsung Galaxy Fold 2 Rumored To Ditch Plastic Display For Flexible Glass
There have been a lot of leaks that have spilled out regarding the upcoming
Samsung Galaxy Fold 2
, and we've got yet another one today regarding the device's folding display. The current Galaxy Fold and competitors like the Huawei Mate X and
Motorola Razr
use a flexible plastic display in a day and age when most of us are used to more resilient Gorilla Glass.
While the plastic allows the displays to flex, it is also susceptible to scratching and is less durable than glass. Samsung, however, might have tapped into the holy grail for folding displays for the Galaxy Fold 2 with an "ultra-thin glass cover" according to famed leaker Ice Universe.
Not only would the glass be more durable, but Ice Universe claims that the display will look "flatter" when unfolded without any of the wrinkles that you see in the displays found on the Galaxy Fold and Mate X. The wrinkles (or ripples, if you prefer) can be prominently seen on these devices near the hinge mechanism when the display is fully extended. This distortion isn't noticeable at all angles, but it is still an annoyance -- especially for devices that can cost $2,000 or more (in the case of the Mate X).
We have no way of verifying the accuracy of this latest rumor, but it should be noted that Samsung has applied for a trademark for such technology, which it calls Samsung Ultra Thin Glass.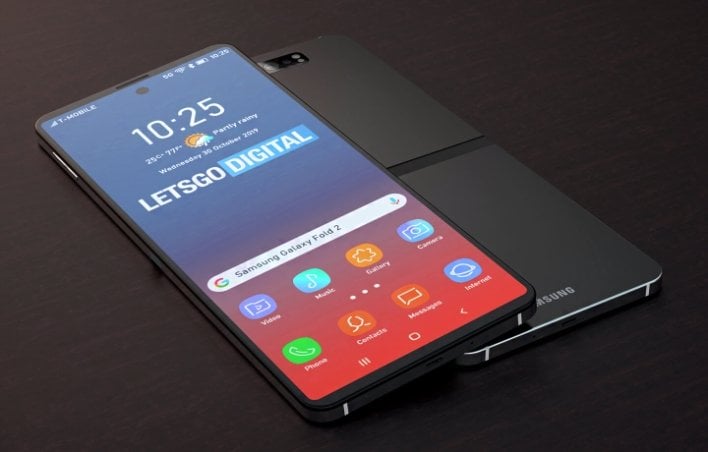 According to previous reports, the Galaxy Fold 2 will be unveiled alongside the Galaxy S11 in mid-February. The Galaxy S11 will be powered by Qualcomm's new Snapdragon 865 5G Mobile Platform, while the choice of SoC for the Galaxy Fold 2 is unknown at this time. However, it's likely given its smaller form-factor and likely tighter thermal tolerances that it could be powered by the new Snapdragon 765 Mobile Platform, which features its own integrated 5G modem (and not a separate chip like the Snapdragon 865).