Qualcomm's Special Binned Snapdragon 8 Gen 2 For Samsung Galaxy Explored
You're going to see a lot of the
Snapdragon 8 Gen 2
in 2023. This chip will be at the heart of most flagship Android devices, delivering the latest wireless connectivity and the highest performance short of Apple's custom silicon. However, the Snapdragon 8 Gen 2 inside the just-announced
Galaxy S23 family
is something special—for the first time,
Samsung
is getting a custom version of Qualcomm's top-tier chipset. It might not be a huge difference, but the S23 still lays claim to the fastest Snapdragon ever.
As
suggested
by the partnership previously announced by Qualcomm and Samsung, the Galaxy S23 will use the Snapdragon 8 Gen 2 globally. So, now even Galaxy fans in Europe will get the "better" Snapdragon phone instead of Samsung's own Exynos silicon. No matter where you buy the S23, you'll find a Snapdragon chip with a maximum clock speed of 3.36GHz. That's a big number for a mobile chip, and it's even faster than other Snapdragon-powered phones.
The stock Snapdragon 8 Gen 2 has a maximum clock speed of 3.2GHz on the Cortex X3 prime core, giving Samsung's latest an extra 160Mhz of CPU performance. It doesn't sound like Qualcomm has made any changes to the other CPU cores. The boosted X3 is probably not going to make a substantial difference even in benchmarks, but it's technically the fastest you can get and certainly nothing to sneeze at.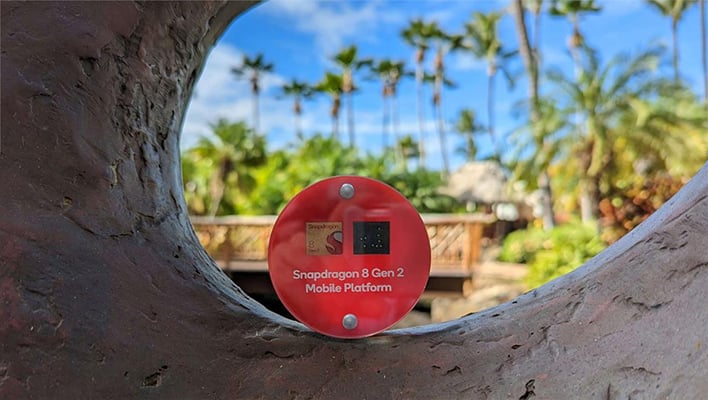 Qualcomm also says the Galaxy S23 has an "upgraded" Adreno GPU, but it's light on details. The company is often vague when talking about its custom Adreno components, so that's nothing new. It only says the S23's Adreno 740 has been "significantly improved in both performance and power efficiency." Like other versions of the chip, it supports new-to-mobile features like ray tracing and Vulkan 1.3.
The enhanced Snapdragon 8 Gen 2 will be inside all three versions of the S23, from the $800 base model to the $1,200 S23 Ultra. The Galaxy S23 family is available for pre-order from
Samsung
or
Best Buy
today and will begin shipping to customers on February 17th. We expect other Snapdragon 8 Gen 2 phones to launch regularly over the coming months from other manufacturers, but none of them will feature the Samsung-only version of the chip.