A Guide To Building A Power-Efficient Gaming PC For Under $1500
Performance is one of the most important considerations for many people buying or building a desktop PC. Faster CPUs and GPUs can hit higher framerates with better image quality settings, a speedy SSD can launch apps quicker, and more memory can keep a system humming along while multi-tasking with nary a hiccup. But high performance PC hardware often generates a significant amount of heat and requires more power than a mainstream build. From Intel 13th and 14th Gen chips, to the
Radeon RX 7900 XTX
, to PCIe 5.0 SSDs, you're probably going to see lots of heat and power use in a system designed for maximum performance.
Working and gaming on a PC that requires lots of power has a negative consequences. Using more power will have an impact on your electricity bill, and in the warmer summer months your A/C may have to work overtime to deal with the added heat being pumped out by a powerful PC. Thankfully, there are plenty of power-efficient components to choose from today, that still offer excellent all around performance, and they won't break the bank either. A budget of $1,500 is a good price point to target for a power-efficient, mainstream build, since more expensive, higher-end components also typically consume more power.

Of course, it's not necessary to follow this build guide to the letter, but before you swap out one component for another (particularly the CPU and GPU), it's important to understand why these components are a good choice for a PC geared towards power efficiency.
Two Builds To Choose From: AMD Versus Intel
The core of any PC is the CPU, and today's leading platforms are AMD's Ryzen 7000 series and Intel's 13th and 14th Gen lineups. While the Ryzen 7000 it typically more power efficient, Intel's mainstream chips are not far behind. You've probably seen benchmarks where 13th and 14th Gen CPUs hit much higher peak power draws than Ryzen 7000 chips, but at idle, and in bursty real-world gaming and productivity-related tasks, the differences are much smaller, especially with a PC loaded with more mainstream parts.

While the Ryzen 7000 series CPU will likely offer better efficiency overall, the 13th Gen Core i5 chip we recommend here is more affordable. Intel offers significant bang for buck this generation, using single and multi-threaded performance as the barometer. Of course, that's somewhat offset by the lower power efficiency, but if you want to save some money out of the gate by going Intel, that's a perfectly viable option.
Choosing A Power-Efficient CPU - The Brains Of The Operation
One of the most power hungry components in any PC is the CPU, and when it comes to power-efficiency, the
Ryzen 7000
series is typically ahead of Intel's 13th and 14th Gen CPUs.
The Ryzen 5 7600, Ryzen 7 7700, and Ryzen 9 7900
are all great choices for a power-efficient AMD CPU, but we recommend the 7700 in particular, which strikes a good balance between price and overall performance. It comes with eight cores (16 threads), which is clearly midrange at this point, and should be sufficient for everything form gaming to productivity tasks.
However, X-class Ryzen 7000 chips are also a solid choice, and you can often find them for cheaper than the non-X models when various promotions are running. By enabling Eco Mode, either through the BIOS or Ryzen Master, you can also operate the chips at similar power levels to their mainstream counterparts. Despite the fact that X and non-X chips are binned differently, there won't be a substantial difference in efficiency when Eco Mode is enabled. Without Eco Mode, however, chips like the 7700X consume more power than their mainstream counterparts.
The Core i5-13500 is slightly faster in multicore workloads than the Ryzen 7 7700, but it consumes a little more power, making it just about as efficient.
The CPU Cooler - Power Efficiency Plus A Good Cooler Means Silence
While
AMD
's non-X Ryzen CPUs and many of Intel's CPUs come with a stock cooler, it's a good idea to invest in something better to minimize noise and peak temperatures. One of the best air coolers on the market today is Thermalright's Peerless Assassin 120 SE, which routinely goes for about $35. Despite its low price tag, it is one of the better performing air coolers available. Whether you choose the 7700 or the 13500, going with the Peerless Assassin will result in some low temperatures and quiet operation, which makes for a good user experience.
The Motherboard - The Foundation Of Your PC's Upgrade Path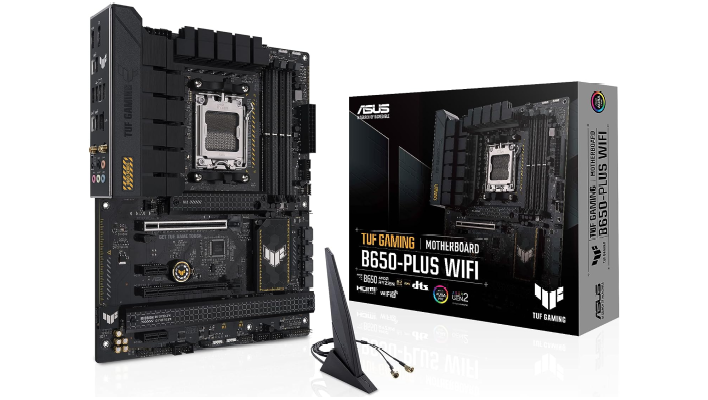 Disregarding AMD's high-end X670E, which is comprised of two chips and consumes significantly more power than mainstream chipsets, if you opt for an AMD build we recommend ASUS's TUF Gaming B650-Plus. It has a 12+2 stage VRM, support for one PCIe 5.0 and two PCIe 4.0 SSDs, and good rear I/O that includes 2.5 gigabit Ethernet and Wi-Fi 6. This board should last through a couple of generations as well, since the AM5 socket has some life ahead of it (unlike Intel's LGA1700 socket). If you prefer a different motherboard based on one of AMD's mainstream chipsets, power consumption and efficiency will likely be similar.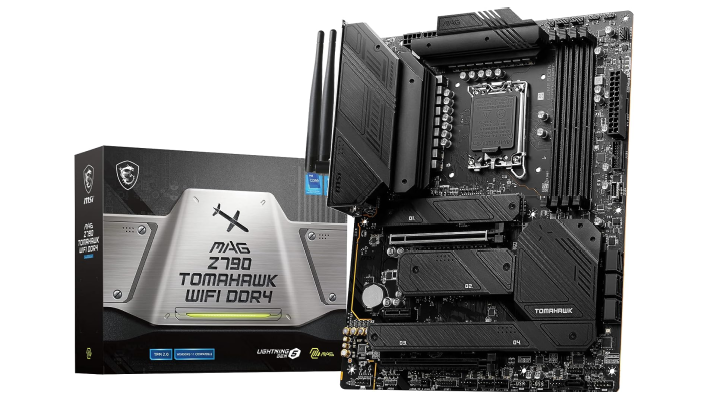 For the Intel platform, MSI's MAG Z790 Tomahawk WiFi DDR4 board would be a good option. It has a 16+1+1 stage VRM, four M.2 slots with PCIe 4.0 SSD support, and great rear I/O that features lots of USB 3.2 ports, 2.5 gigabit Ethernet, WiFi 6E, and the full array of audio jacks. The Z790 chipset is technically overkill for a locked chip like the Core i5-13500, but B760 boards don't approach this level of quality and typically have fewer features and integrated peripherals.
Again, if you prefer a different motherboard brand, power consumption and efficiency shouldn't differ dramatically. Just be sure to pair it with the right memory, since Intel supports both DDR4 and DDR5 this generation.
The Memory - High Performance And Low Latency Are Best For Efficiency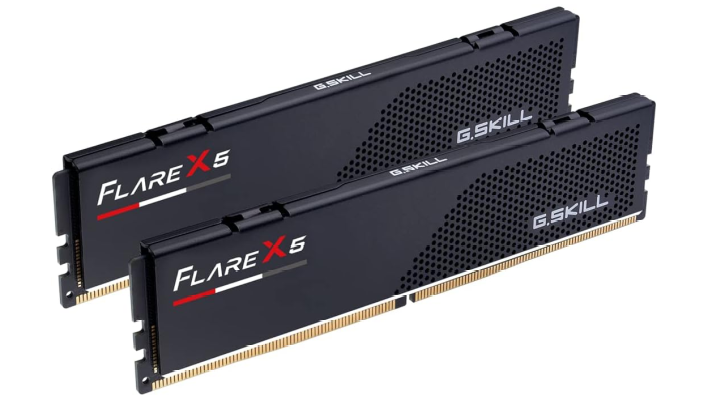 Memory isn't a major concern when it comes to overall system efficiency, but since slower memory can limit CPU performance, it's technically possible to reduce CPU efficiency with a memory bottleneck. With that in mind, you'll want a fast kit of RAM like G.Skill's Flare X5. For the Ryzen build we recommend the 6000MHz, CL36 kit. It only comes in a 2x16GB kit, but since DDR5 has gotten more affordable since socket AM5's introduction, this kit isn't all that expensive even compared to DDR4. Of course you could save a few bucks and go with a 16GB kit, but we'd consider 16GB the bare minimum today and not ideal over the long term.
Although this may not be popular with everyone, we'd recommend staying away from memory with RGB lightning. It requires power to light those LED and microcontrollers, which technically lowers efficiency.
If you chose an Intel CPU, DDR4 and DDR5 may be options, depending on your motherboard. The Intel motherboard we recommended above uses DDR4, which would work well with a kit like Corsair's Vengeance LPX, particularly the one made for Intel CPUs rated at 3600MHz and CL18. Both the 16GB and 32GB kits offer excellent bang for buck, though they aren't exactly eye catching.
The Graphics Card - Go Greener For Maximum Efficiency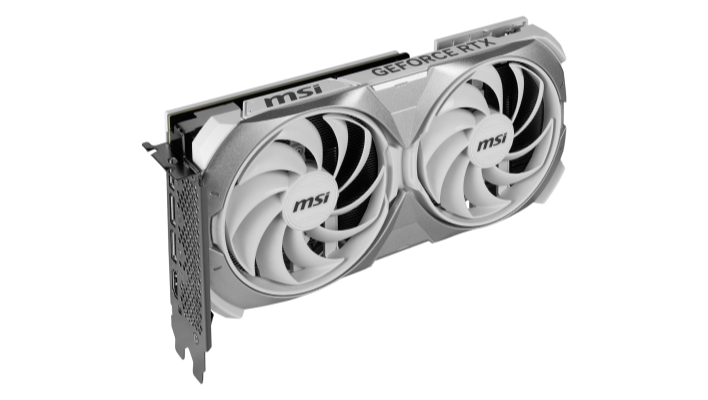 Along with the CPU, GPUs are usually one of the more power hungry components in a system. NVIDIA's
GeForce RTX 40
series is the obvious choice here as it's more power-efficient than AMD's Radeon RX 7000 series. Given how expensive GPUs are these days, a $1,500 total system budget precludes using a high-end model, but it is enough for the RTX 4070, which is somewhat more efficient than the cheaper RTX 4060 and RTX 4060 Ti, while also being significantly faster.
The
4060
,
4060 Ti
, and
4070
are among the most efficient GPUs available today, but the 4070 is the fastest of three by far, plus it has 12GB of VRAM rather than the 8GB seen on the 4060 and 4060 Ti (the 16GB GeForce RTX 4060 Ti isn't a better choice than the RTX 4070). By some metrics, the 4070 might be a little less efficient than the 4060 Ti, but sacrificing just a little efficiency for lots more performance is worth it in the long run, and you can always undervolt the 4070 anyway to make it more efficient, if you like to tinker. It doesn't particularly matter which GeForce RTX 4070 you choose, but models like MSI's GeForce RTX 4070 Ventus 2X White are priced aggressively and can be found for about $550.
The SSD - The More Storage, The Better
While NVMe SSDs obviously consume power, they typically hover around 12 watts peak, which means they require a small fraction of the power budget in a modern desktop PC. However, some SSDs are more efficient than others, and Teamgroup's PCIe 4.0 MP44 strikes a good balance thanks to its relatively lower power consumption and good performance. It comes in sizes ranging from 512GB to 8TB, but the best bang for buck is with the 1TB and 2TB models, which are available for pennies per gigabyte.
Given how little power SSDs consume though (relatively speaking), feel free to choose whatever drive you prefer. High-end PCIe 4.0 drives like
Samsung's 990 Pro
and Corsair's MP600 Pro NH will still be good even though they're probably less efficient overall, and PCIe 5.0 SSDs, despite their higher power draw, will also deliver proportionally higher performance. Though keep in mind, if you're going with the Z790 board we recommended, it doesn't support PCIe 5.0 SSDs, and Z790 motherboards that do start at around $300.
The Case - Most Efficient Without The RGB Lighting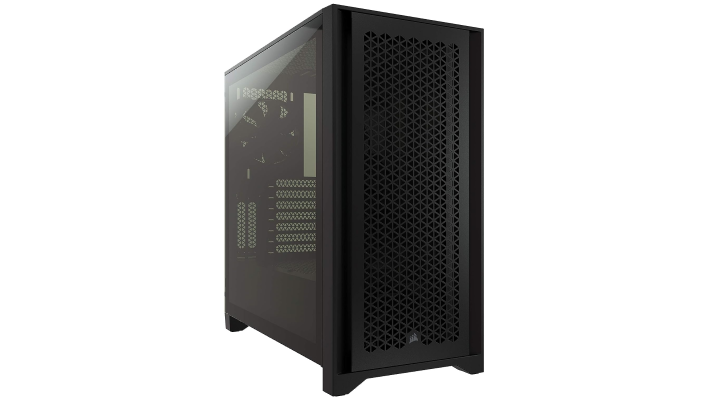 While it might not seem like a PC case could make an impact on efficiency, it actually can. PCs that use RGB lighting consume power that's not necessary, so they should be avoided. A great case that has no RGB of any sort is Corsair's 4000D Airflow, which strikes a good balance between midrange and high-end offerings in terms of features, but at an affordable price. It has enough room for a 360mm radiator, the biggest air coolers, and the longest graphics cards.
The Power Supply - A Better Rating And More Capacity Means More Efficiency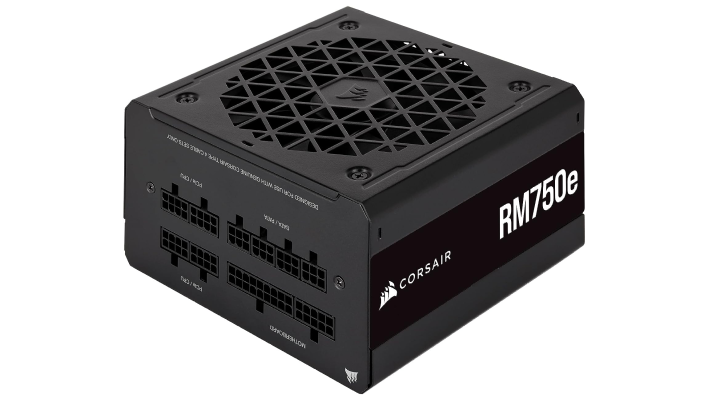 The power supply is the last major component that has a significant impact on overall power efficiency. Under very high (or low) loads, a PSU becomes less efficient and thus makes the PC less efficient. To ensure maximum efficiency, it's important to get a quality PSU with a high efficiency rating, that has some additional headroom to spare for the build. Any reputable power supply with an 80 Plus Gold or Platinum rating, in the 750 watt range should be good, and for this build we recommend Corsair's RM750e (2023) PSU.
Aside from having that 80 Plus Gold rating and 750 watts of power, the RM750e is also an ATX 3.0 PSU, meaning it has native support for the latest power cables, principally the 12VHPWR cable found on recent NVIDIA GPUs. However, ATX 3.0 is really just a small bonus, and there are lots of similarly priced PSUs that have an 80 Plus Gold ratings and similar power output.
Should you opt for the AMD build we recommend, this is what the total cost looks like:
| | | |
| --- | --- | --- |
| Slot | Product Name | Amazon Price |
| CPU | AMD Ryzen 7 7700 | $298.79 |
| CPU Cooler | Thermalright Peerless Assassin 120 SE | $34.90 |
| Motherboard | ASUS TUF Gaming B650-Plus WiFi | $214.99 |
| Memory | G.Skill Flare X5 32GB DDR5-6000 CL36 | $95.99 |
| Graphics Card | MSI GeForce RTX 4070 Ventus 2X White | $549.99 |
| Storage | Teamgroup MP44 1TB | $52.99 |
| Case | Corsair 4000D Airflow | $79.99 |
| Power Supply | Corsair RM750e (2023) 80 Plus Gold | $99.99 |
| Total | | $1427.63 |
And if you went with Intel, the total cost looks like this:


| | | |
| --- | --- | --- |
| Slot | Product Name | Amazon Price |
| CPU | Intel Core i5-13500 | $247.98 |
| CPU Cooler | Thermalright Peerless Assassin 120 SE | $34.90 |
| Motherboard | MSI MAG Z790 Tomahawk WiFi DDR4 | $269.99 |
| Memory | Corsair Vengeance LPX 32GB DDR4-3600 CL18 | $74.99 |
| Graphics Card | MSI GeForce RTX 4070 Ventus 2X White | $549.99 |
| Storage | Teamgroup MP44 1TB | $52.99 |
| Case | Corsair 4000D Airflow | $79.99 |
| Power Supply | Corsair RM750e (2023) 80 Plus Gold | $99.99 |
| Total | | $1410.82 |
As you can see, there's not much separating the two builds in terms of pricing and we're well under the self-imposed $1,500 limit. Either way, you can expect roughly equivalent performance on both systems, since their specs are pretty comparable overall. In a combined CPU and GPU workload, your power consumption should be roughly 450 watts or so, which is pretty good considering the performance on tap with a system like this. In gaming, you'd probably see power consumption closer to 300 watts, which is pretty low for such a powerful PC.

Game-on, our efficient brothers and sisters. You now have a foundation that not only runs cool and quiet but won't break the bank either.