OnePlus 7 Pro Price Slashed By $150 With This Red Hot Black Friday Deal
We have sung the praises of the
OnePlus 7 Pro here at HotHardware before
, and OnePlus is luckily running a Black Friday promotion that is knocking a big chunk off the flagship smartphone's price tag. OnePlus is already known for attractive pricing for its Android smartphones, so this particular configuration's $699 price tag was already among the lowest for devices in its class.
However, today's Black Friday sale sees the OnePlus 7 Pro discounted by $150, which brings its price down to an incredibly hot $549. Unfortunately, that price will only get you the Mirror Gray model with 8GB of RAM and 256GB of storage. The Almond and Nebula Blue colors are currently out of stock, but considering that many people simply slap their expensive smartphones in a protective case, perhaps it isn't such a big deal what color they get.
Customers have the choice of purchasing the phone outright, or taking a 0% financing offer at $45.75/month for 12 months. If you prefer to pay it off faster, OnePlus also offers a $91.50/month for 6 months option.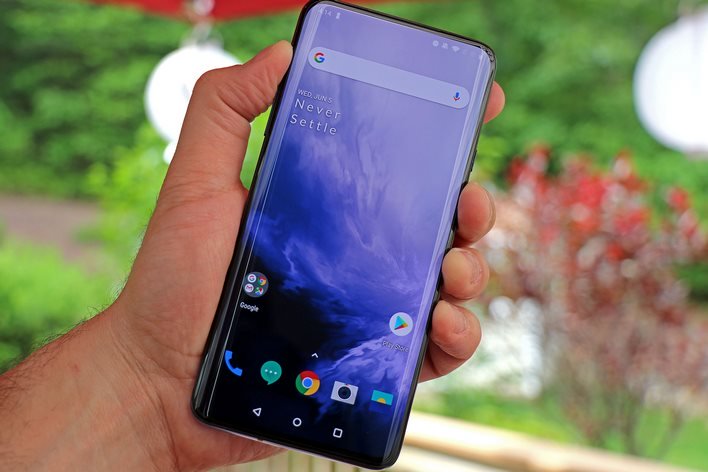 The OnePlus 7 Pro first caught our eye with its super smooth 90Hz refresh rate display. Not only does content just glide smoothly across the 3120x1440 QHD+ HDR10+ certified display, but colors are rich and vibrant as well.
OnePlus has also packed in performance credentials with the OnePlus 7 Pro, giving it the beating heart of the Qualcomm Snapdragon 855 SoC. It might not top the newer Snapdragon 855+ in outright speed, but the differences won't be noticed by most users. Other niceties include a triple-camera array on the back, pop-up selfie camera (which gives the display an unbroken, notch-less appearance) and a relatively large 4,000 mAh battery. And most importantly, OnePlus is right on top of things with OS releases, so it OxygenOS is built on Google's latest Android 10.
You can grab the OnePlus 7 Pro for $549 by clicking the following link.