NVIDIA May Launch More GeForce RTX 30 Cards While We Wait For Next-Gen GPUs
NVIDIA
has a problem. The company is apparently sitting on a mountain of Ampere GPUs which it needs to clear out before launching its next generation. NVIDIA has been
slashing prices
to move inventory, but it sounds like it will be taking more drastic measures. New rumors suggest NVIDIA will quietly release three new GeForce RTX 30-series SKUs just weeks ahead of the
RTX 40-series
launch.
According to Twitter leaker @Zed__Wang, the lineup will consist of an RTX 3060 with 8 GB of GDDR6, an RTX 3060 Ti with 8 GB of GDDR6X, and a 3070 Ti also using 8 GB of GDDR6X with an even more interesting change.
The existing
GeForce RTX 3060
features 12 GB of GDDR6 over a 192-bit bus. This new variant is purported to use a narrower 128-bit bus, but we do not yet know the intended memory clocks to know how bandwidth compares. The lower memory capacity should help further reduce cost in a segment that does not necessarily need the extra GDDR6.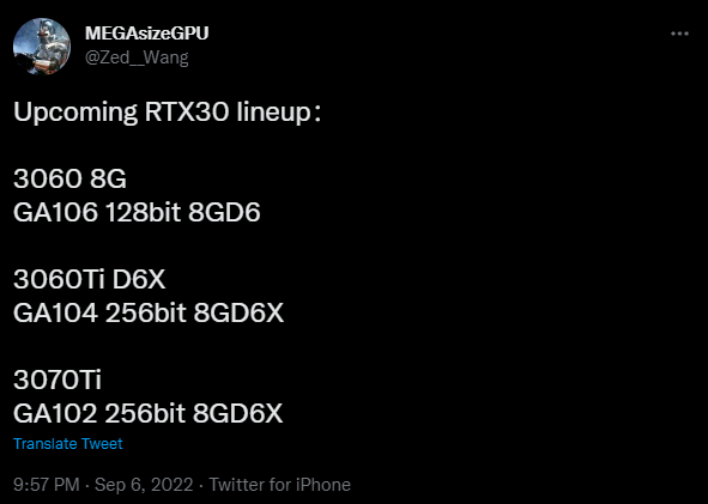 The
RTX 3060 Ti
, on the other hand, is receiving a slight upgrade. The memory capacity is remaining at 8 GB but is being upgraded from GDDR6 to GDDR6X. GDDR6X is typically more power efficient and can carry higher memory bandwidth. It will retain a 256-bit width memory bus, so as long as memory clocks remain similar users may notice a slight increase in performance for some scenarios.
The most radical change is coming to the
RTX 3070 Ti
. The memory configuration appears to be unchanged, but the new revision will use the GA102 rather than the GA104 the card is currently based on. The GA102 is what powers NVIDIA's BFGPUs, the GeForce
RTX 3090
and RTX 3090 Ti. Obviously, the variant found in this new RTX 3070 will be significantly cut down, but the wafer does not cost NVIDIA any less to produce. This move seems like a good way to use dies that were unable to make the
RTX 3080
cut.
The trio of new options is unlikely to make its way directly to consumers as standalone cards. Instead, NVIDIA will offer these to OEMs for integration in systems, likely at a considerable discount. We do not expect NVIDIA to make any fanfare about their existence either.