Microsoft Victorious As Federal Judge Rules Against The FTC In Activision Purchase
You read the headline so we probably don't need to re-state it, but just in case you're reading this on an ancient archive in the year 2330 and the headline has been lost to history, here it is: Microsoft has been given the go-ahead to pay $69 billion dollars for competing publisher Activision-Blizzard. That green light comes from federal judge Jacqueline Scott Corley, who ruled that the FTC did not prove its case that
Microsoft's merger would harm competition
in the gaming space.
It's a surprising decision considering that sentiment toward the case
seemed largely negative
both publicly and professionally. The UK's Competition and Markets Authority (CMA)
vetoed the deal in May
, but of course both companies are appealing the decision. The deal can't close globally until that roadblock is resolved, assuming that happens. After the judge made her ruling, the UK CMA said that it will evaluate proposals from Microsoft and has agreed to a stay in the appeal before the Competition Appeal Tribunal.
The announcement comes rather abruptly, and less than two weeks after a watchdog group, The Revolving Door Project,
called for the judge to recuse herself
from the case due to a conflict of interest. Judge Corley's son, it seems,
actually works for Microsoft
—albeit not in the gaming division. Still, the association was enough for The Revolving Door Project to cry foul and send a letter formally requesting the judge recuse herself before issuing a ruling that, according to the watchdog group, could be in violation of multiple rules of the judicial code of conduct.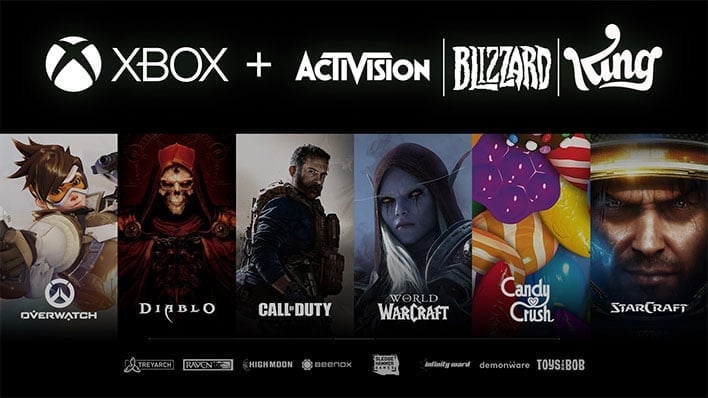 Microsoft has previously stated that its goal with the purchase is ironically to
get a foothold in the mobile game market
, where the company—already the 4th-largest video game publisher in the world—has essentially no presence. We generally talk about Activision-Blizzard in those terms, but the corporate entity as it exists today is actually the result of the merger between those
two classic game companies
as well as the purchase of King Digital Entertainment—you know, the guys behind Candy Crush Saga?
After the purchase—
assuming it does finally complete
—Microsoft will find itself in the second- or third-place spot on the ranking of video game publishers by revenues, depending on whose numbers you use. It'll be behind rival Sony Interactive Entertainment, and neck-and-neck with Chinese multi-media mammoth Tencent Games. The acquisition will put it well ahead of Japan's Nintendo, as well as NetEase, Electronic Arts, and
GTA
publisher Take-Two Interactive.