Intel's vPro Platforms Gets A 13th Gen Core Series Refresh For A Big Performance Uplift
Intel has issued a press release focusing on the latest implementation of its business-focused vPro technology platform, integrated into the company's new 13th Gen
Raptor Lake
Core CPUs. The announcement discusses several updates added to the platform, as well as significant performance improvements with 13th Gen processors using vPro technology, with speeds increased by as much as 65%.
Intel vPro technology is a business-focused solution that alleviates many headaches associated with setting up business PCs and maintaining their operation. To do this, the platform focuses heavily on system security,
IT administration
(an integrated IPMI solution directly on the CPU), and system stability with guaranteed stability on older builds of Windows 10. Most of vPro's features are free. However, there is a paid version that unlocks the platform's full capabilities.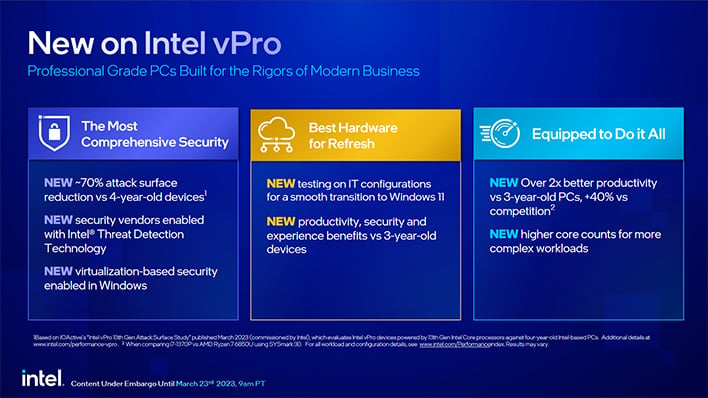 With 13th Gen Core processors, the vPro platform has several new enhancements. Intel Thread Detection Technology now features silicon-based virtualized and encrypted memory security for protecting system RAM against attacks. Customers now have more vendors to choose from with end-point detection and response from Intel Threat Detection Technology – a silicon-based hardware-assisted anti-virus.
Plus, Intel now provides an updated hardware refresh program that gives customers an easier upgrade path to Windows 11 through its SIPP program. Intel has also announced vPro integration with Raptor Lake notebooks utilizing Intel's Evo design philosophy.
Intel notes that its latest iteration of
vPro features
a stellar security track record against its own Intel-based PCs from 4 years ago. Intel's latest vPro tech has a 93% efficacy detection rate on ransomware attacks, 26% fewer major security breaches, 17% security team efficiencies, and 21% fewer impact security events. Security and upgradability are the most popular functions of Intel's vPro platform. Customers have been asking Intel to step into threat-preventing more and more, as threats continue to become more prevalent. This is why Intel is focusing heavily on not only security, but easier upgrade paths as well, so customers can get off more vulnerable machines and onto
its latest CPUs
with its bleeding-edge threat prevention mechanisms.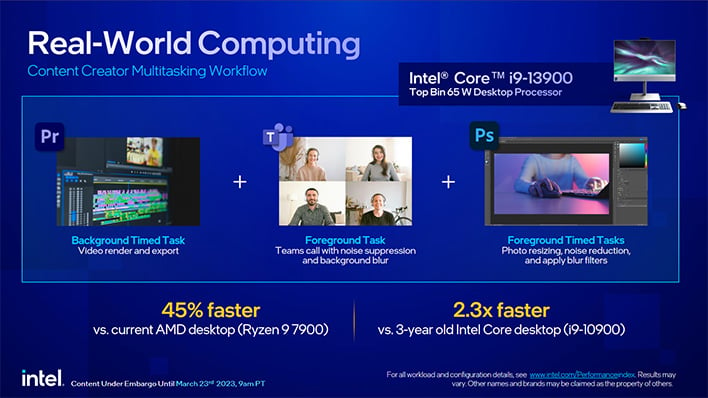 CPU performance has also improved significantly, with vPro enabled and all of Windows 11's latest security standards enabled (like VBS). Compared to the i9-12900,
the i9-13900
is up to 15% in UL Procyon and 7% faster in SYSmark 30. But compared to the older i9-10900, it is up to 65% in SYSmark 30 and 51% faster in UL Procyon. In a real-world computing test, consisting of background video rendering, exporting, team calls with noise suppression and background blur, and photo resizing all occurring at the same time; the i9-13900 was 45% faster than AMD's Ryzen 9 7900 and up to 2.3x faster than the i9-10900.
Intel also tested
its latest i7-1370P Raptor Lake mobile CPU against the competition and its predecessor. In SySmark 30 and UL Procyon, the i7-1370P was 2.3x faster and 59% faster, respectively, compared to a 3-year-old notebook running a Core i7-10610U. Then in another test consisting of a data analyst collaboration workflow, utilizing Microsoft Teams, reports, and PDF exports, the 1370P was 58% faster than the Ryzen 7 6850U and 2.8x faster than the i7-10610U.