Intel Xeon Granite Rapids And Sierra Forest CPU Leak Reveals 12-Channel DDR5 And 500W TDP
A confidential Intel spec sheet has been leaked, showing new specifications of Intel's future 6th generation Granite Rapids and Sierra Forest server CPU architectures. Both CPU designs will support 12-channel DDR5 memory channels, and are rated at up to a 500W TDP. If Intel's TDP system doesn't change, this means Granite Rapids and Sierra Forest could consume as much as 500W of power consumption or more (depending on how effectively the CPU can dissipate the 500W thermal rating).
Granite Rapids and Sierra Forest are a pair of upcoming Intel Xeon CPU platforms that will debut sometime in 2024. According to
Intel's roadmap,
both architectures will see the first major shift from the Intel 7 node - which is used in today's Alder Lake, Raptor Lake, and
Sapphire Rapids
server CPUs, to the more advanced Intel 3 node. Granite Rapids will be leveraged for performance optimized server applications, while Sierra Forest will be targeted at high-density and ultra-efficient server applications, being the first server architecture to inherit E-Cores—just like Raptor Lake and Alder Lake.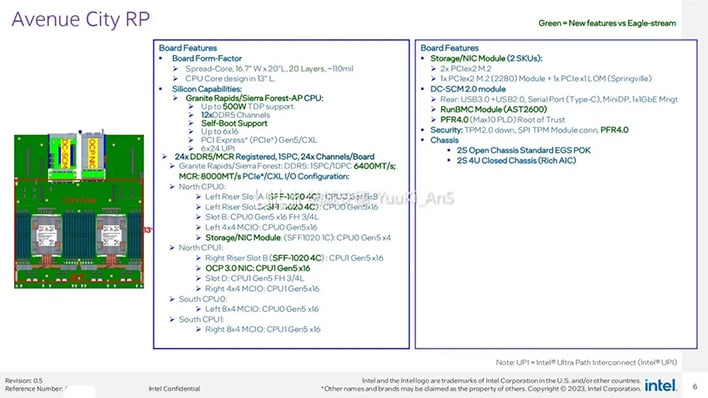 Previous reports have shown Granite Rapids will operate on a new LGA 7529 socket featuring twice as many pins as the Sapphire Rapids LGA 4677 socket. As a result, CPU size will increase to a
staggering
105 x 70.5mm, making it wider than an Apple iPhone 13 Mini. Intel is also equipping Granite Rapids with up to 128 cores, which will be a substantial upgrade over the 60 cores in its Sapphire Rapids flagship.
Granite Rapids is shaping up to be a truly monstrous platform, in every dimension. All the reports we've seen so far show us that Intel is content to let CPU size and power expand, and will keep growing both metrics to meet the performance demands required of the server market and to stay in competition with AMD. But, it might not all be bad news, Intel could also be adding a treasure trove of new features that make up for any inefficiencies Granite Rapids might have relative AMD, just like it did with Sapphire Rapids.