Intel CEO Gelsinger Shares Silver Lining After Chipmaker Posts Brutal Earnings Results
It was right around two years ago when
Pat Gelsinger took the reins
as Chief Executive Officer of Intel, replacing Bob Swan and returning to a company he first joined at just 18 years old before moving on 30 years later. During the past two years, he's made big and bold promises as he attempts to right the ship. There were always going to be icebergs along the way, and now he must
navigate tricky waters
in which Intel is coming off one its biggest earning losses in history.
The numbers are in for Intel's fourth quarter and full-year 2022 results, and they're not particularly pretty when put in context. Intel's fourth quarter revenue settled at $14 billion, and while that's not chump change by any stretch of the imagination, it's a massive 32 percent drop compared to the same quarter a year ago. It also resulted in a $684 million net loss for the quarter, which nearly matches its biggest loss ever ($687 in the fourth quarter of 2017).
Intel's full-year results for fiscal 2022, meanwhile, tallied $63.1 billion in revenue, which marks a sizable 20 percent drop compared to 2021. On the bright side, Intel still ended the year $8 billion in the black, though that's a massive 60 percent decline from the $19.9 billion profit it posted the previous year.
"Despite the economic and market headwinds, we continued to make good progress on our strategic transformation in Q4, including advancing our product roadmap and improving our operational structure and processes to drive efficiencies while delivering at the low-end of our guided range," Gelsinger said in a statement.

"In 2023, we will continue to navigate the short-term challenges while striving to meet our long-term commitments, including delivering leadership products anchored on open and secure platforms, powered by at-scale manufacturing and supercharged by our incredible team," Gelsinger added.
Regarding the company's product roadmap, Intel says it's next-gen
Meteor Lake
CPU architecture is on track to release in the second half of this year, followed by
Lunar Lake
in 2024. Intel also pointed to Emerald Rapids launching to the server sector around the same time as Meteor Lake, with Granite and Sierra on track to release in 2024.
Looking beyond the numbers, Intel highlights its strategy of launching five nodes in four years. To that end, Intel 7 has reached high volume manufacturing, Intel 4 is ready for manufacturing, Intel 3 is on track, and both Intel 20A and 18A have taped out with silicon in the lab, the company says.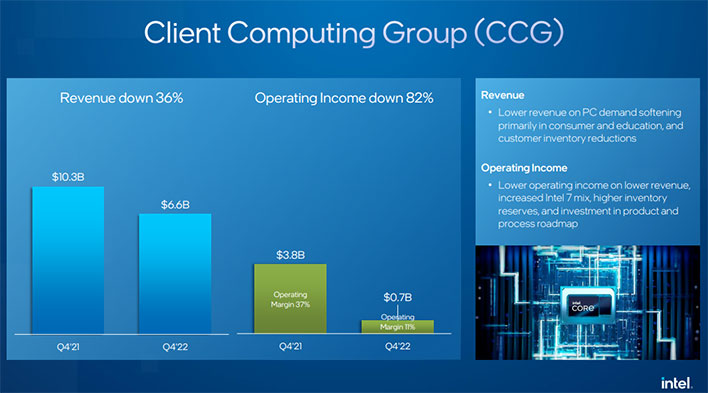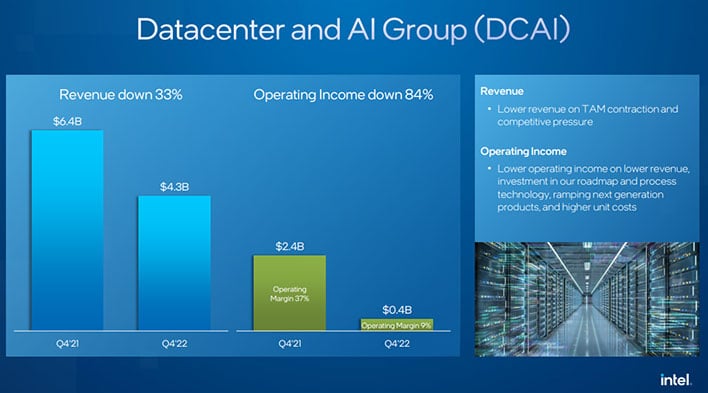 Be that as it may, the losses can't be overlooked, given the steep declines among Intel's biggest earners. Revenue for its Client Computing Group tallied $6.6 billion in the fourth quarter, which is a 36 percent decline year-over-year, while its Data Center and AI division tumbled 33 percent to $4.3 billion.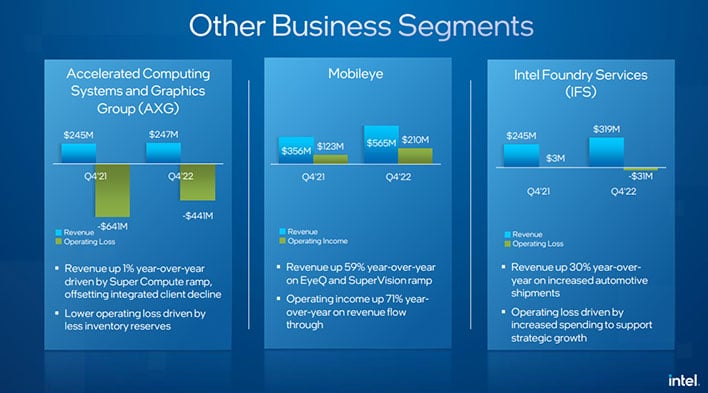 It wasn't all bad, though. Intel's Mobileye division shot up 59 percent to $565 million, and Intel Foundry Services saw a 30 percent jump to $319 million, both in the fourth quarter.
"In the fourth quarter, we took steps to right-size the organization and rationalize our investments, prioritizing the areas where we can deliver the highest value for the long term," said David Zinsner, Intel CFO. "These actions underpin our cost-reduction targets of $3 billion in 2023, and set the stage to achieve $8 billion to $10 billion by the end of 2025."
A market correction of sorts was always inevitable, given that the pandemic spurred a bunch of PC upgrades as employees shifted to remote work. However, Intel also pointed to macro uncertainty, rising interest rates, geo-political tensions in Europe, and the ongoing effects of Covid in Asia as contributing factors. And while not specifically mentioned, Intel is competing against a reinvigorated rival in AMD.
The good news for Intel is that its
massive investments
in manufacturing and node roadmap offer some longer term stability to what feels like shaky ground at the moment. It just has to weather the current landscape, which is brutal, as reflected in its
earnings report
. Intel didn't provide a full-year outlook, but looking ahead to Q1, the company expects its revenue to land somewhere between $10.5 billion and $11.5 billion.