Intel Core i9-10980HK Brings Crushing Mobile Comet Lake-H Performance In Fresh Benchmark Leaks
Intel
stated at
CES 2020
that laptops sporting 10th generation
Comet Lake-H processors
would be shipping soon, including models with speeds hitting (and surpassing) 5GHz. What kind of performance might those laptops bring? Rather than wonder, some leaked benchmark listings on Geekbench provide us some clues.
As spotted by Twitter user APISAK, there are three Geekbench listings claiming to represent Intel's Core i9-10980HK processor. Intel has not yet spilled the beans on its entire Comet Lake-H lineup, in terms of models names and specifications. However, the company has said they will ship with
up to 8 cores and 16 threads
of computing muscle, with 5GHz being achieved on Core i7 and "even higher clocks on Core i9."
Based on previous leaks and rumors, the Core i9-10980HK is an 8-core/16-thread processor with a 3.1GHz base clock and boost clock exceeding 5GHz. Interestingly enough, the three leaked Geebench listings show the chip running at a max boost clock of 4.38GHz, 4.92GHz, and 4.98GHz. They also list the L3 cache at 16MB, along with 256KB of L2 cache.
Max frequencies on Comet Lake-H will depend in part on cooling. It's entirely possible that whatever test systems submitted these scores were not able to hit and maintain 5GHz or beyond during the benchmark runs, but who knows. They could also be running early engineering samples.
Here's a look at the benchmark run from the highest displayed boost clock...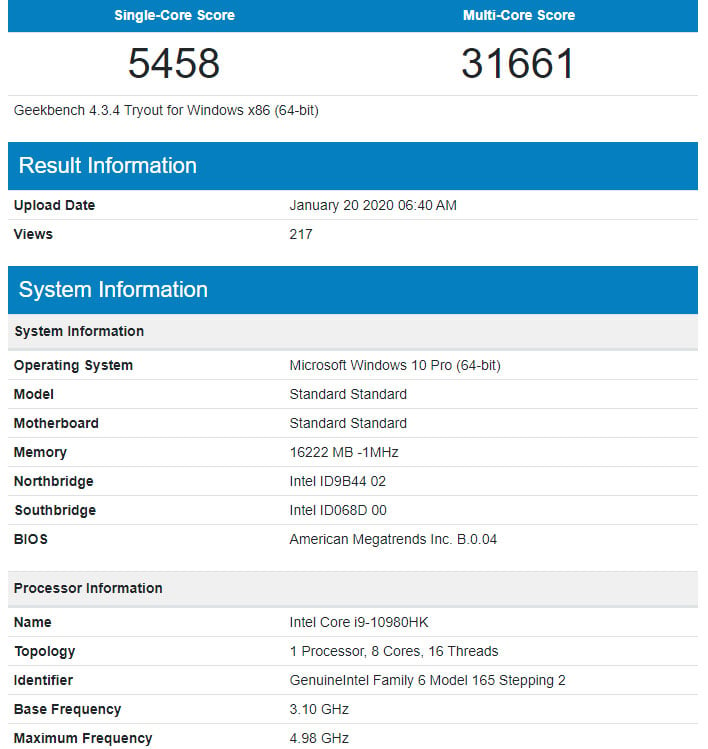 Source: Geekbench
And here are the scores for all three...
Core i9-10980HK @ 3.1GHz to 4.98GHz: 5,458 (single-core), 31,661 (multi-core)
Core i9-10980HK @ 3.1GHz to 4.92GHz: 5,531 (single-core), 31,470 (multi-core)
Core i9-10980HK @ 3.1GHz to 4.38GHz: 5,490 (single-core), 31,738 (multi-core)
The scores are all very close. If we pluck the best of the bench, the presumed Core i9-10980HK achieves a high of 5,531 in the single-core test and 31,738 in the multi-core test. Note that if you're comparing these scores, they were obtained in Geekbench version 4.3.4 on systems running Windows 10 (they would score differently in Geekbench 5 and/or Linux).

We have some data points of our own to compare against. Have a look...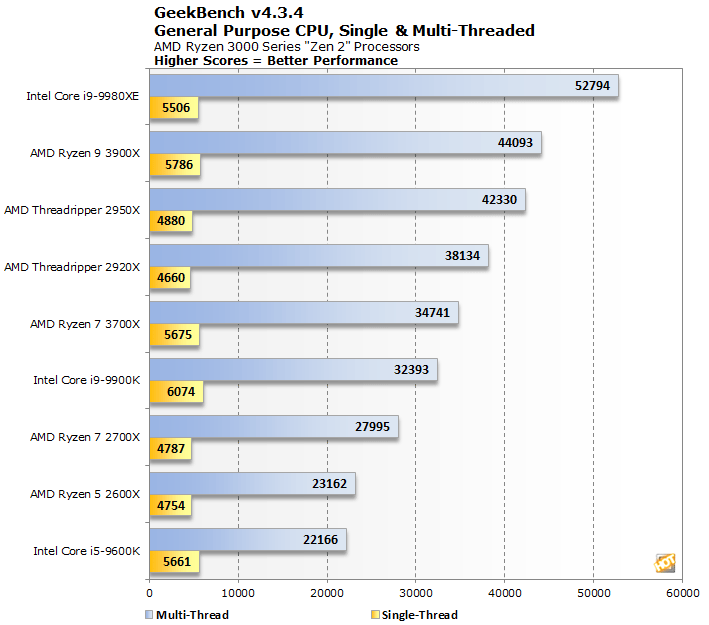 I snagged the above benchmark graph from our review of AMD's
Ryzen 9 3900X and Ryzen 7 3700X
, both of which are desktop CPUs based on the company's
Zen 2 architecture
. If we were to plot the leaked Core i9-10980HK scores, the chip would fall just below the
Core i9-9900K
in multi-core performance, and just below the Ryzen 7 3700X in single-core performance.
That's not bad company to be in, especially for a mobile CPU. There's also chatter of the Core i9-10980HK (and other Comet Lake-H parts) being paired with NVIDIA's GeForce RTX GPUs, which would yield a solid one-two punch in laptop territory.
As always, we don't want to read too much into leaked benchmarks. We also don't know know what kind of price points Intel will be hitting (the Core i9-10980HK will undoubtedly be pricey). And on top of it all, AMD is coming out swinging with its
Ryzen 4000 mobile
series processors, so Intel is going to have a dogfight on its hands.