Accio! Intel Beats NVIDIA And AMD To Conjuring A GPU Driver Tuned For Hogwarts Legacy
At the risk of making a mountain out of a mole hill, Intel deserves a hearty pat on the back for its latest Arc GPU driver release. That's because it's optimized for
Hogwarts Legacy
, which is due to release in earnest later this week on February 10, 2023. Getting in front of the 8-ball on a much-anticipated game release is noteworthy, as is beating AMD and NVIDIA to the punch.
Intel is the only GPU player so far to issue a GPU driver that is tuned to squeeze the most performance out of
Hogwarts Legacy
. Of course, that's totally relative—optimized drivers or not, GPUs like NVIDIA's
GeForce RTX 4090
and AMD's
Radeon RX 7900 RTX
will undoubtedly pummel Intel's flagship
Arc A770
. So will several lower tier cards from AMD and NVIDIA.
That's somewhat beside the point, though. Intel's ambitious effort to become a third player in the discrete GPU space is not just predicated on releasing capable hardware, it's also largely dependent on having a solid driver game. Timely GPU driver releases play into that, so issuing an optimized update days before a major title is set to release is deserving of praise.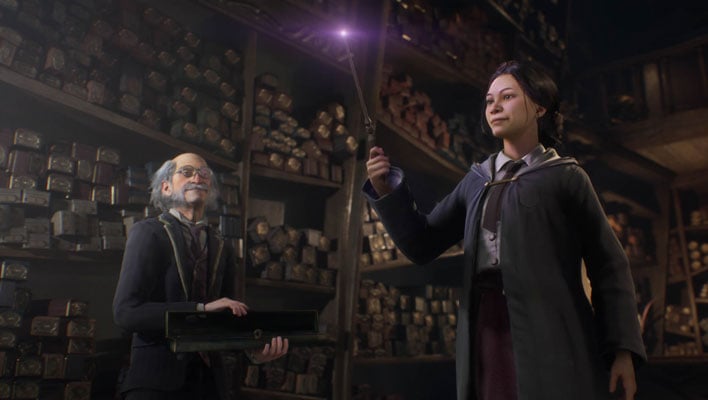 It's also not without caveats. In addition to performance being relative when comparing to the competition, the optimized driver is a beta release (version 31.0.101.4123). Beta drivers inherently come with a risk of stability issues and odd quirks, so be aware of that before downloading.
Outside of
Hogwarts Legacy
, the
31.0.101.4123 beta GPU driver
carries a "Game On" designation for
Returnal
. That's essentially Intel's own take on NVIDIA's "Game Ready" branding, which simply means it's optimized for the designated games.
There aren't any other improvements or fixes outlined in the release notes, though there are a bunch of known issues listed. The ones pertaining specifically to Arc GPUs include...
Red Dead Redemption 2 (Vulkan) may experience application crash in benchmark mode when Screen Type is Fullscreen.
Halo Infinite* (DX12) may exhibit color corruption during gameplay when Reflections settings are enabled.
Sea of Thieves (DX11) may exhibit color corruption on water edges.
Conqueror's Blade (DX11) may exhibit corruption in benchmark mode.
System may hang while waking up from sleep. May need to power cycle the system for recovery.
GPU hardware acceleration may not be available for media playback and encode with some versions of Adobe Premiere Pro.
Blender may exhibit corruption while using Nishita Sky texture node.
There are also separate lists of known issues that apply to Iris X Max graphics, Core processors, and Arc Control, all of which you can scan in the
release notes (PDF)
.
We'll have to wait and see if AMD and NVIDIA will release GPU drivers or their own that are optimized for Hogwarts Legacy. It's not a particularly demanding game. The minimum requirements call for a Core i5-6600 or Ryzen 5 1400 CPU, 16GB of RAM, GeForce GTX 960 (4GB) or Radeon RX 470 (4GB) graphics card, and 85GB of storage. Meanwhile, the "recommended/high specs" bump those up to a Core i7-8700 or Ryzen 5 3600 CPU and a GeForce GTX 1080 Ti, Radeon RX 5700 XT, or Arc A770.
As for when you can play
Hogwarts Legacy
on PC, WB Games has already
flipped the switch
for early access, which requires paying $10 more for the Digital Deluxe version. Everyone else will be able to play starting at 1pm EST this Friday.