Intel Arrow Lake CPU Roadmap Leak Reveals Core Count And A Sweet DDR5 Speed Upgrade
If you talk to Intel, the company will tell you its roadmap remains on track to launch Meteor Lake and Arrow Lake this year and next, followed by Lunar Lake, an all-new and
ultra-low power architecture
built specifically for mobile. Unofficially, however, there have been rumors pointing to Meteor Lake skipping the desktop, leaving Arrow Lake as the next real successor to Raptor Lake. To that end, a fresh leak seemingly sheds some light on what we can expect.
Before we get to the Arrow Lake chatter, let's recap where things are at. As part of Intel's effort to regain process leadership, it has embarked on an ambitious plan to release
five nodes in three years
, including Intel 7 (previously referred to as 10nm Enhanced SuperFin), Intel 4 (previously referred to as 7nm), Intel 3, Intel 20A (start of the angstrom era), and Intel 18A.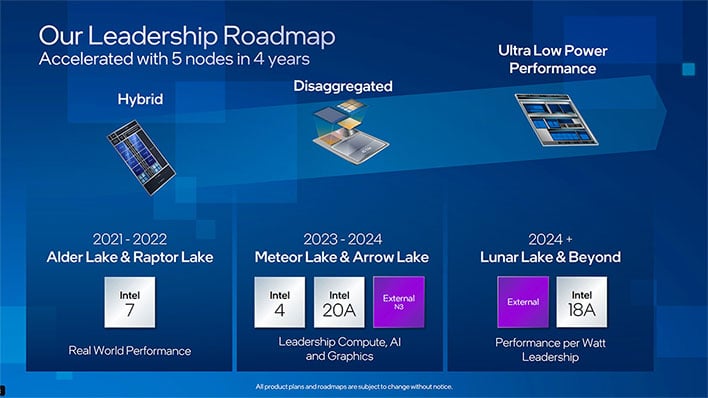 Intel 3 is missing from the above slide because it will underpin the chip maker's 5th Gen Xeon Scalable Emerald Rapids architecture for servers. Looking on the consumer side, Meteor Lake is on track to succeed Raptor Lake this year, followed by Arrow Lake in 2024. However, there have been multiple rumors suggesting the next desktop release will actually be a
Raptor Lake refresh
, with Meteor Lake being relegated to mobile.
If true that would make Arrow Lake the true next-gen desktop CPU release from Intel, and that brings us to the latest rumor. According to a Google translation of info posted at Benchlife, "Meteor Lake-S may now be gone as Intel shifts to pairing Arrow Lake-S with its 800 series chipsets, which will include Z890, B860, and H810. As for an H870 chipset, that's said to be cancelled.

Citing an unnamed source, the news outlet further reports that Arrow Lake-S will top out in a 24-core configuration consisting of 8 performance cores (P-cores) and 16 efficient cores (E-cores), which is the same max arrangement of Raptor Lake. Meanwhile, 6P + 16E configurations of
Meteor Lake-S
has allegedly been scrapped.
The site also claims that Arrow Lake-S will slot into an LGA 1851 socket, with the pin count remaining the same through 2026. If that proves accurate, it means Lunar Lake would leverage the same socket.
Perhaps the most interesting tidbit to emerge from the latest roadmap leak is that Arrow Lake-S is really Meteor Lake-S, just with a different name.
"There may have been some changes in Intel's product planning for desktop computers. The previously rumored Meteor Lake-S, which was expected to launch in the first half of 2024, may be renamed Arrow Lake-S and paired with the Intel 800 series chipset. Both Meteor Lake-S and Arrow Lake-S use the Intel LGA 1851 socket,"
the site states
.
Naming aside, one thing to look forward is faster memory support. Whereas Raptor Lake officially supports memory speeds up to DDR5-5600, it's said that Arrow Lake will bump that up to DDR5-6400 with support for up to 48GB memory modules. While not a huge jump, it opens up some additional memory bandwidth for better performance.
Previous rumors also suggest that Arrow Lake will introduce a
delightfully large IPC boost
. Combined with faster memory support and the usual assortment of platform upgrades, we could be in for a knock-down, drag-out fight between Arrow Lake and Zen 5.