Intel 15th Gen Arrow Lake CPU Leak Hints A Delightfully Large IPC Boost
According to a prominent leaks-centric TechTuber, Intel's 15th Gen Core
Arrow Lake
processors are going to deliver a 45% IPC (instructions per clock) upgrade compared to the groundbreaking and still popular
Alder Lake
family. It sounds like a monster leap, which may be easy to feel cynical about, but perhaps we would be disappointed if the difference between Intel 12th and 15th Gen Core processors were any less. Regardless of how reasonable it seems, please always add a pinch of salt to unofficially sourced news nuggets like this.
The headlining 45% IPC improvement claim made by
Red Gaming Tech
is made with regard to the performance cores or P-cores. No percentage IPC uplift figures were disclosed by RGT's sources for the efficiency cores or E-cores. However, E-core performance in Arrow Lake is summed up as being "extremely impressive," which is still promising.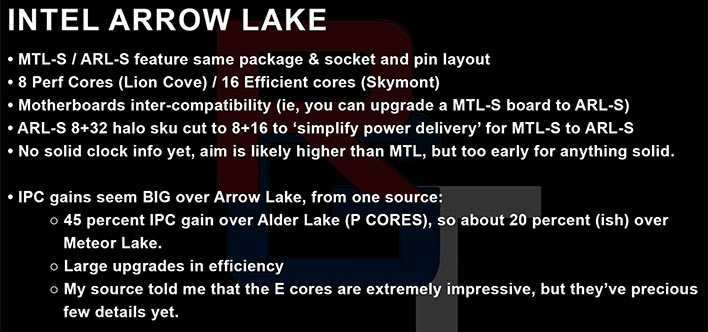 In the Arrow Lake slide above, as shared by RGT, you can see that the upcoming CPU architecture (shortened to ARL-S for the desktop chips) will offer up to 8P / 16E configuration, which should mean up to 32 threads for consumers. Just like how Alder Lake and
Raptor Lake
(and the rumored Raptor Lake refresh) share the LGA 1700 platform, Arrow Lake and its desktop predecessor (Meteor Lake or MTL-S) will share the same package, socket and pin layout, according to the leaker.
So, Arrow Lake might be somewhat exciting and provide a very worthwhile speed increase vs current gen Intel processors, but many of its characteristic features will debut with
Meteor Lake
, which is
officially due
later this year. MTL-S is going to be the first Intel processor using disaggregated cores, using a mix of Intel 4, Intel 20A and TSMC N3 silicon on a single chip. It remains to be seen what benefits will be precipitated by the arrival of MTL-S, but another slide from RGT says these processors will be an average 15-20% faster than Raptor Lake, but with a much more impressive (but unspecified) boost coming to graphics thanks to the TSMC N3 fabricated iGPU.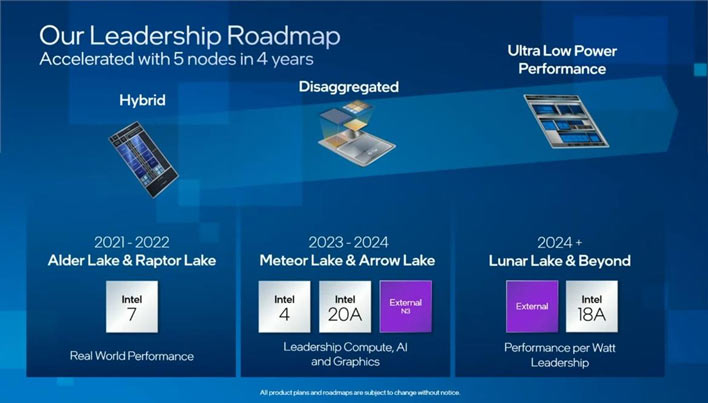 PC enthusiasts and DIYers naturally love big intergenerational performance uplifts. Compounded IPC uplifts, as well as improvements in clock speeds and / or core counts, have managed to keep the PC at the pinnacle of technology in the home since the early 1990s. Advances in CPU development, as well as GPU, display, storage and more have come together over the years enabling incredibly expansive new games, and previously improbable apps. Despite the frequent news about the end of
Moore's Law
(and contrarian pieces), it is therefore good to see news of advances from all corners of the PC tech universe.