DRAM Prices Are Still Plummeting With No End In Sight And That's Great For DDR5 Adoption
If the only thing holding you back from building a new
Intel 13th Gen Raptor Lake
or
AMD Ryzen 7000 series
PC is the cost of DDR5 memory, you're in luck. Pricing on DDR5 modules has fallen precipitously since the launch of Alder Lake, which is when DDR5 first stuck its foot through the mainstream doorway, and further price drops are in store.
This is despite efforts by several suppliers, including Micron and
SK hynix
, to stop the bleeding by scaling back DRAM production. According to a report by TrendForce, the average selling price (ASP) of DRAM plummeted another 20 percent in the first quarter of 2023.
"It's uncertain whether or not demand will recover in 2H23. Therefore, the ASP of DRAM has continued to fall as inventory levels are high from the suppliers' side, and prices will only rebound if there is a significant decrease in production," TrendForce states.
The good news for suppliers is that the ongoing price declines are predicted ease up a bit, though worry not—on the consumer side, price adjustments are still trending in the right direction. TrendForce says there is "no end in sight" to the price declines, with the ASP of DRAM predicted to fall 10-15 percent next quarter.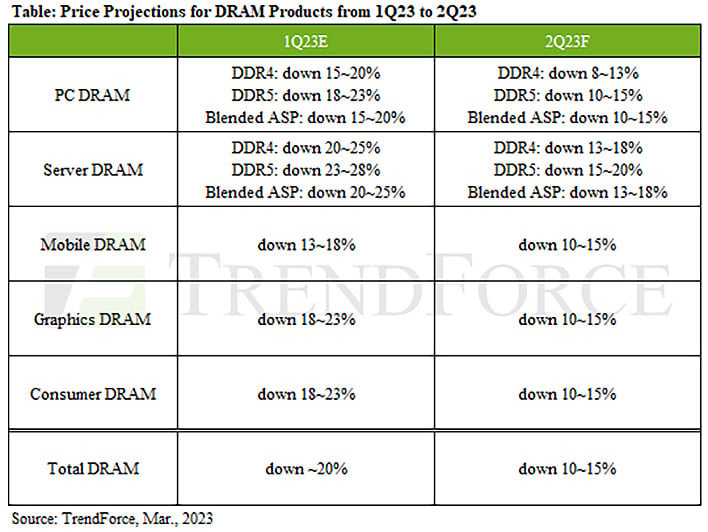 This all varies by market segment. According to the report, this translated to a 15-20 percent decline in DDR4 memory pricing in the first quarter, with another 8-13 percent decline predicted for Q2. Meanwhile,
DDR5 pricing
saw an even bigger drop, falling 18-23 percent in the first quarter, and is due to decline by up to 15 percent in the second quarter.
"Purchase quantity from buyers has fallen drastically over the past three quarters; buyers have around 9-13 weeks of PC DRAM stock remaining...There is a possibility that PC OEMs may purchase more DRAM because prices have been down to a relatively low level, but it is still under observation whether or not this can mitigate the inventory overstock situation from the suppliers' side," TrendForce states.
You can already see the effects in the retail market. For example, 12 months ago this
32GB Corsair Vengeance DDR5-5600
memory kit was selling for $400. It's steadily fallen in price since then, plummeting to $139.99 just before the calendar flipped to 2023, and is now available for its lowest price ever—
$114.99 on Amazon
.
That's not the only lower priced option, either. Here's a
32GB TeamGroup T-Force Vulcan DDR5-5600
memory kit that is
selling for $104.99
, which is way down from its peak price of $276 in December.
This has also paved the way for faster kits to breach reasonable pricing territory. One example is this
32GB G.Skill Trident Z5 RGB DDR5-6800
kit for
$185.99 on Amazon
. Pricing tracking data showed it topped $400 just four months ago. Likewise, you can snag a
32GB TeamGroup T-Force Delta RGB DDR5-7200
kit for
$209.99 right now
, versus over $400 as recently as November of last year.
If the latest
TrendForce prediction
is any indication, it could lead to some 32GB DDR5-5600 memory kits dropping below $100 in very near future. We'll see.