DDR5 RAM Prices Continue To Plummet And It's Great For New PC Platform Gamers
A brand new year is officially upon us (2023!) and as we reflect back on the preceding months, one reason to be optimistic is the continued decline of DDR5 memory prices. The situation now is far and way more palatable than it was when DDR5 first hit the scene, with a new report detailing a massive drop in DRAM spot prices during 2022, affecting both DDR4 and DDR5.
The latter is the bigger deal because for some, DDR5 pricing has been a roadblock to building a new PC. Likewise, it was just over a year ago when DDR5 prices and availability were so bad that scalpers were selling 32GB DDR5-5200 memory kits on
eBay for as much as $2,400
. Fortunately that kind of nonsense didn't linger on for too long.
For anyone who's been out of the loop, DDR5 hit the ground running in the consumer market when Intel launched its 12th Gen Core lineup based on Alder Lake. It then picked up steam with the release of AMD's
Ryzen 7000 series
based on Zen 4, followed shortly after by Intel's
13th Gen Core CPUs
based on Raptor Lake.
The differentiating factor between the latest generation platforms is that Raptor Lake and Alder Lake also support DDR4, depending on the motherboard selection. However, DDR5 is a better option, in terms of the performance potential, especially at higher speeds. Zen 4 and its accompanying AM5 platform, on the other hand, roll solo with DDR5 (DDR4 is not an option).
Either way, DDR5 is the preferred memory format for those who can afford it. And good news—according to
Digitimes
, DRAM spot prices have
dropped over 40 percent
through the end of 2022. Additionally, the site claims NAND flash wafer prices have fallen below the cash-cost levels for suppliers, based on what it's hearing from unnamed "industry sources."
What this all boils down to is a smaller premium or early adopter tax for DDR5 memory kits, compared to even just a few months ago. For example, this
32GB Corsair Dominator Platinum RGB DDR5-5200
memory kit sold for a high of $379.99 in mid-February of last year, then steadily decline (save for a spike in pricing in November) and is now available for
$174.99 on Amazon
. That's a nearly 54 percent drop in price.
As time has gone on, we've also seen faster kits reach more palatable price points. Looking back, marketplace sellers were hawking this
32GB Teamgroup T-Force Delta RGB DDR5-6400
memory kit for a ridiculous $818.32 in February of last year. Yeah, no thanks. Now it's more widely available,
selling for $199.99
(sold by Teamgroup, shipped by Amazon).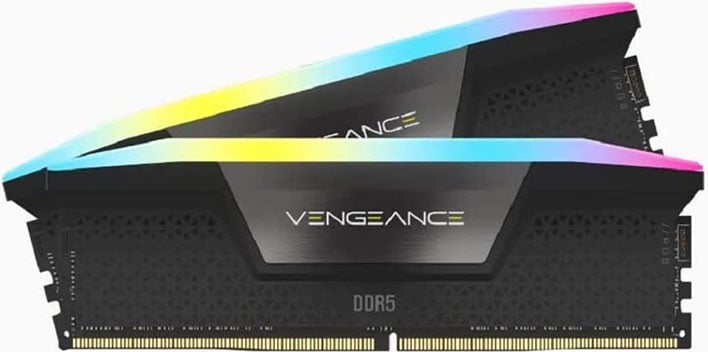 Here are some memory options, all of which are on sale right now...
Looking ahead, we anticipate that prices will continue to normalize. We also anticipate memory makers will continue pushing the envelope with even faster kits, with 2023 being the year that DDR5-10000 releases to retail. This in turn could help drive down prices of 'slower' DDR5 memory kits.