SK Hynix's LPDDR5T Mobile DRAM Is So Fast It Carries A Turbo Designation
SK hynix finds itself in a braggadocios mood after developing what the memory maker claims is the fastest mobile
DRAM
solution on the planet. That in an of itself is noteworthy, but in case anyone might overlook the achievement, SK hynix has decided to add a "T" to its LPDDR5 product (LPDDR5T) to signify it's a turbocharged DRAM solution.
"The new product, LPDDR5T, operates at a data rate of 9.6 gigabits per second (Gbps), 13 percent faster than the previous generation LPDDR5X unveiled in November 2022. To highlight the maximum speed the product features, SK hynix added 'Turbo' at the end of the standard name LPDDR5," SK hynix explains.
Allll-righty then. Marketing aside, this is a notable speed bump in a short period of time. Just two months ago, SK hynix was flaunting its LPDDR5X memory, saying it was the first-ever mobile DRAM with an integrated HKMG (High-K Metal Gate) process, operating at 8.5Gbps. That represented a 33 percent speed bump from the previous generation (though Samsung was boasting about
8.5Gbps LPDDR5X
over a year ago).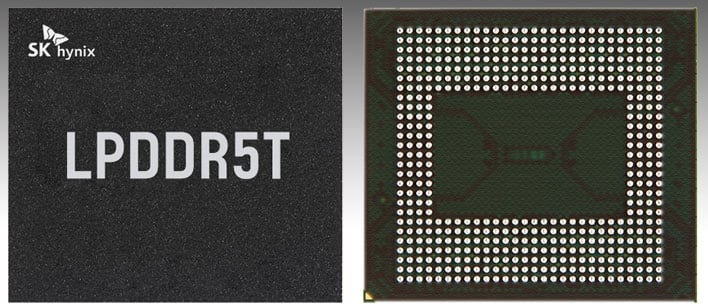 SK hynix's LPDDR5T again makes use of an integrated HKMG process. This is also another 1anm product like the DDR5 solution that SK hynix
recently validated
for Intel's
Sapphire Rapids
server platform. The '1anm' designation refers to SK hynix's fourth generation 10nm DRAM, following 1x, 1y, and 1z.
"With the development of LPDDR5T, the company has fulfilled customers' demand for ultrahigh-performance products," said Sungsoo Ryu, Head of DRAM Product Planning at SK hynix. "We will continue to work on the technology development to lead the next-generation semiconductor market and become the game changer to the IT world."
SK hynix is currently sampling 16 gigabyte (GB) multi-chip packages to customers. According to SK hynix, the packaged product can crunch 77GB of data each second, which is like transferring 15 Full HD 1080p movies every second.
That's overkill for most day-to-day tasks the average customer is likely to encounter. However, SK hynix says its
LPDDR5T mobile DRAM
is poised to leverage the further expansion of 5G devices, as well as markets beyond smartphones, such as AI, machine learning, and AR/VR.