Ayaneo Remake Collection Hat Tips NES And Macintosh With Slick Retro Gaming Systems
If you're reading
HotHardware
, there's a solid chance that you recall a time when device makers were going completely insane with the designs of their hardware. Just about everything now is a very boring slab or block with
inoffensively-rounded corners
and a neutral color scheme, but around the turn of the millennium, you could find music players, game consoles, cellular phones, and computers in all sorts of shapes and sizes.
Ayaneo CEO Arthur Zhang remembers that time, too. As it happens, he's a bit of a collector of this classic hardware, and just like the rest of us, he longs to return to a
time of wider innovation
in design and function. With that idea in mind, Ayaneo has just announced AYANEO REMAKE, a new line of products that seeks to learn from the lessons of the past and present new device designs that recall our nerdy heritage.
There are seven devices coming in the Remake line so far. That includes four handheld computers, the market type that Ayaneo
is most well-known for
. However, it also includes two mini-PCs and also a power bank—both product types that Ayaneo hasn't sold before. None of these products have full specs available yet, so we're just going to go over each one in extreme brief.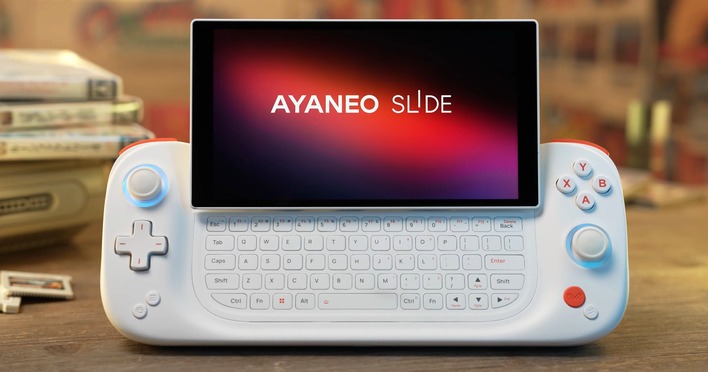 First up is the Ayaneo Slide. This device has been a long time coming, but it's exactly what it looks like: a gaming handheld of the type that Ayaneo has made in the past, but with a hinged screen that slides up to reveal a full QWERTY keyboard. Inspired by devices like the Motorola Sidekick, the Slide will instead run Windows on an AMD Ryzen 7 7840U APU. We certainly could have used a physical keyboard a few times
on the ROG Ally
. The Slide is coming soon, with a launch event near the end of this month.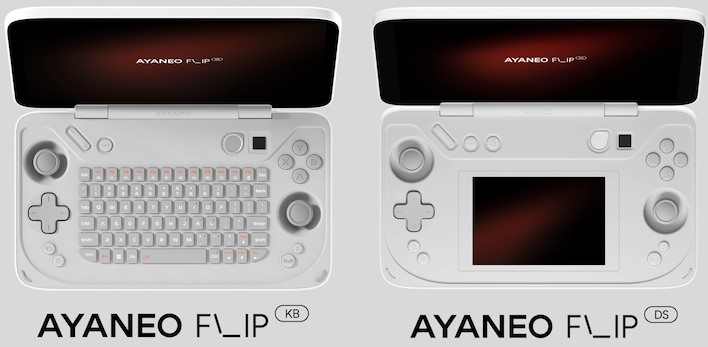 The Ayaneo Flip was actually announced back in September, but it's getting looped into the Remake collection because there's a new model of it coming along. The original Flip has been renamed the Flip KB, as it has a keyboard on the bottom half. However, the new model, as you could probably guess, is called the Flip DS. Zhang says it is an attempt to pay homage to the legendary Nintendo DS, and that it should be the best way to enjoy those classic games.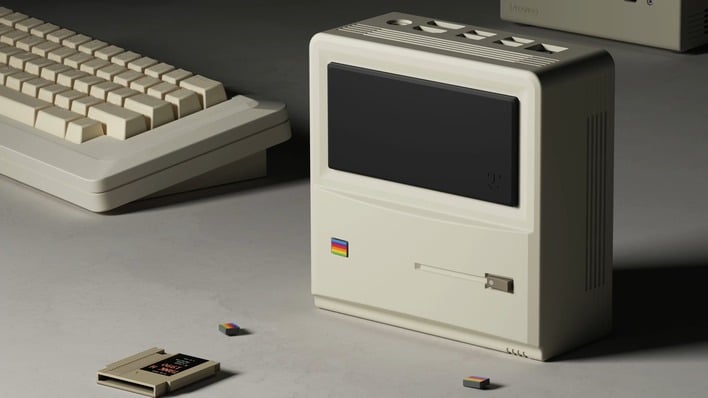 Next up is the Ayaneo Retro Mini PC AM01. If you're thinking it looks a bit like a Macintosh, that's because it does. The AM01 is specifically crafted to look like a tiny version of the original Macintosh 128K, and it is a tiny computer. Ayaneo hasn't revealed the hardware inside yet, but it appears to have a fair bit of connectivity, with at least five USB ports, DisplayPort and HDMI for video out, and an RJ-45 Ethernet jack, too.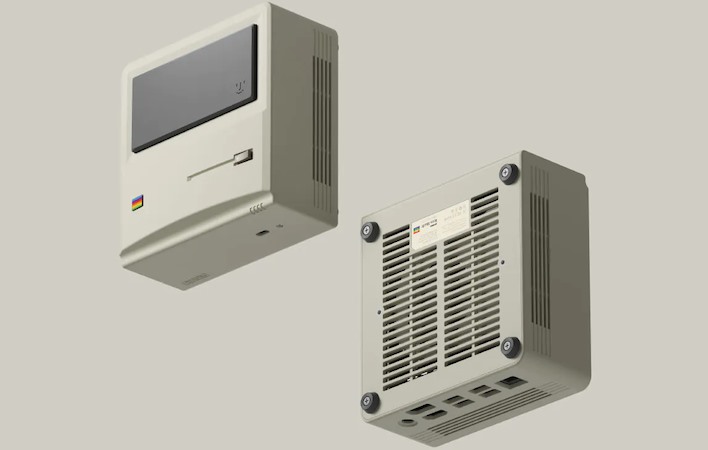 Ayaneo's promotional images show the AM01 being used for work and play, and the company says that it will offer versions with two different hardware configurations as well as the option for a machine with pre-installed memory, storage, and Windows 11 operating system, or a completely bare-bones machine, however you like. Interestingly, in the promo pictures, there are also what looks to be a Mac-style mechanical keyboard and an Ayaneo-branded 8bitdo wireless gamepad; neither of which were mentioned by Zhang in the announcement.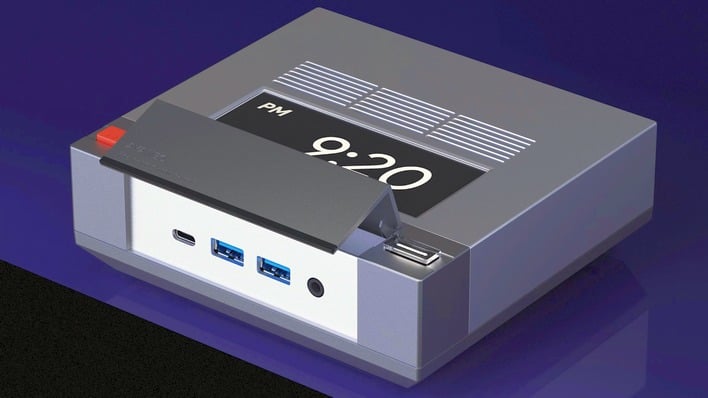 Meanwhile, the other mini-PC that Ayaneo will offer is the AM02, styled after the North American 8-bit Nintendo Entertainment System, or NES. This is inspired by the original front-loading system, and indeed, it includes a bay in the front with a flip-up cover that hides a trio of USB ports as well as a 3.5mm audio jack. There's also a screen on the top that can apparently be configured to show whatever you want, not just the time. Curiously, in the renders, the AM02 seems to have dual Ethernet, which could make this machine amazing for home gateways.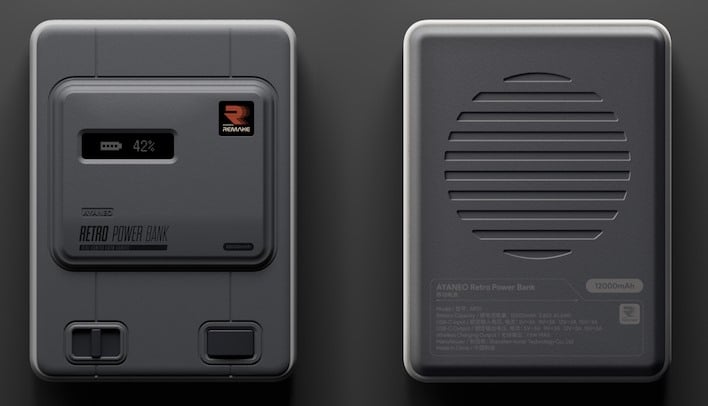 This device isn't a game system or a computer at all, but in fact, a power bank styled after the Japanese Nintendo Super Famicom. It's similar enough to be suggestive, but probably different enough (especially in colors) to evade Nintendo's legal team. Zhang didn't offer any specifications on the power bank, but it seems like the cartridge slot will be replaced with a small screen that shows status messages.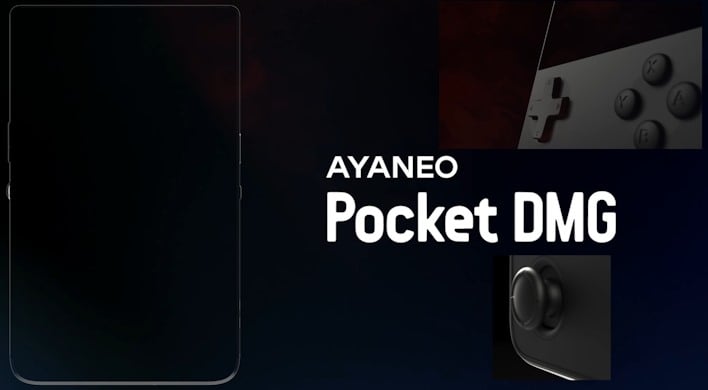 Finally, the last product that Ayaneo teased is called the Ayaneo Pocket DMG. The company didn't show a clear view of the machine so we really don't know what it looks like, but from the silhouette and the name, we can infer that it's essentially
a modernized Game Boy
. The original Game Boy was called the "DMG-01", thus the name of the Pocket DMG. We don't know anything about this system at all, really, but Zhang promised more details soon.
None of this hardware is available yet, but most of it should be revealed and ready for pre-order by the end of the month. If you'd like to read more details from Ayaneo about the Remake series, see more pictures, and perhaps join the Discord, you can head over to
the official blog entry
on the company site.