Apple May FINALLY Add This Missing Feature To Its MacBook Laptops, Did Hell Freeze Over?
A group of people familiar with Apple's design projects say that the Cupertino tech giant's engineers are "actively engaged" in adding
touchscreen
technology to Mac computers. Some may be surprised by the news, as iconic Apple founder
Steve Jobs
once described the prospect of touchscreens on Macs as "ergonomically terrible." Moreover, the current CEO, Tim Cook, famously mocked Microsoft's
Surface
line for being a product parallel to a "fridge toaster."
This news comes by way of
Bloomberg's
resident expert on all things Apple—Mark Gurman. However, Gurman warned that despite the ongoing engineering efforts, it remains a possibility that a prospective launch could be pushed back or plans could change. In other words, it sounds like Apple is using product development time to assess the attractions and potential marketing angles they could apply to a touchscreen Mac.
Tech companies are usually among the most innovative, flexible, and least afraid of big changes. Apple has now lost a decade in which rivals like Microsoft and many others have added touchscreens to their laptop, hybrid, and All-in-One portfolios. Notably, the device landscape has also changed over the last 10 years or so, with tablets declining and laptops on the up. This is especially true in the world of Apple products. Thus, worries about cannibalizing iPad sales with touchscreen Macs are now lessened.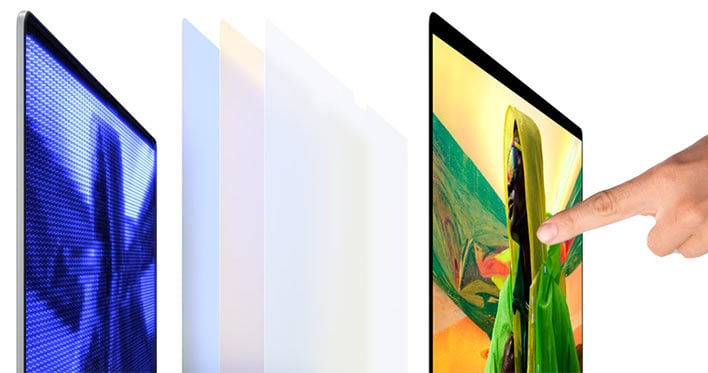 Apple began to bring iPad apps to the Mac a few years ago, starting in 2018, with iPhone apps joining in from 2020. This is another way in which the landscape has changed at Apple. We must also consider that Apple's half-way house with the Touch Bar has been consigned to history as a failure. If Apple wants more Mac tactility, readily available touchscreen tech looks like an obvious option.
When might the new breed of touchscreen Macs debut? If progress continues and the project gets the green light for consumer rollout, the first touchscreen Macs will arrive in 2025 according to Gurman. They will be part of a larger set of updates to the Mac line which could coincide with or closely follow the broad
rollout of OLED
screen technology.
In summary, the headlining touchscreen project has definite appeal for Mac fans and converts, but Apple will be carefully weighing up how many more Macs it might sell against the pretty certain impact on its iPad line, particularly
iPad Pro
models.