When Apple's First OLED MacBook Is Tipped To Arrive And Why It Matters
Apple is giving us a clearer idea of when its MacBooks will begin shipping with OLED (organic light-emitting diode) displays, which should bring with it better battery life and thinner/lighter designs.
Based on tweets by industry analyst
Ming-Chi Kuo
, the first OLED-equipped MacBooks could arrive at the end of 2024. He didn't mentioned any other specifics, apart from saying that "compared to mini-LED, laptops that use OLEDs have the advantage of being thinner and lighter and offering more diverse form factor design options, like folding". Last month, another analyst, Ross Young,
claimed that
the new 13-inch MacBook Air, and 11.1-inch and 13-inch iPad Pro will be first models to feature OLED next year. Technically speaking, present-day MacBook Pro Touch Bars are OLED displays, but the primary displays are not.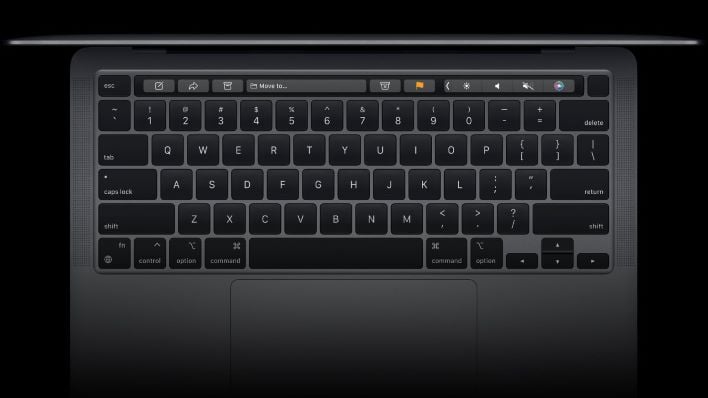 One thing for sure, though, is that the adoption of OLEDs can greatly improve on-screen contrast and increased battery life. Currently, Apple uses LCDs (liquid crystal displays, or Liquid Retina Display in Apple marketing-speak) in its range of MacBooks. Its 14- and 16-inch MacBook Pros take it a step further with ProMotion and mini-LED, which is still essentially LCDs with mini-LED backlighting.
ProMotion is Apple's term for variable refresh rate technology which can adjust between 24Hz and 120Hz as on-screen content demands. For the new display, it's said that Apple will utilize low-temperature Polycrystalline oxide (LTPO) OLEDs that will be even more capable, with a range of 1Hz-120Hz. Moreover, without the need for backlighting, Apple can design its devices to be thinner and lighter as well, paving the way for its rumored
mixed-reality headset
and folding MacBook or iPad.
Interestingly, in terms of display tech, Cupertino is looking further ahead towards microLED displays that offer even higher peak brightness and contrast than OLEDs. There have been reports of the next generation Apple Watch Ultra sporting a self-developed microLED panel that could launch by the end of next year.