AMD's A620 Spec Sheet Leaks Revealing No PCIe 5 Support But Overclocking RAM Is A Go
The purported tech specs of AMD's A620 entry-level chipset for
Ryzen 7000 series CPUs
have been charted by Twitter leakster
Chi11eddog
. We all expected the step-down from B650 to be significant, but with the slashing of PCIe 5 support and removal of CPU overclocking functionality, AMD will have cut the feature set too deep for some. There are some positives though, one of which is that the pricing of A620 boards could be
as low as $125
. For perspective, the cheapest B650 board we can see on sale today costs $160.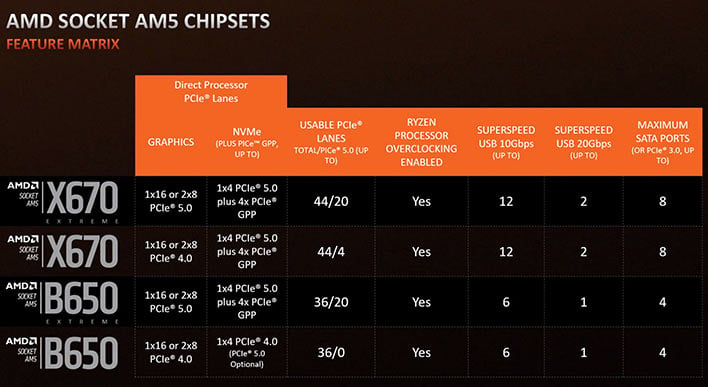 AMD and partners launched their X670 / E, and B650 / E chipset motherboards in the latter part of 2022, in line with the
first Ryzen 7000
Socket AM5 processors becoming available. Naturally, as AMD started its latest generation processor rollout with higher-end parts, the motherboards featured a similarly high-spec treatment—and pricing to match. AMD promised some lower entry points to Socket AM5, and the Ryzen 7000 Zen 4 architecture experience. This A620 leak, if genuine, should help readers evaluate what to expect from the upcoming entry-level motherboards.

The leaked spec for A620 conveniently contains the mid-range B650 specs for reference, so the viewer can immediately see inter-tier changes. Starting with the negatives, the new A620 offers 28 PCIe 4.0 CPU lanes, while the B650 chipset offers the same number of PCIe 5.0 lanes. Each PCIe generation represents a doubling of throughput, so that makes for a starker difference than it may seem at first glance.

Moreover, the chipset lanes have been specced-down to PCIe 3.0, where B650 supported PCIe 4.0. Fast USB options have also been trimmed, with A620 unable to offer USB 3.2 Gen2x2 transfer speeds (20Gbps), instead maxing out with USB 3.2 Gen 2 (10Gbps)—and only two at that. The removal of CPU overclocking support is also disappointing, but that Crossfire GPU support is also missing won't be missed by many, though.

There are silver linings to the A620 platform. It is good that it still offers up to 28 CPU PCIe lanes, even though they are limited to Gen4 at best. Similarly, it retains the eight chipset PCIe lanes of its bigger brother, but they adhere to the slower-still PCIe 3 standard. Those with lots of USB 2.0 devices will find that the A620 offers ample connectivity with six such ports—just
like B650
. Lastly, as far as specs go,
RAM overclocking
is still officially supported on A620 motherboards, so there is some opportunity for a little tuning.
The A620 allows PC DIYers and enthusiasts to hop aboard the AMD AM5 platform at minimal cost, potentially as low as $125. It may be attractive for folks who want some of the advantages of AMD's latest 7000 series processors (particularly
the 65W non-X
models), while retaining the option to upgrade to a PCIe 5.0 platform later on when pricing settles.
It is also worth considering that the
AMD A520
boards were not designed to over CPU overclocking, but some manufacturing partners added clock generators, facilitating
BCLK overclocking
, and history tends to repeat itself.
The launch of the AMD A620 chipset is expected during February, so we should start to get further drips of official and leaked information about the partner offerings very soon.