AMD's Starfield Game Bundle For Select Ryzen CPUs And Radeon GPUs Is Now Live
Bethesda's upcoming "NASA-punk" space exploration title
Starfield
is
sure to be a showpiece title
for the Xbox Series X, but the game is launching simultaneously on the PC, and of course, PC players will probably enjoy the best performance—at least, as long as their hardware is up to par. If you're excited about the game but concerned about getting a
compromised console experience
, you could always upgrade your system before it comes out.
If that lines up with with your line of thinking, you're in luck, because you can actually get
Starfield
for free by purchasing AMD CPUs or GPUs, or even a whole system that includes same. This promotion is the other side of
the AMD collaboration with Bethesda
that we reported on before. Unusually, AMD is giving away both the standard edition of the game as well as the Premium Edition, depending on what you buy.
The list of eligible AMD hardware is long, and a lot of this stuff is actually on sale right now for Prime Day. You can get a free copy of
Starfield
's Standard Edition by purchasing any six- or eight-core
Ryzen 7000 desktop CPU
. That includes the Ryzen 5 7600X—
currently available for just $229 at Amazon
, making this CPU effectively $160 after you account for the $70 value of the game. You can also pick up the standard edition of the game by purchasing any Radeon graphics card from the RX 7600 or RX 6600 series, including the RX 6600 XT and RX 6650 XT.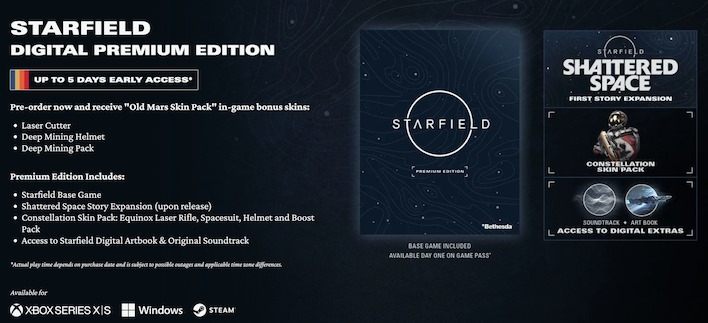 Meanwhile, folks who purchase either
a Ryzen 9 7000-series desktop CPU
or any Radeon card faster than an RX 6700 will be offered the
Starfield
Premium Edition. This version of the game includes the first story expansion (called
Shattered Space
), up to 5 days early access to the game, a weapon and spacesuit skin pack, a digital art book, and a copy of the game's original soundtrack. That includes
the Prime Day deal
that lets you
grab a Ryzen 9 7900X3D for just $459
; mark off the $100 for the premium game and you've got a 12-core 3D V-Cache CPU for just $360.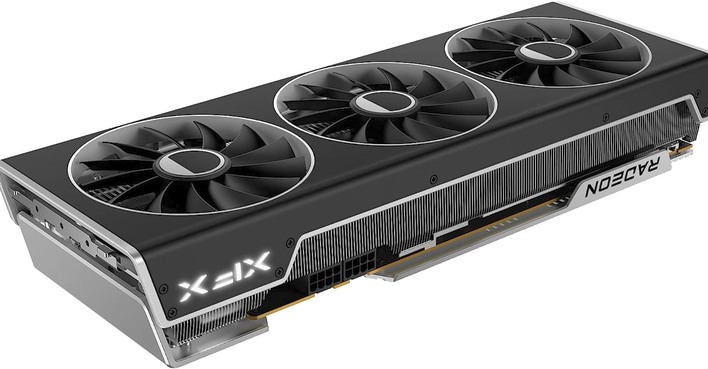 For reference's sake, that list of Radeon cards includes the RX 6700 / 6700 XT / 6750 XT, the Radeon RX 6800 / 6800 XT / 6900 XT / 6950 XT, and the Radeon RX 7900 XT / RX 7900 XTX. Prices on these parts have been trending down, down, down—so far down that you can in fact
pick up an XFX Speedster MERC310 Radeon RX 7900 XT for just $739
. That's $160 off the launch price; knock off another hundred bucks for the premium game bundle and you're effectively grabbing a 20GB GPU for just $640.
Finally, folks who find themselves in need of a new system altogether in preparation for
Starfield
might find themselves fishing about for an AMD-based PC. If you buy a new PC, a laptop or a desktop, that's sporting
any of the above-mentioned AMD hardware
, you're eligible for the $100 premium edition of the game. There's some extra bits that are only eligible as part of a complete system, too; we'll just drop the list of other hardware here:
AMD Ryzen 5 5600G and Ryzen 7 5700G desktop CPUs
AMD Ryzen 7 7735HS / 7840HS and Ryzen 9 7845HX / 7940HS laptop CPUs
AMD Radeon RX 7600S, RX 7700S, RX 7600M, and RX 7600M XT laptop GPUs
Of course, to be eligible for
the bundle
, you have to live somewhere with an official AMD distributor that's participating in the promotion. For now, that seems to include the United States, Canada, most of Europe, most of Latin America, Australia, Taiwan, India, Japan, Singapore, Hong Kong, and Thailand. Sorry mainland China gamers, it looks like you're out of luck on this one. You can head to AMD's site to
see which retailers in your region
are participating.