AMD's 12-Core Ryzen 7 7845HX Dragon Range Mobile CPU Destroys 6900HX In Benchmark Leak
AMD's unreleased
Ryzen 7 7845HX
laptop processor has appeared in PassMark's laptop CPU performance charts. The Dragon Range processor, which mixes Zen 4 CPU cores and
RDNA 2
graphics, hasn't quietly slipped into the
PassMark rankings
, it boldly sits right at the top of the chart with a score of 46,791.
To put some perspective on this, AMD's current gen laptop champ (the Ryzen 9 6900HX) scores 24,640. To be clear, this is a leaked PassMark benchmark result, as the first Ryzen 7045 Series laptops have yet to be released (though they are officially due this month), so we have to take the results with some measure of salt. Even if it holds true, various benchmarks could paint a different picture.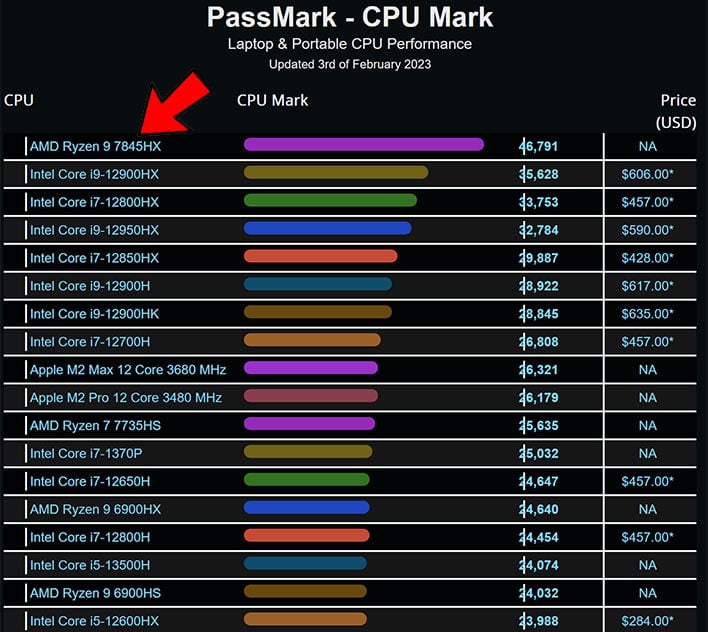 The new AMD Ryzen 7000 processors for laptops were outlined at CES 2023 last month. At the event, we learned about the four new product families with the Ryzen 7045 Series targeting the "extreme gaming / creator" market with up to 16C / 32T Zen 4 cores.
These laptop APUs only come with RDNA 2 iGPUs with up to 2 CUs as logic dictates that they are equipped in machines with powerful discrete graphics. This is why AMD has reserved
RDNA 3
iGPUs with up to 12 CUs for its Ryzen 7040 Series chips, targeting "Elite UltraThin" designs.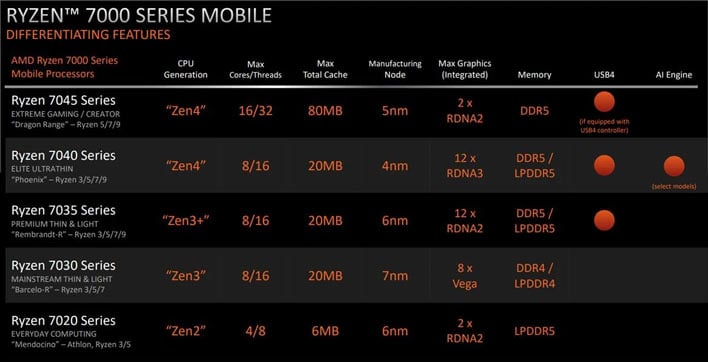 Shifting focus back to the specific Ryzen 7 7845HX processor, this isn't even a top of the range chip. Obviously still capable, the 7845HX comes with 12C / 24T clocked at base / boost speeds of 3.0 / 5.2 GHz. It also features 76MB of cache and has a TDP configurable for 45-75W+.
In the intro, we mentioned that the PassMark CPU result for the Ryzen 7 7845HX was way ahead of the still current gen Ryzen 9 6900HX (8C / 16T), and it works out that the new Dragon Range chip is 90% faster. The new AMD second-rung Dragon Range also kicks sand in the faces of any Intel 12th Gen Core 'Alder Lake' laptop processor by very good margins (at least 31%). It is also worth mentioning that by PassMark's measure, the 7845HX is 78% faster than the best
Apple M2 Max
chip on the database.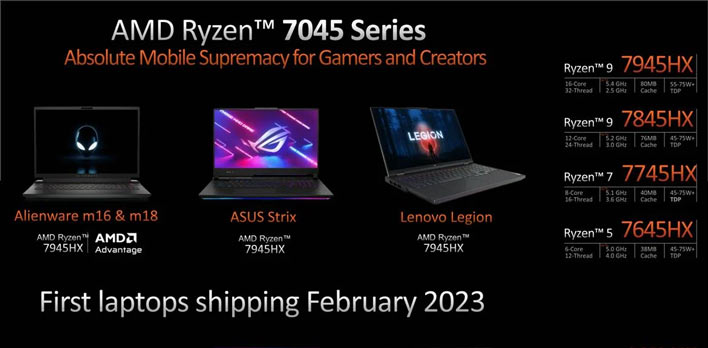 Picking over the above comparisons, it is fair to suppose that Intel 13th Gen Core
'Raptor Lake' laptop processors
could match or best the
AMD Dragon Range
PassMark score in the headlines today. However, remember that the 7845HX has a bigger brother (the 7945HX) with 16C / 32T, boost speeds up to 5.4GHz, 80MB cache and a TDP range of 55-75W+. It is this higher level Dragon Range chip which looks like it has secured prestige design wins from Alienware, ASUS ROG, Lenovo, and probably several more big brands.