AMD Radeon RX 7900 XT Spotted At A Major Retailer For $100 Below MSRP
The graphics card market has been very turbulent for an extended period of time, so it is gratifying to see powerful latest-generation models significantly below MSRPs. The headlining
AMD Radeon RX 7900 XT
at $100 below MSRP is an ASRock branded model, from the firm's Phantom Gaming stables, packing a triple fan 0dB cooler, with Polychrome Sync RGB.
The discount brings the price of this 20GB graphics card, based on AMD's RDNA 3 graphics architecture, down to $799, which is $100 off the MSRP and equivalent to an 11% cut.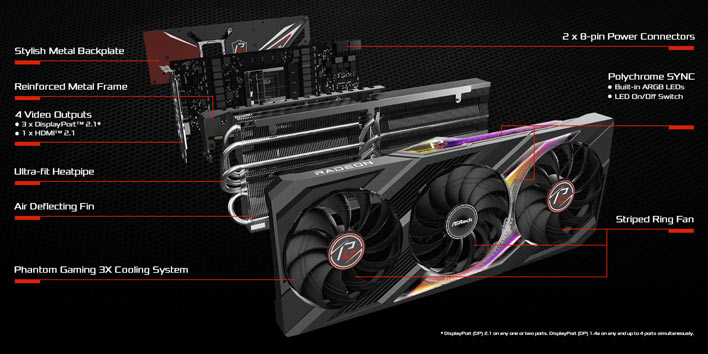 Earlier this week, we commented on AMD Radeon RX 7900 XT
price cuts
around the globe. At the time, this precise ASRock graphics card model was noted to be $80 below MSRP in the US. One must assume from the continued price cutting, that there is a supply and demand imbalance, and retailers have too much stock of these models or not enough people interested in buying at the previous price levels.
We have criticized AMD's pricing strategy for the initial
RDNA 3
launch of the Radeon RX 7900 XTX and Radeon RX 7900 XT before. They were launched with MSRPs of $999 and $899, respectively. However, people with nearly $1,000 for a GPU would naturally gravitate towards the halo model, the absolute top-model among all AMD Radeon offerings. This prestige halo, as well as the extra performance, was obviously judged by the buying public to be well worth the extra $100. Meanwhile, the less glamorous RX 7900 XT has been harder to shift in the volumes AMD and its partners would have wanted.
We can't complain too much about the AMD strategy, though, as NVIDIA did much the same with its troubled
GeForce RTX 4090
/ RTX 4080 16GB and RTX 4080 12GB (withdrawn,
rebranded
, reduced). It also applied product pricing without properly considering the sparkle of owning the top model, not to mention inferior price to performance ratios for the lower rung SKUs.