AMD Radeon RX 7900 Series Price Cuts Arrive In The US, XT Now Below MSRP
Chinese tech media headlines were grabbed over the weekend when some very steep double-digit percentage AMD Radeon RX 7000 series graphics card price cuts were observed. Happily, the RDNA 3 price cutting trend has already moved west, with US online tech retail giant Newegg offering a
Radeon RX 7900 XT
at $829. This updated Newegg price is 7.8% below MSRP. The US cut isn't quite as sharp as those we saw in China, but it is a good start.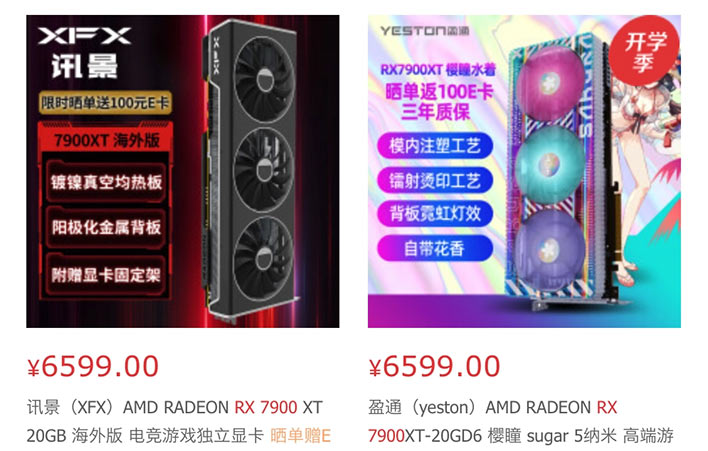 In China, the graphics cards that garnered the price-cut headlines were primarily the garishly finished
Yeston Sakura
Radeon RX 7000 series, particularly the RX 7900 XT. The reports said that these cotton candy and baby blue, RGB-infused GPUs with cute graphics were now available for CY6599. This new price is about 13% lower than the launch price (CY7599) for this model. If the color scheme of the Sakura card is too much to bear, a sober
black XFX model
is available at the same price. China's
ITHome
published the story about the RX 7900 XT price drop on Saturday, and we were thinking that it would be great if we could see the price cuts travel west.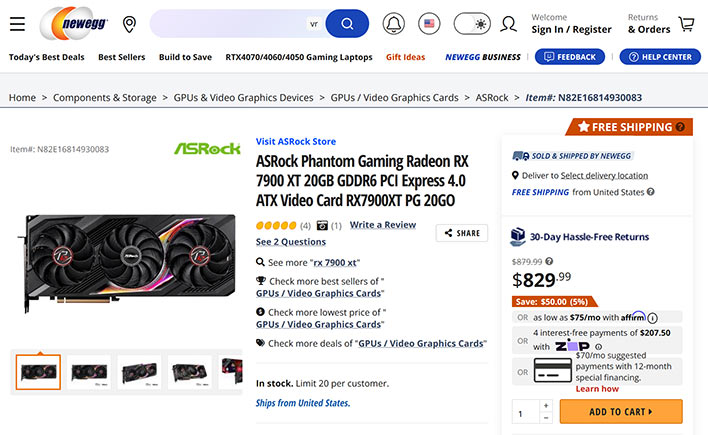 As luck would have it, there has been a decent bit of RX 7900 XT price action today in the US. The same Chinese source
noticed
that the ASRock Phantom Gaming Radeon RX 7900 XT was now being sold for $70 below MSRP. That means it is now available (and in stock at the time of writing) for $829. Though the US price cut
available via Newegg
is 'only' about 7.8%, converting between US Dollars and Chinese Yen shows that the US buyer is still better off as the US price translates to about CY5766. Shoppers who prefer Amazon can pick up the
XFX Speedster MERC310
flavor of the RX 7900 XT for $850.
The important thing here is that this price action is coming before any other
AMD RDNA 3
graphics cards hit the desktop market. With this kind of pressure on the Radeon RX 7900 XT, it may influence AMD's pricing decision on lower tier models. Thus, it could mean lower launch pricing on RX 7800 (XT), RX 7700 (XT) and so on. Of course, AMD and NVIDIA graphics card pricing is related – it is a competitive market – so green team fans should also welcome these Radeon price drops.