AMD Radeon RX 7600 Gets An EU Price Cut One Day After Launch For Incoming Deals
Well, that was fast—after a mere day on the market, AMD's freshly minted
Radeon RX 7600
graphics card has already seen a price cut in Europe. That in and of itself is notable, but what makes it even more intriguing is that the Radeon RX 7600 is the least expensive Radeon RX 7000 series option based on AMD's RDNA 3 architecture, and by a long shot.
To wit, AMD released the
Radeon RX 7900 XTX and Radeon RX 7900 XT
to retail a little over five months, with pricing set at $999 and $899, respectively. Likewise, NVIDIA also initially focused on the high end segment with its GeForce RTX 40 series. Only recently have both AMD and NVIDIA started pumping out
more affordable SKUs
for mainstream gaming.
The Radeon RX 7600 starts at $269 in the US and €299 in Europe. However, at least one retailer is selling a custom card for around 13 percent less than AMD's suggested e-tailer pricing. Have a look...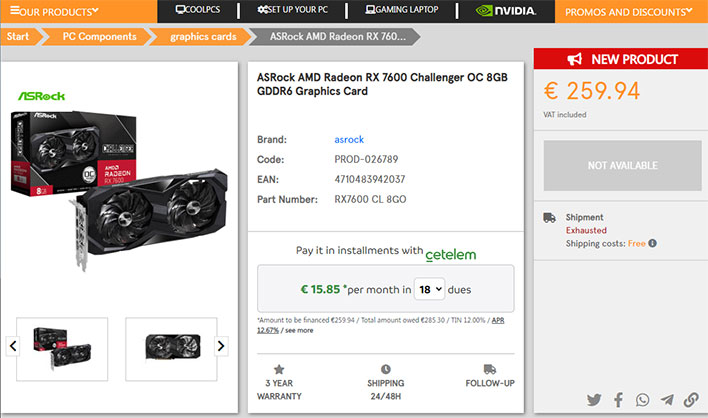 Source: Coolmod
Spanish retailer Coolmod has the ASRock Radeon RX 7600 Challenger OC listed at €259.94. That puts it more in line with US pricing, which incidentally, it was rumored that AMD initially considered pricing the Radeon RX 7600 at $299 in the US before ultimately settling on $269.
As the model name implies, this is a factory-overclocked card with a 1,770MHz base clock, 2,280MHz game clock, and 2,695MHz boost clock. AMD's reference specs call for a 1,720MHz base clock, 2,250MHz game clock, and 2,655MHz boost clock, so you're looking at a modest 30-50MHz bump in clock speed (same as with
PowerColor's Hellhound model we reviewed
).
The Radeon RX 7600 is a capable card for gaming at 1080p and even at 1440p, depending on the specific title and settings. And for the time being, it ranks as the most affordable modern-generation graphics card from either AMD or NVIDIA. Here's a look at some models that are available in the US...
Alternatively, you can score a
Zotac Gaming GeForce RTX 3060 Twin Edge OC
with 12GB of VRAM for around the same price—it's on sale for
$289.99 at Amazon
. That's a viable option if you prefer a GeForce GPU and/or want to a bit more VRAM than the 8GB allotted on the Radeon RX 7600.
Yet another option is the
Intel Arc A750 LE (8GB)
. It recently went on sale for
$199.99 at Best Buy
, but is back up to $249.99 currently. That's still a good price, though it falls back to $199.99, it's arguably the best value for 1080p gaming.