AMD Discloses 31 New Ryzen And EPYC CPU Vulnerabilities And Security Patch Strategy
Hardware vulnerabilities are never fun, especially when actively exploited in the wild. Forward-looking companies try to get ahead of bad actors by encouraging responsible disclosure and awarding bug bounties.
AMD
has worked with security researchers who recently found numerous desktop and server/data center vulnerabilities across some of its CPUs, including Athlon, Ryzen,
EPYC
, and Threadripper families. By working together, AMD was given time to come up with mitigations for the affected processors before publishing the findings.
Each vulnerability is labeled as High, Medium, and Low severity. One particularly nasty vulnerability that affects both consumer and server processors has a label of CVE-2021-26316. Its description indicates that there is a failure of validation in the communication buffer and communication service in BIOS that "may allow an attacker to tamper with the buffer resulting in potential System Management Mode arbitrary code execution." This seems to affect just about all the CPUs in the list.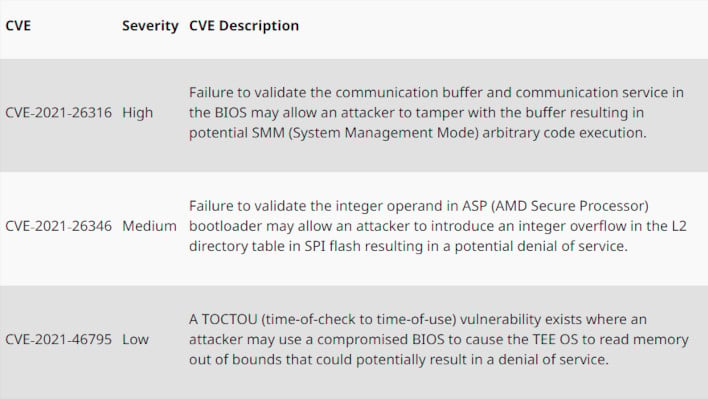 Vulnerabilities for AMD Desktop CPUs
Working with independent researchers, internal researchers, Apple, Oracle, and Google, AMD was able to publish
new AGESA versions
with mitigations for the vulnerability of many of the processors affected. However, it is up to vendors to deploy updates to a motherboard's BIOS with these fixes applied. We'd advise you keep an eye on your manufacturer's support page for updates to the BIOS if you have an affected CPU.
The list of vulnerabilities is quite long with a vast variety of severity and issues that would be patched, assuming a patch is necessary for the associated processor. The desktop options include
Ryzen 2000
to
Ryzen 5000
processors,
Threadripper 2nd
and
3rd generation
, and the
Athlon 3000 series
. Mobile variants of these chips are similarly impacted.
On the server and data center end of the spectrum, the list of vulnerabilities includes
first
,
second
, and
third-generation
EPYC processors. Data center operators should work quickly to ensure affected systems are updated, assuming they have not already done so.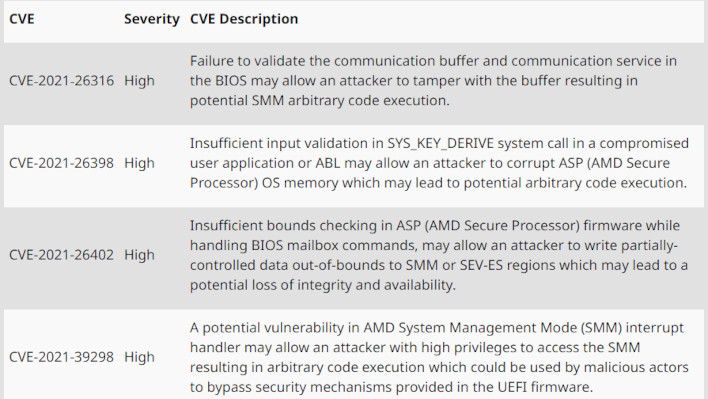 List of some AMD server and data center processor vulnerabilities
The full details on the data center and server processors can be read in this product
security bulletin
. The details for the desktop and mobile processors can be
seen here
. We do not anticipate these mitigations will have as much impact on performance as the
Spectre and Meltdown
patches did.