AMD CEO Lisa Su Again Confirms Radeon Big Navi Will Launch This Year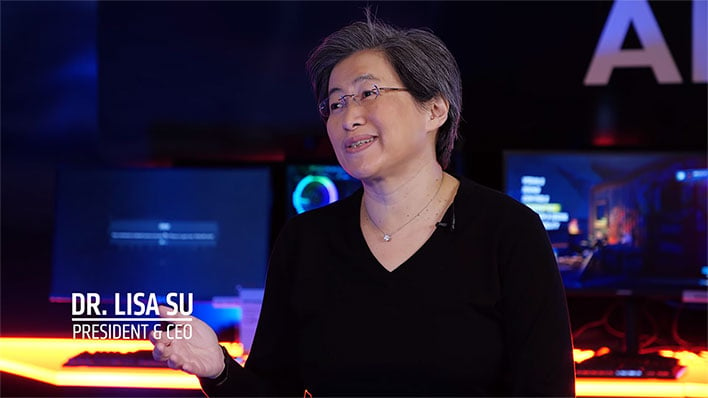 For
AMD
CEO Dr. Lisa Su, product development is the most fun part of her job. She revealed that nugget during an interview on an AMD sponsored show call The Bring Up, though the real reason you are reading this article is to see what she said about the so-called "
Big Navi
" GPU that we all know is coming. In case there was any doubt, AMD is still planning to bring out its big GPU gun in 2020.
Launching is also fun, Dr. Su said, and to that end AMD will be bringing out new products this year. Big Navi is one of them, and on the CPU side,
Zen 3
is another.
"My main message to our fans is this is just a beginning for us in 2020. I've heard a little bit through Twitter and Reddit that people are wondering about, you know, Big Navi. I can say you're gonna see Big Navi in 2020. There might be few people wondering about Zen 3 as well and I can tell you that Zen 3 is doing really well, we are excited about it. I look forward talking about that later in 2020," Dr. Su said.
You can watch the entirety of her interview here (the full video is less than 17 minutes long)...
Dr. Su doubled down on 2020 being a "huge year" for AMD, and for many people on the outside looking in, Navi 20 will be key in living up to that promise. It is the version of Navi that will introduce hardware support for real-time ray tracing, bringing parity with
NVIDIA's
GeForce RTX series in that regard, and faster rasterized rending performance too.
As to what kind of performance uplift we can expect, that is the million dollar question yet to be answered. Just last week, a
leaked VR benchmark
made headlines for potentially showing a Big Navi GPU outpacing NVIDIA's big gun, the
GeForce RTX 2080 Ti
, by around 17 percent. It was paired with an
Ryzen 7 4800H
mobile processor. Leaked benchmarks are problematic for a number of reasons, though in this case, it elicited a response by the benchmark's developer.
"Regarding the GPU, it is definitely some kind of unreleased high end GPU, as being 17 percent above the best performing 2080 Ti is quite a big step...So this benchmark result is very likely done with some unannounced GPU. And since I would consider it very unlikely that someone has access to both an AMD engineering sample CPU and an unannounced NVIDIA GPU, and is allowed to use both in the same system, I think it is most likely that this is an unannounced AMD GPU," the developed stated.
The other burning question is, when will Navi 20 make a debut on the
desktop
specifically? Dr. Su has only said Big Navi is coming this year, but technically, the pending launches of
Sony's PlayStation 5
and
Microsoft's Xbox Series X
consoles would make good on her promise. That's because both are confirmed to be running custom AMD silicon based on a more powerful version of Navi paired with
Zen 2 CPU
cores.
Dr. Su's shout out to Twitter and Reddit seemingly suggests it is the desktop she is talking about, but that part has not been made crystal clear. And so we continue to wait.